Low FODMAP Bouillabaisse
Look at this bowl full of seafood! It looks fancy, and it is company-worthy but is much easier to make than you might think. Bouillabaisse is all about using the best seafood that you can get your hands on.
It looks elegant, and it is an extravagant dish, but it is also very easy to make. You just have to have everything prepped before you start cooking and the dish will come together in less than forty-five minutes.
Fresh. Is it Best?
You usually hear that fresh is best when it comes to seafood, and I would have to agree – except for shrimp. For most of us, shrimp is never fresh. Even when it looks fresh in the fish department case, it is usually defrosted and if you read the small print it will say so.
Don't worry; these "frozen" shrimp will be just fine. You do need to buy shrimp with the shells on, as you will be using the shells to make a super-quick stock for the dish.
Also importantly, when shopping for shrimp, make sure that they are not treated with either sodium bisulfite, an industrial bleaching agent, or sodium tripolyphosphate (STP), a rehydrating agent
Also, some foreign shrimp might also be treated with antibiotics that are banned by the FDA.
Read labels and ask questions at the fish counter for the best tasting and best-textured shrimp.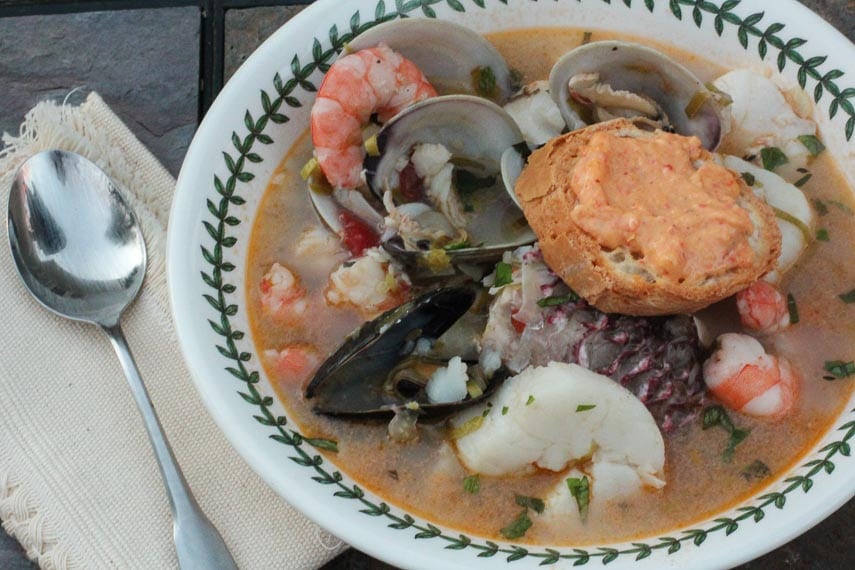 Buying Scallops
There are specific things to look for when shopping for scallops, as well. Look for "dry pack scallops". This means they will not have been treated with a phosphate solution, which is a common practice.
The additive whitens them and plumps them up, but the flavor and texture of your scallops will be best if they are not treated.
Choosing Your Fish
In addition to shrimp, our Low FODMAP Bouillabaisse contains hearty white-fleshed fish. It is best to choose a thicker, meatier fish, as those described below, but steer clear of oily or strong-flavored fish, such as bluefish, mackerel, salmon or tuna.
Garlicky Aioli?
YES! Get your garlic fix with our Garlic-Infused Oil. I have included an easy to make garlicky roasted red pepper mayonnaise for you to slather on toasted low FODMAP bread, which I think is the perfect accompaniment to our Low FODMAP Bouillabaisse, but it is optional.
You can make this aioli a couple of days ahead, so take advantage of that convenience. You will need a raw egg yolk. You can buy pasteurized eggs, if you want to avoid raw egg. 
It is recommended that the elderly, infants, those with compromised immune systems and also pregnant women not consume raw eggs due to the very slim chance of salmonella poisoning.
Note that you will be using Garlic-Infused Oil, made with olive oil, in several stages of our Low FODMAP Bouillabaisse. Make sure you have enough on hand. You can make it, following our easy recipe, or use a purchased equivalent.
You might also like our Low FODMAP Cioppino! You have to check it out, complete with lobster tails and crab!
Low FODMAP Bouillabaisse
Is Low FODMAP Bouillabaisse possible? Absolutely! We show you how to infuse garlic flavor without triggering your IBS!
Ingredients:
Roasted Red Pepper Aioli:
1

large

pasteurized egg yolk,

at room temperature

2

teaspoons

freshly squeezed lemon juice

1

teaspoon

cold water

¼

teaspoon

Dijon mustard

1

cup (240 ml)

Garlic-Infused Oil,

made with olive oil, or purchased equivalent

½

cup (85 g)

very finely chopped, drained jarred roasted red peppers

Cayenne pepper

Freshly ground black pepper
Toast:
1,

low FODMAP French baguette

2

tablespoons

Garlic-Infused Oil,

made with olive oil, or equivalent
Bouillabaisse:
¾

pound (340 g) large (26 to 30 count)

shrimp,

deveined, shells on

¼

cup (60 ml)

Garlic-Infused Oil,

made with olive oil, or purchased equivalent

1

cup (140 g)

finely chopped leeks,

green parts only

1

cup (98 g)

thinly sliced fresh fennel bulb;

reserve some fennel fronds (the delicate, feathery tops)

3

canned plum tomatoes,

drained of juice, chopped

2

tablespoons

chopped fresh flat-leaf parsley

2

teaspoons

finely grated orange zest

1

teaspoon

chopped fresh thyme

½

teaspoon

fennel seeds,

crushed

24

small or medium-size

clams or mussels or preferably a combination of both,

scrubbed free of sand and grit; de-beard the mussels if necessary

1½

pounds (680 g)

white flesh fish,

preferably more than one kind, such as cod fillets, cod loins, red snapper, halibut, haddock, monkfish, or striped bass, cut into chunks

¾

pound (340 g)

sea scallops;

cut in half if very large

1

tablespoon

chopped fresh basil

Freshly ground black pepper
Preparation:
For the Aioli: Place the pasteurized egg yolk, lemon juice, cold water, mustard, and ½ teaspoon of salt in a medium-size nonreactive bowl. Whisk vigorously until blended. Very slowly, drop by drop, whisk in about a quarter of the olive oil, whisking all the while. This will take several minutes; go slowly, allowing the mayonnaise to thicken. Gradually add the remaining olive oil until the desired thickness is reached; you might not use all the oil, but you will most likely use at least ¾ cup (180 ml). Gently stir in the chopped peppers and cayenne to taste.

Season to taste with more salt and with black pepper, if desired. The aioli is ready to use, or refrigerate in an airtight container for up to 2 days.

For the Toast: Right before beginning to cook the seafood, slice the baguette into 1-inch (2.5 cm) slices, toast in a toaster or on a baking sheet in a 400°F (200°C) oven, then brush with the olive oil; set aside.

For the Bouillabaisse: Peel the shrimp and set them aside, reserving shells. Place the shells in a medium-size saucepan with 4½ cups (1 L) of water. Bring to a boil, lower the heat, and simmer for 5 minutes. This is a super-quick shellfish stock.

While the shrimp shells are simmering, heat the oil in a deep 5-quart (4.7 L) pot, such as a Dutch oven, over medium heat. Add the leek greens and sliced fennel and sauté for 3 to 5 minutes, or until softened but not browned.

Strain and measure out 4 cups (960 ml) of the stock for the bouillabaisse. Discard the shells. Add the shrimp stock, tomatoes, parsley, orange zest, thyme, and fennel seeds to the leek mixture. Cover, increase the heat, and simmer for 10 minutes

Add the clams and/or mussels, cover, and cook for about 5 minutes, or until the shells open, discarding any that do not open. Add the white fish and scallops, cover, and cook for about 5 minutes, or until the fish is almost opaque. Add the shrimp and cook, covered, for about 3 to 5 minutes more, or just until the shrimp turn pink. Gently stir in the basil and taste the broth. Season with salt and pepper, as desired.

Place a slice or two of garlic toast in each bowl and top the toasts with a generous dollop of aioli. Ladle the stew on top and garnish with fennel fronds, if you like. Serve immediately.
Dédé's Quick Recipe Tips Video
Notes:
Tips
If you want to make a Roasted Red Pepper Aioli using prepared mayo, you can, but you will be missing out on the potent garlic flavor. Simply stir together ½ cup (113 g) of prepared mayonnaise, ¼ cup (85 g) of drained and chopped jarred roasted red peppers, 2 teaspoons of freshly squeezed lemon juice, and ⅛ teaspoon cayenne pepper in a food processor and pulse one and off just until combined. Season to taste with salt and black pepper; the quickie aioli is ready to use.
Nutrition
Calories:
1116
kcal
|
Carbohydrates:
20
g
|
Protein:
78
g
|
Fat:
70
g
|
Sodium:
123
mg
|
Fiber:
1
g
|
Sugar:
2
g
|
Calcium:
30
mg
---
Low FODMAP Recipes Created Just For You!
We take low FODMAP recipes seriously at FODMAP Everyday®. That's why Dédé oversees our Test Kitchen and makes sure that each and every recipe works – and is low FODMAP following the most up-to-date science.
Rest assured that you will not find more trustworthy or delicious low FODMAP recipes anywhere – several hundred and counting.
FODMAP Everyday®Low FODMAP Recipes At A Glance:
Come Join Our Low FODMAP Recipe Community!
Use Our Exclusive Recipe Filter To Find The Low FODMAP Recipe You Are Looking For Today!