Low FODMAP Gazpacho
Ah Gazpacho, the Spanish cold soup! A classic combination of tomatoes, cucumber, bell peppers and usually a good dose of garlic and onion. It was time for a FODMAP makeover. And I added Garlic-Infused Olive Oil sautéed sourdough croutons for a crunchy, garlicky  topper!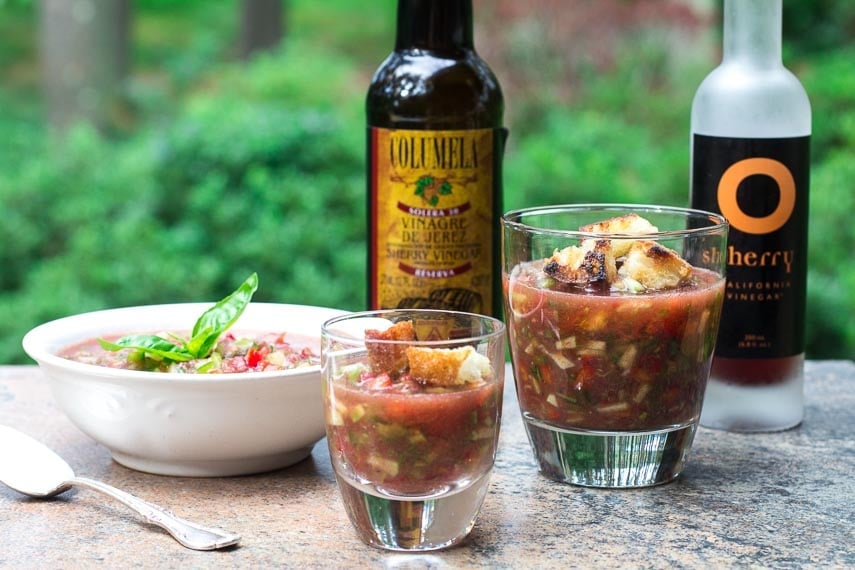 Inspiration Strikes
Robin is a gardener extraordinaire and she grows us lots of low FODMAP fruit, vegetables and herbs. One day in late July she brought these amazing tomatoes into the kitchen.
Heirloom Varieties
A tomato is not just a tomato. There are tomatoes that are bred for packing and shipping and looking pretty and then there are varieties that might not be perfectly uniformly red, and they might be a bit lumpy in appearance, but one taste and BAM! it's like you have never tasted a tomato before.
These tomatoes above are Paul Robeson tomatoes and Robin brought them to me while they were still warm from the sun. And the taste? SUBLIME!
The variety is named after a famous black jazz singer from the 1930s and they have somewhat of a cult following with seed collectors and tomato lovers worldwide.
For you gardeners, Robin orders her seeds from Rare Seeds.
Before you make your order, take a look at all the other low FODMAP vegetable and fruit seeds they offer!
Highlight Those Tomatoes!
I knew that I wanted to highlight these splendid tomatoes by not doing much to them. And as (un)luck would have it, the coming days were scheduled to be a major heat wave with "real feel" heat index of 110°F (43°C) and there is nothing I like more on a hot day than Gazpacho!
The only problem was that I couldn't have it anymore, due to the onions and garlic…until now!
Gazpacho Goes FODMAP
I knew I would have to address both the traditional onion and garlic components of the gazpacho because they are always included.
The garlic would take the form of garlic-infused olive oil. For the onions I used chopped scallion greens in their place.
Texture vs. Smooth
If you are a gazpacho fan then you know that some folks like it somewhat textured, while others like a purée. Both are delicious, but I take a middle ground.
Not because I can't make up my mind, but because I actually think that finely chopping the ingredients so that you can see the various colors and experience texture is a lovely sensation, but I like to purée about a quarter of the mixture for body.
Knife Skills & Blender
Your knife skills will get a work out when making gazpacho, and since I like some of it puréed, you will need a blender, too. Make sure your chef's knife is nice and sharp.
Pick Your Presentation
Soup = bowl, right? You can certainly serve your gazpacho in a bowl, but it is also nice to sip from a glass – a larger one as an appetizer or light lunch or a smaller one as a passed hors d'oeuvres. Great for parties.
Notes About the Ingredients
 Note that you do have to peel the tomatoes and instructions are below in Tips.
As of this writing, orange and yellow bell peppers have not been lab tested. If you tolerate them well, consider using them for a more colorful and varied look to the finished gazpacho. I used green and red bell peppers for the soup pictured.
Currently sherry vinegar has not been tested for FODMAPs but it is traditional and adds the perfect complementary acidity. If you have tried it and tolerate it well, by all means use it, otherwise use red wine vinegar.
I like Columela for an imported choice and O Sherry Vinegar for a U.S. domestic choice (see below). BTW, the aged imported vinegar is pricey, but a little goes a long way and can enhance all kinds of dishes. Just because you are cooking low FODMAP doesn't mean that you shouldn't pay attention to detail from a culinary point of view.

Low FODMAP Gazpacho

Our Low FODMAP Gazpacho has garlic and onion favor, but won't upset your tummy!

Low FODMAP Serving Size Info: Makes about 4 cups (960 ml); 4, (1 cup/240 ml) servings

Ingredients:

2-

pounds (910 g)

fresh super-ripe red tomatoes,

peeled, seeded, cored and very finely chopped

1

cup (70 g)

very finely chopped scallions,

green parts only

Half a hothouse English cucumber,

about 6-inches (15 cm), peeled, seeded and very finely chopped

½

green bell pepper,

cored, very finely chopped

½

red bell pepper,

cored, very finely chopped

2

tablespoons

Garlic-Infused Oil,

made with olive oil, or purchased equivalent, plus extra

1 to 2

tablespoons

red wine vinegar,

or sherry vinegar

Freshly ground black pepper

Tabasco; optional

Fresh herbs; optional,

such as marjoram or basil

Hunk of sourdough bread,

equivalent to a large slice, torn into bite-sized pieces

Preparation:

Stir together your chopped tomatoes, with any juice, with the scallions, cucumber and bell peppers in a nonreactive bowl. Stir in 1 tablespoon of the garlic-infused olive oil. Add about a quarter of the soup mixture to your blender carafe and purée, then stir the purée back into the main mixture.

Taste and add vinegar to taste along with salt and pepper. Add Tabasco if you like. The soup is ready to serve but I think it is even better after it has sit for about 1 hour for flavors to meld. You can also refrigerate it in an airtight container for up to 1 day, but the brightness of the vegetable flavors will mute.

For the croutons, heat some of the extra Garlic-Infused Oil in a nonstick pan over medium-high heat, add the sourdough bread chunks and sprinkle with some salt. Toss to coat with oil and cook until toasted and golden brown, tossing several times during cooking for even browning; set aside.

Serve the gazpacho in bowls, or small glasses for sipping. A larger glass for an appetizer, or a tiny glass for a passed hors d'oeuvres is fantastic.

Drizzle with remaining 1 tablespoon Garlic-Infused Oil right before serving and add fresh herbs if you like. Top with crunchy croutons and serve. SUMMER IN A BOWL!

Tips

To Peel Tomatoes: Bring a large pot of water to a boil. Drop whole tomatoes into the water and blanch for about a minute or until the skin slips off easily. Carefully remove from water and drain. Allow to cool until you can handle them comfortably. Slip off the peels and discard. Slice in half crosswise and squeeze out and discard the seeds. I use my fingers to help. Your tomatoes are now ready to chop. Chop them on a cutting board that will catch all the juice and add that to your recipe as well.

Nutrition

Calories:

125

kcal

|

Carbohydrates:

18

g

|

Protein:

4

g

|

Fat:

7

g

|

Sodium:

1

mg

|

Fiber:

2

g

|

Sugar:

4

g

---

Low FODMAP Recipes Created Just For You!

We take low FODMAP recipes seriously at FODMAP Everyday®. That's why Dédé oversees our Test Kitchen and makes sure that each and every recipe works – and is low FODMAP following the most up-to-date science.

Rest assured that you will not find more trustworthy or delicious low FODMAP recipes anywhere – several hundred and counting.

FODMAP Everyday®Low FODMAP Recipes At A Glance:

Come Join Our Low FODMAP Recipe Community!

Use Our Exclusive Recipe Filter To Find The Low FODMAP Recipe You Are Looking For Today!