Can "Onion" Soup Be Low FODMAP?
Robin and I were hankering for French Onion Soup, and seeing that I am a FODMAPer that didn't seem possible. But then I got thinking…what if I used our low FODMAP leek and scallion greens and applied an otherwise classic approach to this soup? What would happen? Would it work? Only a test would tell!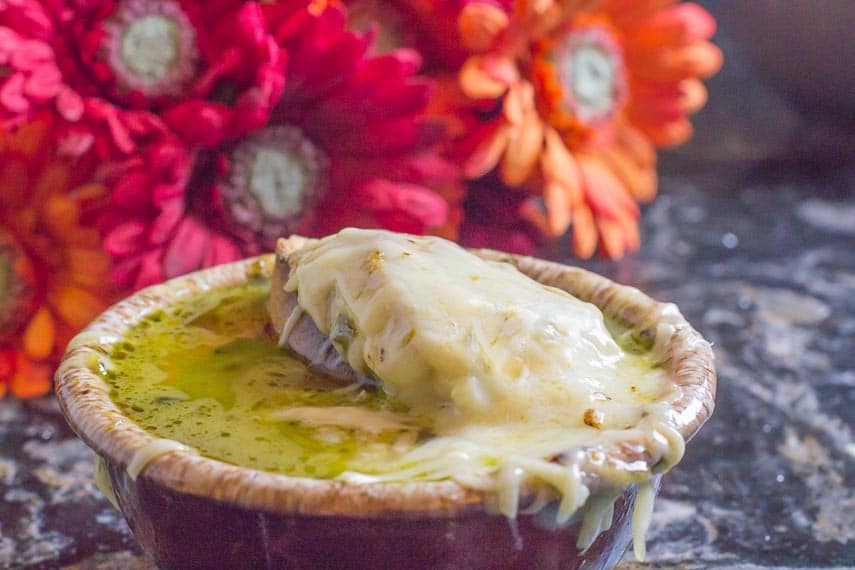 Onion Flavor Without Onions
If you are a FODMAP Everyday® fan then you already know that we use a lot of leek greens and scallion greens in our cooking to bring onion-y flavor to our cooking. Off to the market I went and there is a caveat here.
You have to have access to leeks that are sold with a good amount of their green tops intact. Not every store sells them like this. In fact, many supermarkets sell them trimmed of most if not all of their greens.
Many shoppers like this because they don't have to pay for the weight of the part of the leek that is normally discarded. As FODMAPers we have to become savvy shoppers. For me this means getting my leeks at our local Whole Foods store, or from our garden when the season is here!
Calculating Amounts
I struggled with how to present the amount of leeks and scallion greens for you in the Ingredient list for several reasons. First of all, just saying "a bunch" of scallions or leeks means nothing, as bunches vary in size, although this can be a helpful indicator if accompanied with other information.
Also, the weight of the scallions and leeks when you buy them bears no relation to the weight of the greens separated out for our use. See the conundrum? A since this recipe depends on you having enough, it is vitally important that you come home with what you need.
I chose to present a few approaches so that you have all the information you need to succeed.
Beef Stock
The classic French onion soup relies on good beef stock, and we have a homemade version, tons of onions, butter, French bread and lots of melted cheese. So the two main issues are replacing the onions with suitable low FODMAP substitutes and using a great stock.
We recommend making your own (ours is certified low FODMAP , but you can use a purchased beef stock; read labels and make sure you are using a low FODMAP version. The French bread is easy to replace with a low FODMAP gluten free version and thankfully the cheese is OK! In moderation, of course.
Patience is Key
The other ingredient necessary for this Onion Soup recipe is patience. The large amount of leek and scallion greens needs to cook for about an hour over low heat, stirred occasionally. They must not overly brown, especially at the beginning of cooking, and you must encourage them to soften and caramelize. It will seem like it is never going to happen; it will.
Be patient and you will be rewarded with the rich flavor that these onion substitutes provide.
Colorful Expectations
Classic French Onion Soup is a deep brown color that comes from the beef stock. Although our version is based upon beef stock as well, the green pigments in the leek and scallion greens do come through.
Onions, whether white or yellow, have very little color and permit the brown stock to be predominant. Expect this low FODMAP version to be a bit green, a bit brown. And speaking of visual expectations, this soup was incredibly hard to photograph! I hope it entices you as it actually tastes better than it looks!
Melted Cheese Makes it Good
The image of the classic French Onion Soup in a bowl with a mass of melted Gruyere cheese on top is hard to resist. Swiss cheese is Green Lighted by Monash and Gruyere is a type of Swiss cheese, so we have taken the liberty to use it. If you want to use Swiss, be our guest.
We have done fine with the digestibility of Gruyere. Monash recommends 40 g of Swiss cheese per serving.
The best way to get the most bang for your FODMAP buck is to shred the cheese so that it melts easily and you can cover the top of your bread and soup. The slice of low FODMAP baguette, by the way, is nestled in the soup, under the cheese.
Low FODMAP "Onion" Soup
Our Low FODMAP "Onion" Soup used leek and scallion greens and rich beef stock for a version very close to the classic.
Cook Time:
1
hour
10
minutes
Total Time:
1
hour
20
minutes
Ingredients:
4

tablespoons (57 g)

unsalted butter,

cut into pieces

2

tablespoons

extra-virgin olive oil or Garlic-Infused Oil,

made with olive oil

3 to 4

leeks,

with a generous amount of greens to yield 8 ounces/225 g of finely chopped greens

3

(about 20 beefy ones to yield 4 ¼ ounces/120 g)

large bunches of scallions,

finely chopped greens

2

quarts (2 L)

beef stock, homemade or purchased low FODMAP beef stock

4

sprigs fresh flat leaf parsley

2

small springs fresh thyme

1

bay leaf

Freshly ground black pepper

8

slices

low FODMAP gluten-free baguette

12

ounces (340 g)

Swiss or Gruyere cheese,

shredded
Preparation:
Before you begin, wash and dry the leeks and scallions and finely chop the greens so that you have 8 ounces/225 g of leek greens and 4 ¼ ounces/120 g of scallion greens.

Melt butter and oil in a large Dutch oven over low heat. Add leek and scallion greens, stirring well to coat. Cook over low heat, stirring often, for about 1 hour or until they are very soft and just beginning to brown. Browning will bring out the naturally sweet flavors, but over-browning will ruin the dish, so take care.

Once the leek and scallion greens are very soft - the green mixture might look a bit pasty, which is OK - add the beef stock, parsley, thyme and bay leaf and bring the soup to a simmer, covered, for about 10 minutes. Fish out the parsley, thyme and bay leaf, taste, and season with salt and pepper, if desired.

Warm your soup bowls by rinsing them with hot water while you toast your bread. Preheat broiler to high with rack about 4 inches (10 cm) below.

Place the bowls on a rimmed sheet pan. Ladle hot soup into bowls, place a slice of bread in each bowl and divide the cheese amongst the bowls. Place under broiler until cheese is melted and bubbling, about 1 to 4 minutes. Serve immediately.
Notes:
Tips
We hope this recipe shows you how you CAN actually THRIVE while following the low FODMAP diet. We know it can be frustrating. Just take it one step at a time and we are here to help you.
Nutrition
Calories:
332
kcal
|
Carbohydrates:
11
g
|
Protein:
19
g
|
Fat:
22
g
|
Sodium:
250
mg
|
Fiber:
1
g
|
Sugar:
1
g