This post may include affiliate links. Please see our complete disclosure here.
Citrus & Herb Oil Poached Salmon
We love salmon around here and prepare it at least once a week. There are a few techniques that we tend to return to again and again – we often roast at a high heat or occasionally pan sear. I have wanted to try Oil Poached Salmon for years and boy, why did I wait so long!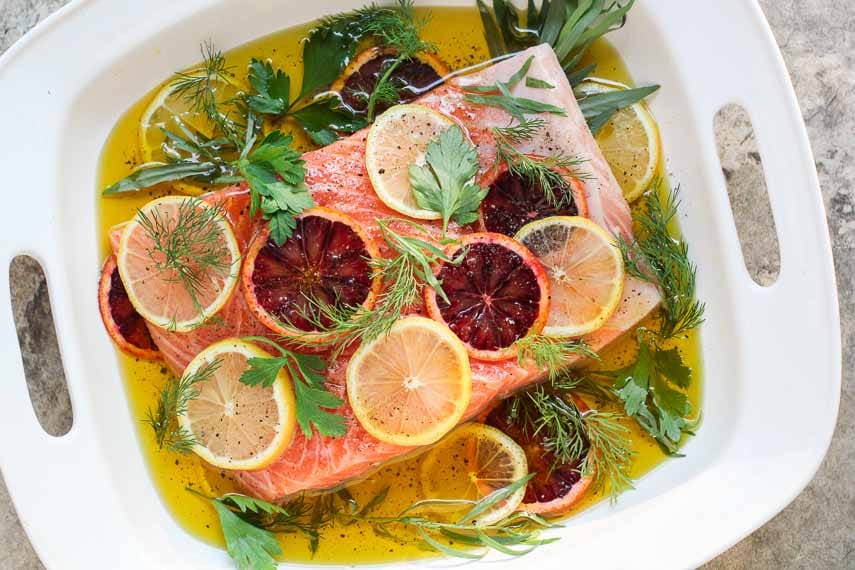 What is Oil Poaching?
It is just like it sounds – which we know sounds a bit odd, but stick with us here. You are using a good quantity of oil and the salmon is slowing roasting in the oven bathed in the oil at a low heat. The result is a silky smooth flesh texture that is simply sublime.
Nothing else compares. You do need enough oil to cover the fish so follow the recommendations for amount of fish, oil and size of vessel or your results might change. It is better to err on more oil than less.
Oil Poached Salmon
Salmon is a fatty fish (protein) and oil is, well, fat! From a FODMAP perspective you are okay because fats and proteins do not contain FODMAPs but if you are sensitive to fat, then this dish might not be for you. For the rest of you – make this now! You won't be sorry.
Can I Re-Use the Oil?
When I was testing this dish and was cleaning up, I stared at all that oil and just couldn't bring myself to throw it out. None of the recipes I had referenced discussed this! I decided to use it to make a vinaigrette that I then used for a salad Nicoise, which features fish. It was fine. Use your best judgment.
Choose Your Fish
Since this dish is all about the salmon, choose your fish wisely. This can mean different things for different people. I personally like the fatty texture and flavor of Atlantic salmon. It could be that that is what I grew up with and are used to.
When I lived for two summers on the Pacific in Vancouver, BC I became enamored of the salmon indigenous to those waters. But when I order or buy it back home in New England I do not like it. For my palate, it doesn't travel.
Now, there is also more than taste and texture to consider as well. If you are interested in buying fish that has an appropriate impact on the environment, check out SeafoodWatch.
They are considered the best watchdogs on environmental fish information.
And it isn't as simple as wild caught versus farmed anymore.
In fact there are farmed salmon choices that they consider "Best Choice", which is their top designation. This recipe was developed with Atlantic salmon and we suggest you use it for best results, if possible. If you live elsewhere and use a different fish, let us know how it worked out!
One Pan to Piscine Nirvana
We love a one-dish meal and this one not only falls into that category, it is both quick and easy enough for a weeknight as well as fancy enough for guests. And it is colorful. And low FODMAP. And delicious. What more could you want?
Citrus & Herbs
The citrus adds a bright note and the acidity adds balance to the rich dish. Ditto the fresh herbs; the bright green color and herbaceous flavors provide a welcomed addition to the rich fish.
The herbs are not chopped.
You will be just stripping them off of their stems and using them in all their leafy glory. It is kind of hard to explain how much to use, measurement wise. A little more or a little less won't make or break the dish, but more is better than too little. Just use the image to help you assess quantity.
I first saw an image of this recipe in the New York Times and new that I wanted to do a FODMAP IT!™ version for all of you. We like this dish with simple steamed potatoes and green beans or maybe a large green salad.
If you have any leftover salmon, try our What to Eat: Salmon Tacos.
Recipe Sponsored By FODY Foods
Note that the Nutritional Info is taking into consideration all the oil that is used to make the dish. The great majority is left behind and not consumed, so all the fat calories will actually be far lower.
FODMAP IT!™ Citrus & Herb Oil Poached Salmon
Our Citrus & Herb Oil Poached Salmon can be made in one pan in 30 minutes and is as delectable as it looks.
Ingredients:
2

pounds (910 g)

salmon filet,

skin removed

Freshly ground black pepper

1

cup (240 ml)

extra-virgin olive oil

1

cup (240 ml)

Garlic-Infused Oil, made with olive oil, or FODY Garlic-Infused Olive Oil

1

lemon,

washed, dried and thinly sliced

1

orange or blood orange,

washed, dried and thinly sliced

Fresh dill,

divided

Fresh flat leaf parsley,

divided

Fresh tarragon,

divided
Preparation:
Position rack in middle of oven. Preheat oven to 300°F/150°C. Place the salmon in an ovenproof baking dish that is just large enough to hold the salmon filet (see images). Season liberally with salt and pepper. Pour both oils over fish. Arrange lemon and orange slices over fish, then scatter some fresh herbs over fish as well.

Bake salmon for about 20 to 30 minutes or just until the edges are opaque and the center of the fish is somewhat "rare" and almost cooked through. Top with some additional fresh herbs and serve immediately.
Notes:
Tip
Use impeccably fresh citrus and herbs for this dish for best taste results - and visuals!
Nutrition
Calories:
651
kcal
|
Carbohydrates:
2
g
|
Protein:
29
g
|
Fat:
60
g
|
Saturated Fat:
1
g
|
Sodium:
1
mg
|
Potassium:
25
mg
|
Fiber:
1
g
|
Sugar:
1
g
|
Vitamin C:
10.7
mg
|
Calcium:
5
mg
|
Iron:
0.1
mg

Save 10% On Salmon & Get Free Shipping On Orders Over $99 Using Code: WILD18AF At VitalChoice.com!
---
https://amzn.to/2STBaBd