Let's Make Low FODMAP Pho Bo!
Comfort Food in a Bowl
If you are like me the image of this Pho Bo is making you salivate.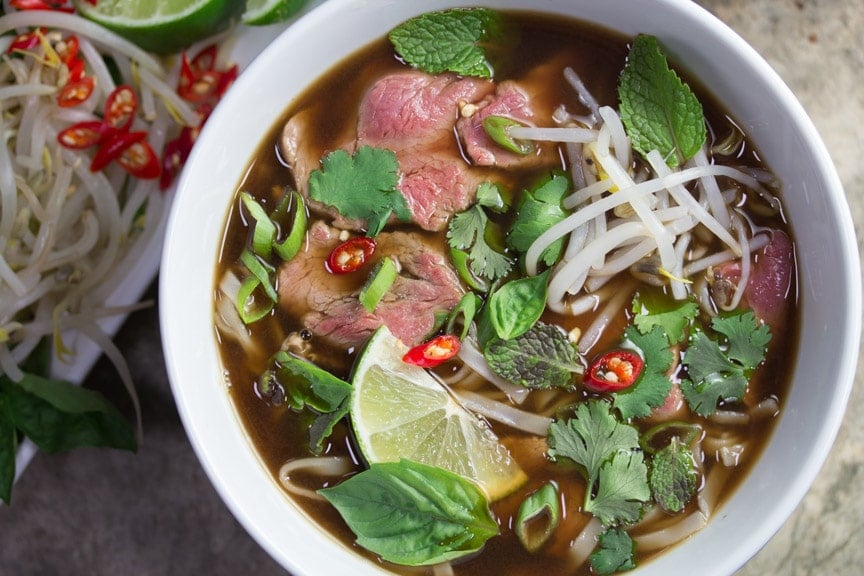 Anytime I can combine rich savory ingredients like Beef Stock and beef itself with bright and crunchy additions such as fresh herbs and sprouts with a dose of hot peppers and tangy, sour fish sauce I know I am going to be a happy girl.
And the fact that this is low FODMAP Pho Bo means it just inherently has that comfort food thing going for it as well.
A Little of This, A Little of That
The juxtaposition of all of those tastes, in addition to the combination of hot (soup) and cold (garnishes) makes for a very complex and nuanced dish. You do need Beef Stock, either homemade or a low FODMAP purchased version.
Sure, there are similar Vietnamese soups based on chicken that are much quicker to make, but nothing compares to the savory aspect of the classic beef.
Tailor to Your Taste
Please read the recipe through and have everything ready to go at serving time. This means having the garnishes already on a platter. By the way, you could just use raw bean sprouts, but my son's Vietnamese girlfriend Ngoc says that her Mom always blanches the bean sprouts, so now I do too.
Offer the garnishes for diners to pick and choose, as they like. Once you ladle the very hot soup over the raw beef, it is time to eat!
Low FODMAP Pho Bo
This Vietnamese beef and noodle soup takes time - but it is so worth it.
Ingredients:
Toppings:
Mint

Thai basil

Red Thai chiles

thinly sliced
Soup:
1/3

pound (153 g)

eye of round, London broil, filet mignon or rib eye

2

large leeks,

with a good amount of green parts attached (see directions in recipe)

2-

inch (5 cm)

piece fresh ginger,

unpeeled

8

cups (2 L)

Beef Stock,

homemade or low FODMAP purchased equivalent

1,

3-inch (7.5 cm)

cinnamon stick

1

teaspoon

coriander seed

1

teaspoon

fennel seed

2

tablespoons

fish sauce

or to taste

1

teaspoon

sugar,

optional, or to taste

4

cups (about ¾ pound; 320 g)

mung bean sprouts

1

pound (455 g)

banh pho rice noodles,

we like 1/8-inch or 1/4-inch wide (3mm to 6 mm)

1/2

cup (36 g)

sliced scallions,

green parts only

1/4

cup (8 g)

cilantro leaves

Lime wedges
Preparation:
Prepare Toppings: Prepare toppings so that they are ready to serve. We like to arrange the mint, Thai basil and sliced chiles on a platter, leaving room for some bean sprouts. Set aside.

Freeze the Meat: Place the meat in the freezer for about 20 minutes or just until ice crystals begin to form. This will allow you to cut it super thin. Meanwhile, proceed with the other prep.

Char the Leeks and Ginger: You will note that the recipe calls for whole leeks, whereas you probably know by now that only the green parts are low FODMAP. We are going to char the leek greens and it is just easier to maneuver using the whole leek; please follow the directions carefully. Char the leek greens and the ginger by placing directly over a gas flame. If you do not have gas, place on a rack set on a baking sheet pan under the broiler. In either case, rotate the leeks and ginger several times with tongs so that they get a good black char all the way around. Cool. Use your fingers and a small paring knife to remove all of the black charred parts. Roughly chop the leek greens and the ginger and add to a large pot. It is imperative to only use the green parts of the leek; discard the rest of the leek stalks.

Create the Flavored Stock: Add Beef Stock to the pot along with the cloves, star anise, cinnamon stick, coriander and fennel, cover and simmer over low heat for about 1 hour.

Soak the Noodles: Place noodles in a large, deep bowl and cover with hot for about 15 minutes or until pliable. Meanwhile continue with other prep.

Slice the Meat: While the noodles are soaking and stock is simmering, remove beef from freezer and cut against the grain as thinly as possible but definitely no thicker than 1/4-inch. The dimensions should be large bite-sized pieces. Set aside; beef should be room temperature when you assemble the Pho.

Strain and Season the stock: Taste the stock; it should be well flavored. Strain the stock, discarding solids. Return stock to pot. Taste and season to taste with fish sauce and optional sugar, if using. Keep stock hot over low heat.

Blanch Bean Sprouts and Cook Noodles: Bring a large pot of water to a boil. Blanch bean sprouts for about 10 to 15 seconds and remove them with a strainer. Shake them dry and place a mound on the Toppings platter; set the majority of them aside to be used in assembly. Add noodles to boiling water and cook just until al dente, which will only take a few minutes. Drain and set aside.

Assemble Pho: Warm deep soup bowls with very hot water and dry. Place noodles in each bowl, then top with several slices of raw beef, fanned out to expose maximum surface area. Add a small mound of reserved bean sprouts to the side. Bring stock to a boil and ladle over the meat and sprouts; the heat will cook the meat. Quickly garnish with sliced scallions, cilantro and lime wedges and serve immediately. Encourage diners to add toppings of their choice and dig in!
Notes:
Tips
If you must, you can make this with a commercially prepared beef stock but make sure it is low FODMAP!
Nutrition
Calories:
601
kcal
|
Carbohydrates:
103
g
|
Protein:
27
g
|
Fat:
3
g
|
Saturated Fat:
1
g
|
Sodium:
1237
mg
|
Potassium:
430
mg
|
Fiber:
5
g
|
Sugar:
13
g
|
Vitamin A:
1045
IU
|
Vitamin C:
35.2
mg
|
Calcium:
53
mg
|
Iron:
2.8
mg
SaveSave
SaveSave