Yes, You Can Make Low FODMAP Pesto!
What can be said about this summer basic? Basil Pesto, with its classic combination of basil, pine nuts, garlic, cheese and olive oil can dress pasta, potatoes, rice, be used as a spread on a sandwich and we have even been known to whisk some into scrambled eggs.
And our super easy and flavor packed recipe is even safe for your Elimination phase! Always look for our "kiwi" icon for recipes that are Elimination phase safe.
It is just that versatile. But garlic you say? Yes, in the form of Garlic-Infused Oil, made with olive oil of course. You can also use commercially prepared Garlic-Infused Olive Oil.
Not All Pine Nuts are Created Equal
Did you know that not all pine nuts are created equal? We will be creating an entry for Pine Nuts in our Explore an Ingredient section soon but suffice it to say that we prefer those harvested in Italy and not China. In brief, some people experience a bitter and/or unpleasant metallic taste after eating certain pine nuts, possibly of the Pinus armandii (Chinese white pine) variety.
It is not a health concern other than it is annoying, making everything you eat taste odd, and can actually last for days or weeks. It is referred to as "pine nut syndrome" and can crop up even a day or two after eating the offending pine nuts. Our suggestion is to source out pine nuts harvested and packaged in Italy. You will pay more.
The problem nuts also look different. If you are able to view side by side, the Chinese nuts are stouter and almost a flat, triangular shape, while the Italian type are longer and thinner. Of course, if you do not react to them and want to save money, go ahead and use the less expensive type.
Make Pesto While the Sun Shines
Make Basil Pesto when you can source super fresh basil, which means making this in late summer is the perfect time. And you can freeze some of your bounty, so feel free to double or even quadruple the recipe so that you can enjoy homemade pesto for months.
Note From Robin: I grow a ton of basil every summer- and have been known to spend two full days making pesto that I then freeze for use throughout the year. My favorite way to freeze pesto is to leave out the cheese and then I put the mix into ice cube trays. (I bought 10 trays that I use all summer long for freezing herbs and then put the trays away into winter storage.)
Once they are frozen solid you pop them into zip lock freezer bags and put them into your chest freezer. I bring up a bag every few weeks and have easy to defrost cubes that I can toss into pasta, or soups and just add the cheese and you have fresh pesto!
We also have a Parsley Pesto that you might like to try.
Our basil abounds late summer, which is not too late to read about Enjoying Summer While On The Low FODMAP Diet.
And lest you worry about "garlic breath", we've got you covered there too. We have a review of low FODMAP breath mints!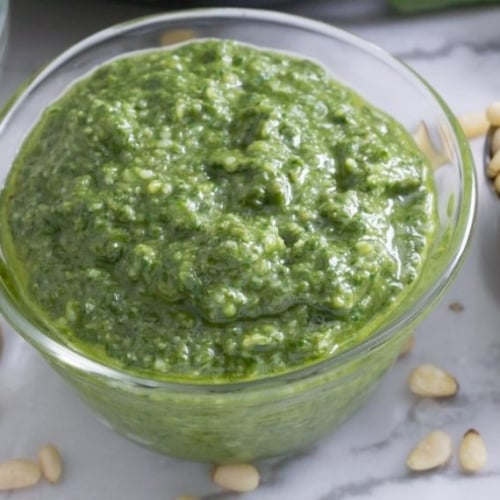 Low FODMAP Basil Pesto
No need to deprive yourself of classic basil and pine nut pesto while on the low FODMAP diet. We show you how to enjoy is safely, even during Elimination.
Low FODMAP Serving Size Info: Makes about 1 2/3 cups (405 ml); 4 servings; servings size is a very generous ⅓ cup (75 ml)
Preparation:
Combine fresh basil, 2/3 cup (165 ml) of garlic oil, pine nuts and salt in a food processor fitted with a metal blade. Pulse on and off a few times, then process until a paste forms, scraping down the bowl once or twice. Add cheese and process until combined and somewhat smooth. It will remain a bit textured, which is fine.

Scrape into an airtight container and cover top with a thin layer of extra oil to prevent discoloration. Refrigerate for up to 1 week is using prepared oil; 3 days for fresh homemade oil. You can also divide into small freezer safe containers and freeze for up to 1 month no matter which oil you used. Defrost in refrigerator overnight.
Notes:
Tip
Monash University has approved of this with a double strength oil. Simply follow the instructions for our Garlic-Infused Oil, using olive oil and double the amount of garlic cloves. Do not infuse the garlic for longer than two hours and make sure to follow the straining instructions carefully, using both cheesecloth and a wire meshed strainer, to remove all of the garlic pieces.
Nutrition
Calories:
422
kcal
|
Carbohydrates:
3
g
|
Protein:
8
g
|
Fat:
43
g
|
Saturated Fat:
1
g
|
Sodium:
669
mg
|
Potassium:
94
mg
|
Fiber:
1
g
|
Sugar:
1
g
|
Calcium:
3
mg
|
Iron:
0.9
mg
---
Low FODMAP Recipes Created Just For You!
We take low FODMAP recipes seriously at FODMAP Everyday®. That's why Dédé oversees our Test Kitchen and makes sure that each and every recipe works – and is low FODMAP following the most up-to-date science.
Rest assured that you will not find more trustworthy or delicious low FODMAP recipes anywhere – several hundred and counting.
FODMAP Everyday® Low FODMAP Recipes At A Glance:
Come Join Our Low FODMAP Recipe Community!
Use Our Exclusive Recipe Filter To Find The Low FODMAP Recipe You Are Looking For Today!
SaveSave
SaveSave
SaveSave
SaveSave