Basics Make Cooking Easy: Pork Loin with Maple Mustard Sauce
If you haven't checked out our One-Bowl, All-Purpose Maple Mustard Sauce, click on over there right now. A simple combo of even amounts of maple syrup and tangy mustard create an incredibly versatile sauce that is as welcome on your protein of choice during cooking and/or after as a condiment alongside when serving.
Slather That Pork Loin
Here we coat a pork loin before and after cooking with the glaze and dinner gets made 1-2-3. Really the only trick here is to not overcook the pork. Pork can be juicy if cooked just enough. Currently, the FDA recommends 145° F (63° C) as long as there is also a rest.
The resting time brings the temperature up a little more and also allows juices to re-distribute. Don't rush things.
The rest works magic while you plate the side dishes and call everyone to the table. Speaking of sides, we like a mashed root vegetable with this as well as some sort of green. In the image, we show a yellow potato/carrot mash and some steamed spinach.
Dédé's husband put this pork in her "top 10" meals. Read his take on it all here, where we present a story about will-power or lack thereof. As you know, for those of us with IBS, that can be a problem.
If this dish ends up ringing your bells, check out the One-Pan Chicken, Carrots & Potatoes with Maple Mustard Sauce, which happens to be one of our Elimination Safe recipes.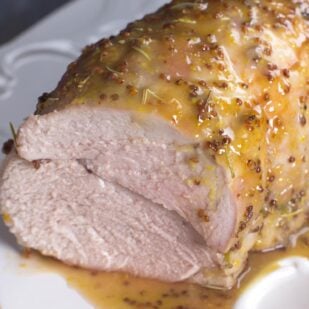 Pork Loin with Maple Mustard Sauce
Our low FODMAP Pork Loin with Maple Mustard Sauce is easy to make and you'll have leftovers built in.
Total Time:
1
hour
10
minutes
Ingredients:
1

batch

Maple Mustard Sauce,

divided

1,

3- pound (1.4 kg)

pork loin,

or two pork tenderloins to equal same weight

Freshly ground black pepper

1

teaspoon

dry rosemary,

crushed

1/2

teaspoon

smoked paprika
Preparation:
Position oven rack in middle of oven. Preheat oven to 350°F/180°C.

Have

Maple Mustard Sauce

ready to use. Separate out about ½ cup (120 ml) by eye and set aside for serving.

Most likely you will have two pieces of pork totalling about 3-pounds (1.4 kg). Season every surface of the pork loin liberally with salt and pepper and then with the rosemary and paprika. Tie the two pieces of pork together into a nice, evenly shaped plump cylinder with butcher's twine.

Place pork loin in roasting pan and slather with about half of the larger portion of sauce. Roast for about 30 minutes then baste with additional sauce. Roast for about 20 to 30 minutes more or until an instant read thermometer reads 145°F/63°C. Remove pork from oven, drape loosely with foil and allow to rest for 5 minutes.

Use a scissors to snip away the twine. Coat with some of the reserved sauce, slice and serve with remaining reserved sauce. Leftovers can be refrigerated, well wrapped, for up to 3 days.
Notes:
Tips
When you have a recipe such as this that contains so few ingredients, it is all the more important that each and every one is of the highest quality for best results.
Nutrition
Calories:
271
kcal
|
Carbohydrates:
7
g
|
Protein:
22
g
|
Fat:
17
g
|
Saturated Fat:
1
g
|
Sodium:
1
mg
|
Fiber:
1
g
|
Sugar:
1
g
|
Vitamin A:
40
IU