Super Quick & Versatile Maple Mustard Sauce
This sauce was developed when I created the One-Pan Chicken, Carrots & Potatoes with Maple Mustard Sauce, that happens to be an Elimination Safe  Recipe.
The simple combination of maple syrup and mustard – in this case part Dijon and part coarse ground mustard – is so easy and yet so flavorful that we decided we had to bring it to you as a stand-alone recipe.
We loved it so much with chicken, we started to wonder, what else could it enhance? Turns out it is a truly fabulous glaze for pork, as in our Pork Loin with Maple Mustard Sauce.
Just How Versatile is It?
We like it paired with foods as they cook as well as a slather to go on after the protein is done. Try it on salmon steaks, ham or even as a condiment for turkey burgers.
Make sure to use pure maple syrup, of course. Sometimes if we are in a rush we pick up a bottle. When we are having one of our better planning days we take advantage of the bulk maple syrup in our local Whole Foods store as it is more economical.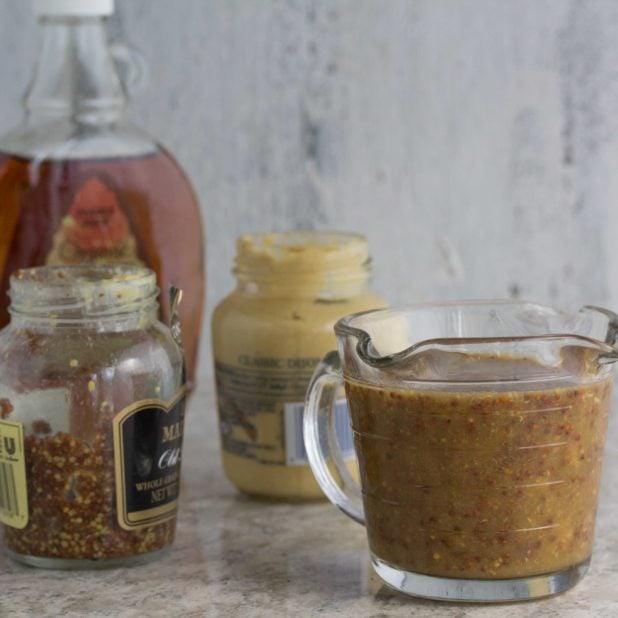 One-Bowl, All-Purpose Maple Mustard Sauce
Our One-Bowl, All-Purpose Maple Mustard Sauce works with everything from tofu to turkey, pork to salmon. Use as a basting sauce while cooking and/or as a condiment served alongside.
Low FODMAP Serving Size Info: Makes about 1 cup (240 ml); about 8 servings; serving size about 2 tablespoons
Preparation:
Simple whisk together the maple syrup and both mustards until smooth. Use as a glaze before cooking or as a slather or sauce after. Try topping meatloaf or salmon, pork or even tofu!

Sauce will keep for 1 week in refrigerator in an airtight container, but we usually just make it right before we need it.
Notes:
Tips
The blends of the two types of mustard really makes this sauce what it is, so don't skimp!
Nutrition
Calories:
50
kcal
|
Carbohydrates:
11
g
|
Protein:
1
g
|
Fat:
1
g
|
Saturated Fat:
1
g
|
Sodium:
169
mg
|
Potassium:
54
mg
|
Fiber:
1
g
|
Sugar:
9
g
|
Vitamin C:
0.2
mg
|
Calcium:
25
mg
|
Iron:
0.2
mg
You will be well-prepared to make recipes on the fly like this one when you have a well-stocked pantry. Check out our article for 12 Essential Pantry Items.