Learn To Make Simple Syrup
Simple syrup is so named because, well, it's simple. It's classic ratio is just equal parts sugar and water simmered until the sugar dissolves. (It can be made heavier and sweeter or lighter and thinner by varying the ratios).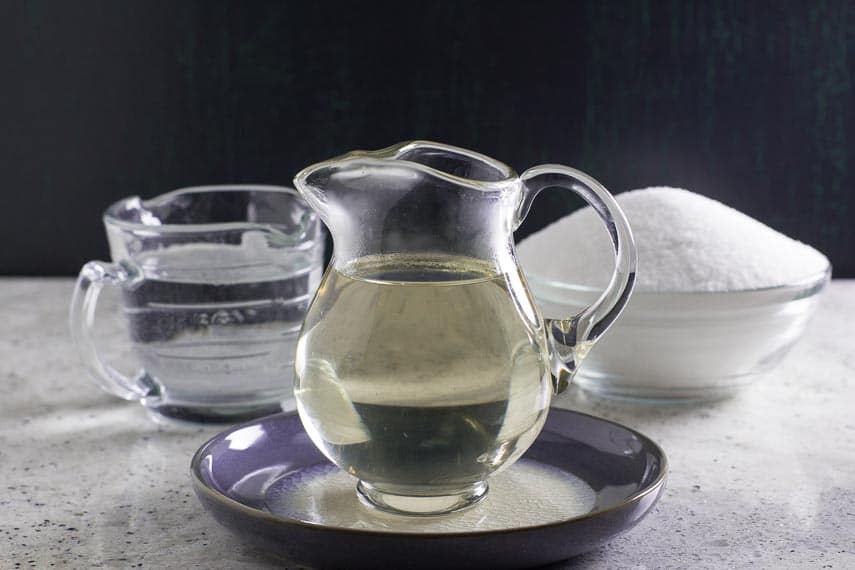 Simple Syrup for Cocktails & More
Simple syrup can be used to sweeten any number of cold liquids, where plain sugar would just sit at the bottom of the glass. It works equally well in cocktails as it does iced tea or lemonade.
Infuse Flavor
You can also add pretty much anything to the syrup to infuse flavor, such as low FODMAP rosemary, mint or lemon peel and even get creative with as-of-yet-to-be-tested ingredients like fresh or dried roses petals, etc.
The resulting syrups can be used to flavor both drinks and deserts.
Kept in the fridge in a good container with a tight fitting lid you can keep these syrups for weeks. Be sure to see our Variations suggested, below.
Please note that the low FODMAP designation is for the basic recipe.
Check out the Cucumber Mint Lime Agua Fresca, which uses this Simple Syrup.
Simple Syrup
Simple Syrup is a simple combination of sugar and water that excels at sweetening hot and cold beverages.
Low FODMAP Serving Size Info: Makes about 1 ½ cups (360 ml); serving size 2 to 4 tablespoons
Ingredients:
1

cup (240 ml)

water

1

cup (198 g)

sugar
Preparation:
Place water and sugar in a small saucepan and stir together. Bring to a gentle simmer over medium heat and cook for about five minutes. Every now and then pick up the pan and give it a little swirl. The Simple Syrup is done when all of the sugar has dissolved. Cool for about 30 minutes, then pour into an airtight container and keep in your fridge.

It really doesn't go bad. It might crystallize after very long storage and can just be re-heated, but this small amount will get used up quickly enough.
Notes:
Tips
Simple Syrup Variations
This is what I use to turn sparkling water into ginger ale for the Moscow mule - or enjoy the homemade ginger ale on its own. Add 6 ounces (170 g) of peeled chopped fresh ginger to the sugar and water. Allow to cool completely in the pan before straining into storage container.
We do not know the FODMAP content of roses, so try a little bit at a time. Instead of using 1 cup (240 ml) of water, use ½ cup (120 ml) of water and ½ cup (120 ml) of rose water. You can also add 1 tablespoon of dried rose petals, but that's mostly just because it looks cool, they don't add much in terms of flavor. Rose water and dried rose petals can be purchased at Persian markets, specialty stores or on Amazon.
This just smells like heaven. Add 1 tablespoon of lavender buds to the water and sugar. Leave them in there, they look great.
I always have dried citrus zest of various fruits in my pantry. They are endlessly useful. 1 tablespoon added to sugar and water works beautifully. You can use fresh as well.
Nutrition
Calories:
76
kcal
|
Carbohydrates:
20
g
|
Sodium:
1
mg
|
Sugar:
20
g