Spicy, Easy Roasted Broccolini with Garlic & Lemon
If you are very familiar with the Monash University Smartphone App – and we hope you are – then you might be wondering what the heck a recipe for Broccolini is doing here with our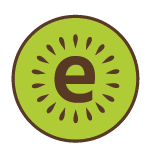 green Elimination icon?
Well, it is true that Broccolini has a Red Light on the app, which means that maybe you haven't thought to click on it to learn more. Hopefully this recipe for Low FODMAP Spicy Roasted Broccolini with Garlic & Lemon will change your mind about having some and learning more!
Dive Deep
We encourage you to click on Yellow and Red Light foods (well, Green, too) to learn all that there is to know about that food in relation to FODMAPs.
If you click on the dreaded Red Light next to Broccolini you will see that in 1 cup (chopped) servings of 90g that it is indeed a Red Light and indeed high FODMAP. But in ½ cup (chopped) servings of 45 g it is Green Light!
That's enough for us to get us running to the market and back into the Test Kitchen to cook with this under-utilized vegetable.
Stalks vs. Chopped
This recipe keeps the broccolini stalks intact, so we thought it would make sense to show you a serving. Below is 45 g of broccolini. That's a pretty good amount!
By the way, it is fructose that tips the scales into Red Light territory, so perhaps you know that you are okay with fructose? If so, you can eat a larger serving.
Also, note that it is the heads and not the stalks that are most problematic, from a FODMAP point of view, which is kind of an interesting tidbit. The more you know, the better choices you can make!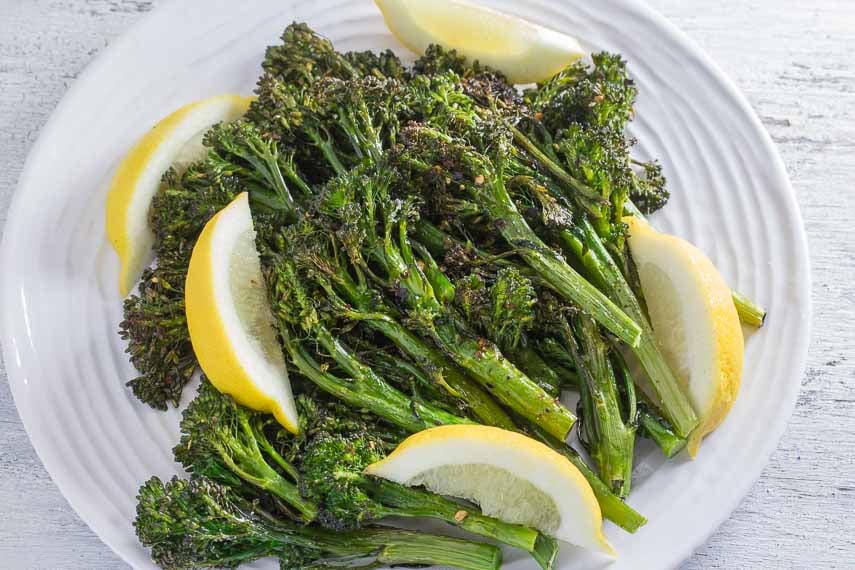 What is Broccolini?
It's not broccoli, although it is a member of the Brassica genus. It looks like really skinny, somewhat floppy broccoli. It was developed in Japan in the early 1990s and is a hybrid of broccoli and gai lan, which is also called Chinese broccoli or even sometimes Chinese kale.
If you like broccoli, we think you will like broccolini; it is sometimes called Sweet Baby Broccoli. And if you don't like broccoli, we say try it anyway!
Spicy Roasted Broccolini with Garlic & Lemon
Our Spicy Roasted Broccolini with Garlic & Lemon is very easy and quick to make. If you would like to make a non-spicy version, simply leave out the red pepper flakes.
Preparation:
Position rack in hottest areas of oven. Preheat oven to 425°F/220°C.

Separate the trimmed broccolini heads into smaller florets (see image) and place on rimmed sheet pan. Drizzle with oil and toss to coat evenly. We like to use tongs, or even our hands! Season lightly with salt and pepper and red pepper flakes, if using.

Roast the broccolini for about 12 to 15 minutes or just until tender and beginning to crisp up and brown in spots. Serve immediately with lemon wedges for diners to squeeze on top. Roasted broccolini may also be served at room temperature on a buffet. While it can be refrigerated and reheated, it won't be the same and that is best reserved for leftovers and your own personal snacking.
Notes:
Tips
For a simple Roasted Broccolini with Garlic & Lemon dish, without the "spicy", simply leave out the red pepper flakes.
The servings will end up being about 3 stalks, give or take. Some folks think this is a tease but I figure I would rather be able to have some than none at all, and we find this serving quite satisfying. No deprivation allowed around here!
Nutrition
Calories:
23
kcal
|
Carbohydrates:
1
g
|
Protein:
1
g
|
Fat:
2
g
|
Saturated Fat:
1
g
|
Sodium:
2
mg
|
Potassium:
12
mg
|
Fiber:
1
g
|
Sugar:
1
g
|
Vitamin A:
30
IU
|
Vitamin C:
5
mg
|
Calcium:
2
mg
|
Iron:
0.1
mg