This post may include affiliate links. Please see our complete disclosure here.
How To Spatchcock A Chicken. No We Didn't Just Curse!
Great word, huh? It refers to a preparation technique for poultry, usually chicken or turkey, where the bird is butterflied – that is, the backbone is removed so that the bird can be laid flat.
Even and Faster Cook Time
The advantage of this technique is that the poultry will be more even in thickness throughout, thereby cooking more evenly as well – and cook more quickly as a bonus!
Check out our One-Pan Berbere Spiced Spatchcock Chicken & Vegetables or Spatchcocked Chicken with Sourdough Croutons & Schmaltz. You can even spatchcock a turkey as we do in this recipe Spatchcocked Low FODMAP Citrus Brined Turkey with Giblet Gravy.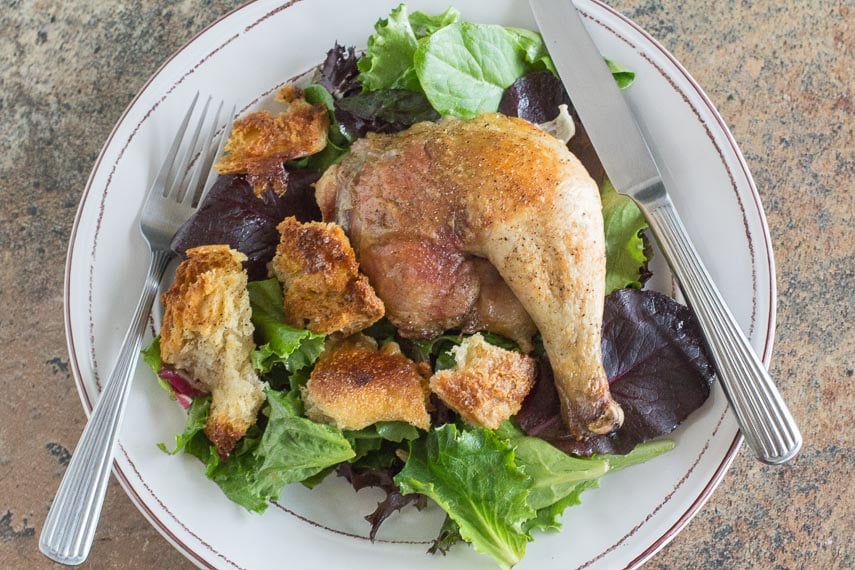 While the term might be odd, the technique is fairly easy. Read the directions below and check out the images and you will be good to go! While you can use a heavy knife, kitchen shears work very well for this technique and if you don't already have a pair dedicated to poultry, this approach might convince you.
Step by Step Spatchcock Guide
1. Place bird breast side down on a cutting board. Use shears or a heavy chef's knife to cut along both sides of the backbone. You will have to use a bit of force and strength. Cut it completely away from the bird. Save it in a heavy zip top bag in the freezer for stock or gravy at a later date (along with any other accumulated chicken parts like wingtips). PS: read our OXO Good Grips Poultry Shears Review.
2. Use your hands to open the bird, spreading the breast halves apart.
3. Flip bird over, skin side up and flip the legs inwards towards the breast. Use your palms, one over the other, to press down on the breast until you hear it crack and the bird flattens.
4. Place bird on roasting pan, tuck the wings behind the breast and you are ready to cook!
Watch How To Spatchcock A Chicken!