One-Pan Chicken Dinner to Schmaltz Nirvana
We want to sing the praises of schmaltz. Don't know what that is? It is chicken fat, plain and simple and it is like liquid gold. Let me entice you with a description of this Spatchcocked Chicken with Sourdough Croutons & Schmaltz.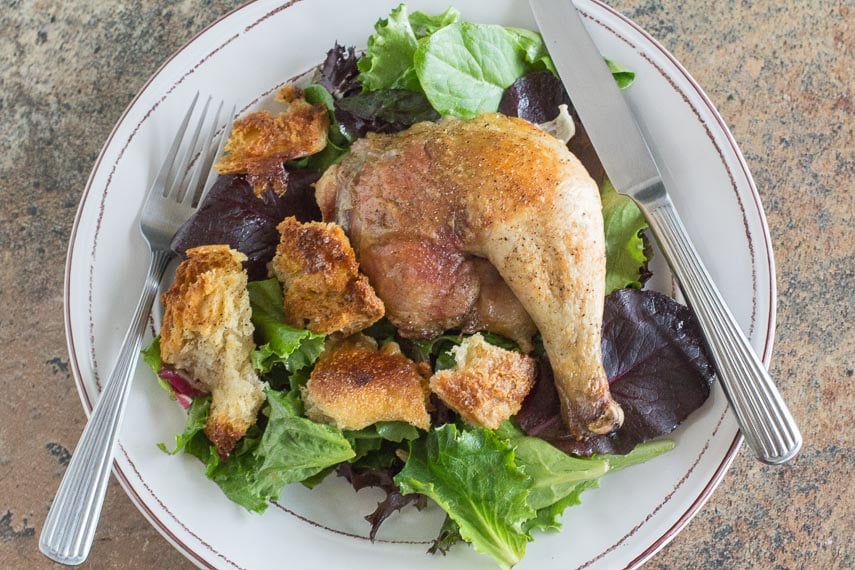 Imagine hunks of crusty artisanal sourdough bread spread out on a sheet pan. A butterflied whole chicken (that's what spatchcocked means) is laid on top. Some butter and garlic-infused olive oil is slathered all over and the whole is seasoned with lots of salt and pepper.
Into a hot oven it goes and as the skin crisps up, the chicken fat – the schmaltz – bastes the chicken and drips down onto the bread, leaving some of the hunks soaked in chicken juices and fat and others super crispy. Served on a big bed of greens with a tangy vinaigrette and you have a meal that you will remember for some time to come.
Dinner is Ready to Cook By The Time the Oven Preheats
This Spatchcocked Chicken with Sourdough Croutons & Schmaltz is the kind of dinner that you talk about the next day, regaling your friends, or anyone who will listen, with the easy technique and incredible results.
It's a one-pan dinner that you will want to make again and again. Serve this right when it comes out of the oven (after a very short rest) to take best advantage of the crispy, schmaltz-laden croutons.
Read and watch about spatchcocking your chicken before you start. Or have your butcher butterfly your chicken for you.
Learn About Sourdough
The low FODMAP diet is not a gluten-free diet and in addition to that, did you know that slow-rise, artisanal sourdough bread has fewer FODMAPs (fructans) and can be tolerated by many people who thought they had to eat gluten-free?
Read up on both sourdough bread and gluten and the diet; you might learn something new! We have a HUGE new article for you on How To Choose Low FODMAP Bread?
Salad Greens – Learn Your Limits
I have left the salad greens open-ended in terms of amounts. One of the goals of FODMAP Everyday® is to teach you how to cook low FODMAP. This entails you understanding the science and knowing your own body.
People tell us all the time how confusing this diet seems and 9 times out of 10 it is because they are not arming themselves with the right tools. This can include a FODMAP savvy dietitian as well as reputable use-at-home resources.
We strongly suggest that you get the Monash University Smartphone App and that you do not overlay other sources of information. Keep your FODMAP education streamlined and you will have an easier time of it – and get better results!
For a shortcut, check out our NO FODMAP Leafy Green Salad.
And if you are feeding a crowd, check out our Spatchcocked Turkey for a whole new take on cooking a larger bird.
Spatchcocked Chicken with Sourdough Croutons & Schmaltz
This Spatchcocked Chicken with Sourdough Croutons & Schmaltz is incredibly easy to make and will become one of your favorite one-pan dinners. The chicken fat - the schmaltz - crisps up the sourdough croutons in an incomparably way.
Preparation:
Position oven rack in top third of oven. Preheat oven to 425°F/220°C.

Tear the bread into large bite-sized pieces and scatter on a rimmed half sheet pan, positioning them somewhat near the middle. Season with salt and pepper.

Lay the spatchcocked chicken on top of the bread; most of the bread will be underneath the chicken, but you do want some pieces around the chicken. Brush the chicken with the softened butter, then the oil, then season liberally with salt and pepper.

Roast the chicken for 15 minutes, then rotate the pan front to back and roast for another 20 to 25 minutes or until a thermometer inserted into the thickest part of the thigh (not touching bone) registers 165°F/74°C. Allow to sit for 5 minutes for juices to redistribute within the chicken.

While the chicken is resting, toss a large amount of salad greens with vinaigrette. Mound the salad on dinner plates and lay pieces of chicken and schmaltz-crisped sourdough croutons on each plate and serve immediately. Pass napkins because you will be drooling with ecstasy.
Notes:
Tips
This dish is SO easy and SO delicious that once you make it, you will turn to it again and again. PROMISE. Start with great quality chicken and sourdough and your results will be stellar.
FODMAP Information
Our recipes are based on Monash University and FODMAP Friendly science.
Garlic-Infused Oil: Make your own Garlic-Infused Oil or buy a commercial equivalent for the easiest way to add garlic flavor to your food. Fructans in garlic are not oil-soluble, so garlic-infused oil is low FODMAP.
Oil: All pure oils are fats and contain no carbohydrates, therefore they contain no FODMAPs.
Please always refer to the Monash University & FODMAP Friendly smartphone apps for the most up-to-date lab tested information. As always, your tolerance is what counts; please eat accordingly. The ultimate goal of the low FODMAP diet is to eat as broadly as possible, without triggering symptoms, for the healthiest microbiome.
Nutrition
Calories:
830
kcal
|
Carbohydrates:
20
g
|
Protein:
60
g
|
Fat:
55
g
|
Saturated Fat:
13
g
|
Cholesterol:
227
mg
|
Sodium:
212
mg
|
Potassium:
572
mg
|
Fiber:
1
g
|
Sugar:
1
g
|
Vitamin A:
425
IU
|
Vitamin C:
4.9
mg
|
Calcium:
33
mg
|
Iron:
2.7
mg