Brownies! Bars! Blondies! – All low FODMAP. All Gluten-Free.
Mix it up this holiday season… how about tins of mixed brownies and bars? Going to a party? Bring a platter of some of these! Office gathering? Brownies and Bars are a hit! You can even freeze them ahead of time and bring them out when you need them. Easy and impressive!
All low FODMAP in suggested serving sizes, all Gluten Free!
All INSANELY DELICIOUS.
Let's get started….
One of our all-time favorite brownies we used to sell at our bakery years ago would sell like….well…
We made a low FODMAP lactose-free version which is exactly like the original!
Then we went ahead and made another favorite that we suggest you keep away from the kids! It packs a caffeine wallop and can easily stand in for your coffee break infusion. It was one of our most requested items in our bakery Harvest Moon many a moon ago- here it is all low FODMAP for you to make!
You'd think we would have stopped there… but noooo. We felt terrible that we made something the kids couldn't eat. So what do we do? We make
Seriously… these are insanely good. You may have to arm wrestle the kids (or the kid in you) for these.
Okay, so instead of arm wrestling you can just make a batch of the next brownies for everyone!
Yes, These Toasted Almond Coconut Fudge Brownies Are as Fabulous as They Sound.
They use almond flour, so they are gluten-free, but we took it a step further and toasted the coconut and the almond flour together before incorporating into the batter and the results are to die for.

I know the title is a mouthful, and actually, I was going to add "Browned-Butter" to the beginning of the title because that is the basis for these coffee/chocolate/toffee-like/caramel/whiskey-enhanced blondies. They are OUT OF THIS WORLD. Seriously, even though the images are pretty mouthwatering, they pale in comparison to biting into one of these Low FODMAP Mocha Chocolate Chunk Bars with Whiskey Salted Caramel.

Cranberry White Chocolate Blondies for Everyone! Some folks think that blondies are brownies poor cousin. Nothing could be further than the truth, especially when they are flavor packed with white chocolate (low FODMAP at 15 g servings), like our Low FODMAP Cranberry White Chocolate Blondies.
Yup, this recipe has all the flavors that you love in your favorite coffee-shop drink: cinnamon, ginger, nutmeg, cloves and/or allspice and espresso. The mocha part comes from the combination of coffee and chocolate, in this case miniature chocolate chips. Have we told you recently how much WE LOVE creating low FODMAP recipes for y'all??? And when we can present you with a tasty confection like this, it makes all the hours in the Test Kitchen worthwhile.

And you just have to have an awesome basic brownie recipe! So be sure to make our
The Ultimate Brownies Decadent Chocolate Brownies. Did the title pull you in? We try to keep a balance here in the Test Kitchen bringing you recipes that work for busy weeknights that suit the entire family's nutritional needs while also recognizing that sometimes you want a recipe for a classic that used to be part of your repertoire pre-FODMAP.

Every year my cousin has an Oscar party and these Low FODMAP Black & White Brownies were my 2019 contribution.
Not a chocolate fan? But want a chewy delicious brownie like bar? Then look no further than
This bar is super easy and starts with browning butter on top of the stove. The nuts are added to the butter so that they are toasted right in the browned butter for maximum flavor. Maple syrup is the low FODMAP sweetener highlighted here. Make sure that you use pure maple syrup.
And of course a Christmas Holiday Brownie!
These Low FODMAP Chocolate Peppermint Brownies are made up of a layer of chocolaty walnut brownie, topped with a creamy layer of peppermint frosting and crowned with a ganache glaze, sprinkled with red and white peppermint candy.
---
Everything You Need To Know For Creating Successful and Delicious Gluten-Free, Lactose-Free and Low FODMAP Baked Goods
This entire book is about yummy baked goods and desserts, from simple muffins to rich cheesecakes and other recipes that make our lives just a little bit sweeter, like cookies, bars, cupcakes and scones.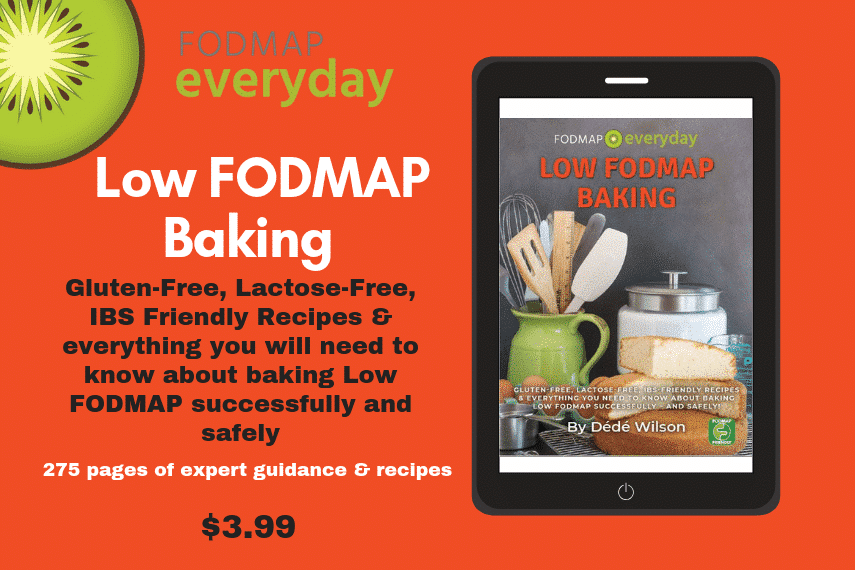 ---
Looking for FODY Foods Certified Low FODMAP Products? Shop here!
Shop at AMAZON? Check out our Low FODMAP Shop! Where we put all of our favorites together to make your Low FODMAP shopping much easier!
You Might Also Be Interested To Read