Rhubarb might be our very favorite part of spring. This sweet/tart vegetable, which is often treated as a fruit, is more versatile than you might imagine; we have sweet as well as savory recipes for you. From cakes to tarts, ice cream to cheesecake, BBQ sauce to chutney, and fancy drinks, here are 13 springtime rhubarb recipes to inspire.
Rhubarb Crumble Ice Cream
Sweet and creamy vanilla ice cream is layered with a sweet/tart rhubarb ribbon, along with crunchy, brown sugar and oat crispy bits for an ice cream experience unlike any other. Get the recipe for Rhubarb Crumble Ice Cream.
Rhubarb Upside Down Cake
This homespun cake is easy to make, and while it looks dramatic, we show you the techniques needed so that your cake will look as delectable as the photo. You end up with a tender cake beneath a sweet tart rhubarb topping that will thrill family and friends. Get the recipe for Rhubarb Upside Down Cake.
Rhubarb Cheesecake Tart
This tart is made from a few different components. The crust is simple, rich, and buttery, topped with an ultra-creamy lactose-free vanilla cheesecake layer. Next comes a layer of sweet/tart rhubarb with a hint of lemon zest and the whole shebang is crowned with nutty brown sugar, browned-butter streusel. GETTING HUNGRY? Let's bake together! Get the recipe for Rhubarb Cheesecake Tart.
Sparkling Rhubarb Cocktail
For this seasonal drink, first you make a rhubarb syrup by cooking rhubarb with sugar, orange juice and orange zest. Bubbles from chilled sparkling wine combined with the syrup make a pretty and delicious, festive drink. Get the recipe for Sparkling Rhubarb Cocktail.
Gluten-Free & Low FODMAP Strawberry Rhubarb Crisp
Strawberries and rhubarb are two spring fruit that have a natural affinity for one another. Here they are brought together underneath a brown sugar and oat-based crunchy crisp topping. Try this at breakfast or brunch with a dollop of unsweetened yogurt. Get the recipe for Gluten-Free & Low FODMAP Strawberry Rhubarb Crisp.
Fennel Rhubarb Gin Spritz
Drink Your Rhubarb! With our Fennel Rhubarb Gin Spritz! This spirited drink is a little herbal, a little tart, a little sweet, and a lot refreshing! You're going to have to make a rhubarb purée first, but it's super easy and delicious. The fennel takes the form of fennel seeds, which add an herbaceous, almost licorice-like flavor. Get the recipe for Fennel Rhubarb Gin Spritz.
Rhubarb BBQ Sauce
Sweet, hot, tangy, thick and luscious and equally at home on slow-cooked pork, grilled chicken, fish or even tofu and vegetables. This recipe for Rhubarb BBQ Sauce begins with cooking fresh rhubarb with all kinds of BBQ friendly spices and flavors like cumin, chipotle chile, smoked paprika and molasses in addition to prepared BBQ sauce. Get the recipe for Rhubarb BBQ Sauce.
Rhubarb Lattice Pie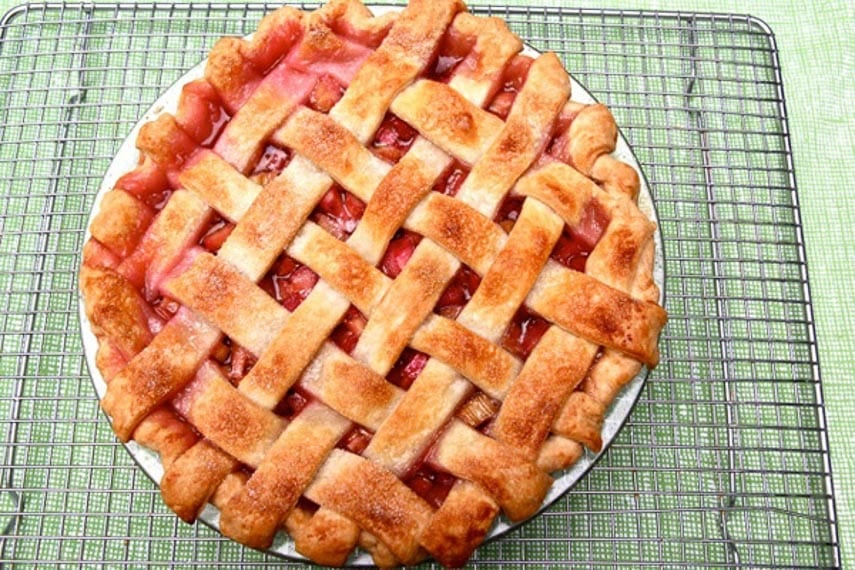 If there is one pie that says spring to us it is rhubarb pie. We like it with a lattice crust so that we can see the gorgeous pink and red colors peeking through. Get the recipe for Rhubarb Lattice Pie.
Spiced Rhubarb Chutney
A chutney is a sweet tart condiment that often has a lot of texture, as this one does. Garlic-infused oil is combined with scallions, rhubarb, sugar, apple cider vinegar, candied ginger, as well as fresh ginger, cumin, and allspice along with raisins and chopped walnuts for a sophisticated condiment that you are going to want to dollop on everything. And it gets better. This is basically a dump, mix and cook recipe, so it is extremely easy to make. Get the recipe for Spiced Rhubarb Chutney.
Rhubarb Raspberry Crostata
A crostata is a free-form tart and as such, they have a more casual air to them, as opposed to those made in a tart pan. For this Rhubarb Raspberry Crostata, you will need a batch of our easy Crostata & Tart Crust and a bunch of fresh rhubarb as well as fresh raspberries. The natural tartness of the rhubarb and sweetness of the raspberries work beautifully together. Get the recipe for Rhubarb Raspberry Crostata.
Gluten-Free Rhubarb Scones
We love a good scone in the morning and these features little bits of sweet and tart rhubarb. Crunchy coarse grain sugar on top is a nice addition. Get the recipe for Gluten-Free Rhubarb Scones.
Strawberry Rhubarb Cobbler
Cobblers are an easy dessert to make, especially when they are the kind that feature a drop-biscuits style topping, such as this one. The sweet juicy strawberries, and sweet and tart rhubarb are a classic combination, which works quite well with the buttery and rich cobbler topping. Get the recipe for Strawberry Rhubarb Cobbler.
Rustic Rhubarb Cake
This Rustic Rhubarb Cake is somewhat delicate, so it wouldn't work well for a bake sale, and we like it when freshly baked; that's when its center is almost creamy and custardy. The sugar on top adds a nice crunch and the rhubarb cooks up into tender mouthfuls of tartness. We have made this with lactose-free sour cream as well as lactose-free yogurt. The sour cream produces a cake that is a bit more custardy in the center, but either work. If you do use yogurt, choose full fat. Get the recipe for Rustic Rhubarb Cake.
6 Rich And Fudgy Brownies That Will Make You Want To Lick The Bowl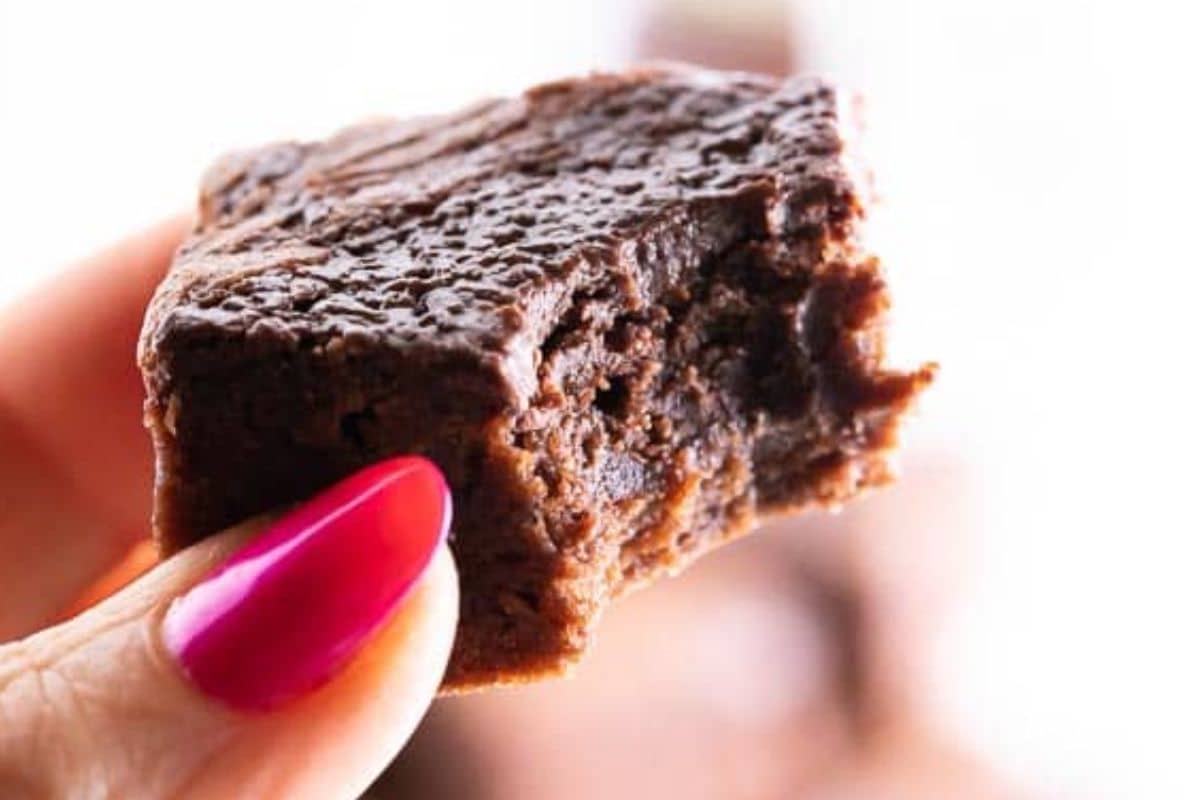 In our opinion, you can never have enough brownie recipes. We have gathered our top 6; the brownie recipes you don't have – yet. And you do need them; trust us. Nutella. Peppermint. Toasted almond & Coconut. S'Mores. PB & J – and even a super quick One-Bowl Brownie. Get ready to be inspired. Click for 6 Rich And Fudgy Brownies That Will Make You Want To Lick The Bowl
85 Desserts For The Chocolate Lover In Your Life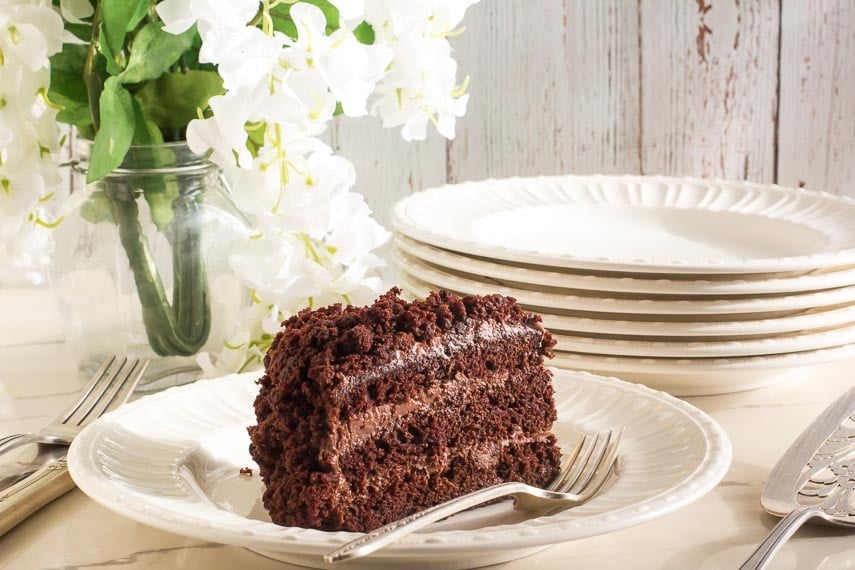 Welcome to the largest collection of desserts for the chocolate lover in your life. Each of these are also gut-friendly so that you don't have to worry about bloating, or a noisy belly when getting romantic! All of these desserts are gluten-free and low FODMAP! Click for 85 Desserts For The Chocolate Lover In Your Life
The Crazy Best and Easy Cookie Recipes Ever!
Cookies – small, large, soft, chewy, crispy, chocolaty, peanut buttery, elegant, homespun, one-bowl, drop, rolled and shaped – we'll take them all. You can never have enough cookie recipes and ours are all created in our very own Test Kitchen; these recipes work! Several can be prepped in the time it takes to preheat the oven. Click for The Crazy Best and Easy Cookie Recipes Ever!
Looking For Dairy Free Ice Cream & Frozen Desserts?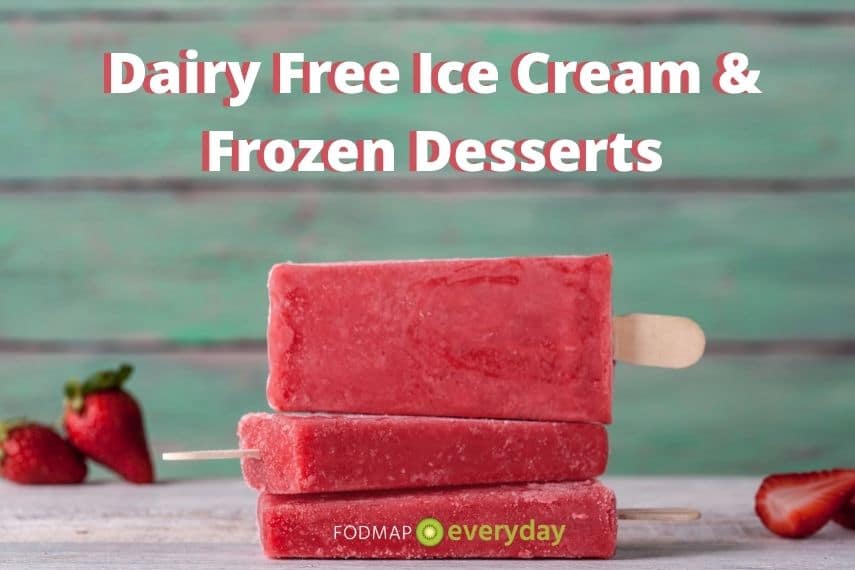 This article will discuss the low FODMAP ice cream and frozen desserts that you can find in supermarkets and restaurants, as well as our own exclusive recipes, and will include information on dairy based as well as alt milk frozen desserts and recipes. Click here for Dairy Free Frozen Desserts Recipes.
20 Strawberry Recipes That Will Make You Berry Happy!
These days, depending on where you live, you might be able to get decent strawberries all year long. Spring, however, brings fresh, new batches and we are always looking for new ways to incorporate these delicious berries into our diet. From drinks to cakes, crisps, cobblers, bars and even a salad, frozen desserts and a salsa, we have 20 strawberry recipes for you. Click for 20 Strawberry Recipes That Will Make You Berry Happy!
Looking For More Delicious Ideas?
If you have been diagnosed with IBS and are following a Low FODMAP diet, we have 1000+ Gluten Free & Low FODMAP Recipes to help you live deliciously and symptom free!
And Don't Miss These Articles If You Have IBS
Our team of low FODMAP and IBS trained dietitians and healthcare experts have written 100's of Wellness Articles to help you THRIVE.
And Be Sure To Visit Our Shop!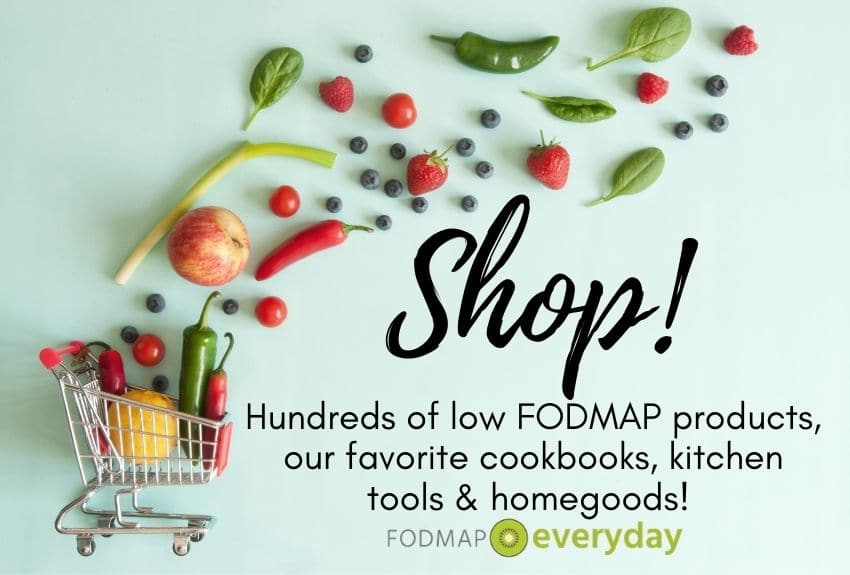 We have curated hundreds products to help you live your best life all in Our Shop!