Yes, Bacon with Pork
Pork loin is an easy to find cut and is quick to cook, making it suitable even for a weeknight. Pork, especially the kind many of us buy at the supermarket, can be very lean and overcooked pork is a main reason why some folks think they don't like it.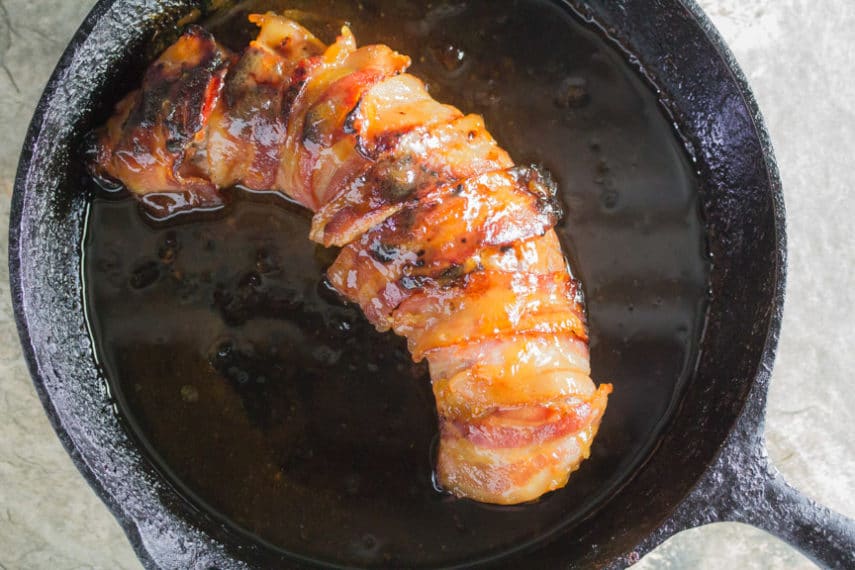 But pork at its succulent best is a thing of beauty and thankfully very easy to incorporate into your low FODMAP diet. This Bacon Wrapped Pork Loin with Brown Sugar and Marmalade is so easy, you can prep it in the time it takes for the oven to preheat.
Make For A Weeknight – Or For Special Guests!
Served with simple mashed potatoes, a green veggie and salad and you will have a meal special enough for guests but easy enough for a family of two – in which case you'll have awesome leftovers for sandwiches.
The orange marmalade and mustard make a bit of sauce to drizzle over those mashed potatoes. This recipe is a FODMAP IT!™ version of this original from Kitchn.com.
A Note From Robin: I made this recipe the other night- using a homemade orange marmalade and thick cut bacon. And can I just say…. OMG! It was so delicious that we (mostly me) ate the entire two pounds of it over 2 days.
Dinner, breakfast, lunch and then dinner again. I'm not proud.. but I cannot tell a lie. This is one of my all time favorite recipes and if you have friends coming for dinner, make this. In fact, make two. Then you will have some left over for breakfast, lunch and dinner. And you'll thank us.
Looking for more low FODMAP pork recipes? Check these out! Maple Mustard Pork Loin, Juicy Brined Pork Chops, and of course our spectacular Crown Roast of Pork!
If you want to be prepared to make dinner quickly and easily – be prepared! Check out our article on 12 Essential Pantry Items, 10 Essential Low FODMAP Baking Items and 8 Essential Fridge & Freezer Items.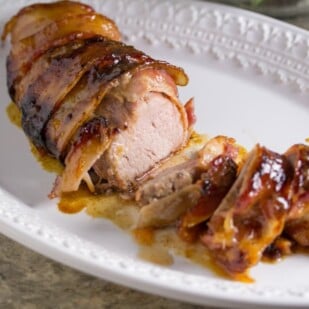 Bacon Wrapped Pork Loin with Brown Sugar & Marmalade
Wrapping bacon around lean pork loin keeps it moist and accentuates the pork flavors. Brown sugar and orange marmalade caramelize and create a delectable crust.
Preparation:
Position rack in hottest area of oven. Preheat oven to 350°F/180°C. Have a large cast-iron skillet ready or other ovenproof skillet that can hold the tenderloin; you can gently curve it to fit.

Combine the brown sugar, salt, pepper, paprika and thyme and rub all over the pork loin. Wrap bacon all the way around pork loin, covering the meat. Tuck the bacon ends underneath the loin; use toothpicks if necessary to keep the bacon in place.

Heat oil in cast-iron pan until shimmering over medium heat. Add bacon wrapped tenderloin and cook to sear, brown and begin to crisp bacon, about 5 to 6 minutes; flip over and sear other side, about 5 to 6 minutes more.

Meanwhile whisk the marmalade and mustard together in a small bowl. Brush all over the tenderloin once the bacon is crisped. Place in oven and continue to cook until instant read thermometer reads 145°F/63°C inserted in the middle of the loin, about 12 to 20 minutes. Transfer to cutting board, drape loosely with foil and allow to rest for 5 minutes before slicing for juices to redistribute. Pork is ready to serve; simply slice into 1/2-inch (12 mm) pieces. Leftovers may be refrigerated wrapped well with plastic wrap for up to 3 days.
Dédé's Quick Recipe Tips Video
Notes:
Tips
This dish looks – and tastes – so special, but it is truly quick and easy to prepare. As Robin said, make two! You will appreciate the leftovers for days to come, and so will anyone lucky enough to share this with you.
Nutrition
Calories:
588
kcal
|
Carbohydrates:
20
g
|
Protein:
43
g
|
Fat:
36
g
|
Saturated Fat:
1
g
|
Sodium:
1256
mg
|
Potassium:
10
mg
|
Fiber:
1
g
|
Sugar:
18
g
|
Vitamin A:
125
IU
|
Vitamin C:
0.7
mg
|
Calcium:
10
mg
|
Iron:
0.2
mg
SaveSave
SaveSave