Set yourself up for success with Essential Low FODMAP Refrigerator & Freezer Items tucked away in your fridge and freezer. Be ready to snack and create low FODMAP meals easily when you have the right products on hand.
As always, please refer to your Monash app and FODMAP Friendly smartphone apps for specific serving size recommendations.
Stock These 8!
Our 8 Essential Low FODMAP Refrigerator & Freezer Items
Stocking the Low FODMAP Fridge
Looking in the fridge and wondering what to eat? With these items on hand you will be able to handle your low FODMAP diet with ease. Let's go a bit more in-depth with specific recommendations.
Cheeses
Did you know that many hard cheeses are low FODMAP due to their naturally low lactose content? Take a look at our article that explains the difference between dairy-free and lactose-free.
We always have a hunk of Parmigiano Reggiano around for quick pasta meals and for shaving over soups, feta for sprinkling over salads, as well as some sandwich cheeses like cheddar and Monterey jack.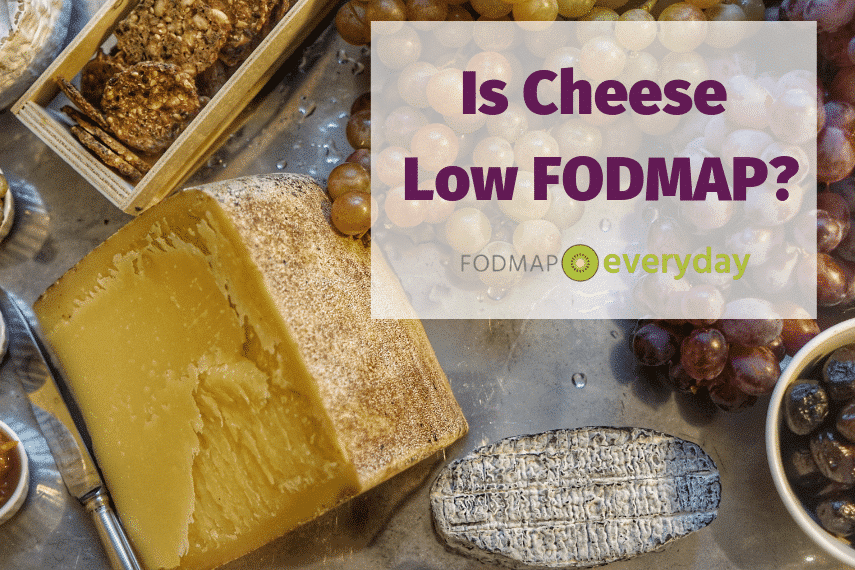 Condiments
Hopefully you know by now that the low FODMAP diet does not have to dull or boring. And condiments go a long way towards bringing flavor into our low FODMAP cooking. Here are some of our favorites that we keep on hand at all time.
BTW, please read our article, The Ultimate Guide To Low FODMAP Condiments. If you have questions about how Worcestershire sauce, ketchup and traditional mayonnaise, which contain onions and/or garlic, can be low FODMAP, the answers are there. (PS: it is all about amounts per serving size, folks)!
BBQ Sauce – We use BBQ sauce year-round. Whisk some into mayonnaise for an awesome sandwich spread. Try Fody BBQ sauces. They have several that are lab tested and certified low FODMAP. And we have several homemade ones for you, too. How about Pineapple Whiskey BBQ Sauce?
Ketchup – You can use conventional ketchup. We use Heinz.
Mayonnaise – We use classic Hellman's in the Test Kitchen.
Mustard – Several mustards have been lab tested and are low FODMAP. We keep Dijon on hand as well as coarse-grained. If you like yellow and mild mustards, you can have those, too.
Salad Dressings – As for salad dressings, there are plenty of low FODMAP choices out there. We prefer to make our own. Simply search "salad dressing" in our search function to see what we have for you, from Blue Cheese to Ranch, Balsamic to Red Wine, Poppy Seed, Russian Dressing and more. If you don't want to make your own you should try Live Free Foods Creamy Ranch or Zesty Italian – both are Certified Low FODMAP by FODMAP Friendly!
Salsa – You can make your own salsa, of course, and we have several recipes, but you can also find commercially prepared, such as Casa de Santé and Fody Foods.
Tabasco – Like it hot? Many hot sauces are low FODMAP, including classic Tabasco.
Worcestershire Sauce – Look no further than Lea & Perrins.
Shop Condiments
For more low FODMAP condiments click here!
Fruit
There are so many different kinds of fruits that you can eat while on the low FODMAP diet and if you keep them at hand, you will always have food to snack on and cook with.
Gluten-Free Pizza Crusts
Frozen Pizza Crusts
If you can get your hands on Ugly's Gluten Free Pizza Crusts, we think they are phenomenal. They contain an interesting blend of tapioca starch, potato flour, white rice flour, millet flour, buckwheat flour and sorghum flour and are a true sourdough, but gluten-free! This is a thin crust with a bit of chew.
A lot of FODMAPers like Udi's Frozen Pizza Crusts. The label says they are "thin and crispy"; we find them to be a bit bready. They are probably the easiest to find of all the low FODMAP frozen pizza crusts and are convenient and easy to use.
We also like Against The Grain Gourmet Pizza Crusts. Their first ingredient is low FODMAP tapioca and they also contain eggs and a fair amount of cheese. The second ingredient is milk. Assessing whether you can tolerate this product is a matter of lactose tolerance. The texture is heartier than the Ugly's, and also heavier (due to all the cheese). It has a very hefty chewy texture. Definitely worth a try if can tolerate some lactose.
Shelf-Stable Pizza Crusts
I know that shelf-stable isn't refrigerated or frozen, but there are a couple of pizza crusts to call to your attention that are found on the shelves in the middle of the supermarket.
Schär makes a shelf-stable pizza crust that is lab tested and certified low FODMAP by Monash University. Don't be thrown by the ingredients, which include apple fiber and psyllium seed husks. This is a certified product and guaranteed low FODMAP – as long as you stick with the serving size.
Mama Mary's Gluten Free Thin Pizza Crust is another choice that is gluten-free and rice flour based. When you are shopping the brand make sure you buy the "gluten free" as they also make conventional crusts based on wheat and whole wheat flour. They do suggest storing in the freezer for longer-term storage (not the fridge, which will dry them out).
With any of these pizza crusts at hand you will be able to whip up low FODMAP pizzas in a flash. And steer clear of high FODMAP cauliflower pizza crusts!
Shop Pizza Crusts
Milk & Alt Milks
When it comes to lactose-free dairy milks and alt milks, you have a lot to choose from.
Lactose Free Dairy Milk (whole, 2% or skim)
A2 Milk
Almond Milk
Cashew Milk *
Coconut Milk *
Hemp Milk
Macadamia Milk
Oat Milk
Pea Milk *
Quinoa Milk
Rice Milk
Soy Milk (only made from soy protein; not whole soy beans).
We don't know about you, but we have to have our hot beverage in the morning or the day just doesn't start right. Having lactose free milk (we like Organic Valley brand) or a milk alternative on hand allows us to make lattes at home and use with our bowls of low FODMAP approved cereal.
Note the asterisk next to the cashew, coconut and pea milk. This is because one specific brand of cashew milk, Sanitarium, has been lab tested and certified low FODMAP by Monash University, but no others have been tested. For coconut milk, there are different recommended serving sizes depending on the type of coconut milk – canned, UHT, etc. Check your apps – and steer clear of any with added inulin.
In the case of milk based on pea protein, this is a developing topic. Several types of pea protein have been recently lab tested and certified low FODMAP by Monash.
Check out our article, Is Pea protein Low FODMAP? Discuss with your RD; maybe trying some milk based on pea protein during your Challenge Phase could be prudent.
Proteins
Eggs, meat, poultry, fish and eggs. The FODMAPs we are trying to minimize live within the realm of carbohydrates, so proteins are an easy purchase.
Pure proteins, (not steak with Bearnaise sauce), are no FODMAP. Here is a list of proteins you can eat that contain NO FODMAPs:
By the way, hard-boiled eggs are a staple high protein snack for us. Make a batch in the beginning of the week and store in the fridge.
Plant-Based Low FODMAP Proteins
And if you are looking for plant-based foods and legumes that offer low FODMAP protein, try these favorites:
Canned Lentils & Chickpeas – Please refer to your apps for more informations and also please read our Explore An Ingredient: Lentils. These offer economical protein for the FODMAPer. We know that these are purchased in cans and are shelf-stable, but we store them in the fridge once opened, and so have listed them here amongst the proteins.
Tofu – Firm and extra-firm tofu are low FODMAP, but soft and silken are not. Read more in our article, Soy Products, Low FODMAP or Not?
Tempeh – Another great soy based low FODMAP protein. Make sure to buy "plain" and not ones enhanced with garlic, onion for other high FODMAP ingredients. And try our tempeh lentil chili!
If you are vegan or vegetarian and looking for more information, we have an entire Vegan & FODMAPs series for you.
Tortillas – Corn & Flour
Corn Tortillas
Some are sold refrigerated, some frozen and some are stocked on the room-temperature grocery shelves, but since we store ours in the fridge, we have listed them here.
We always have corn tortillas around for quick tacos, enchiladas and quesadillas. Corn tortillas that contain gums will be more flexible and less apt to fall apart. Luckily, Monash has tested corn tortillas with and without gums and both are low FODMAP in generous portions.
I divide corn tortillas into two categories depending on my needs: rolled and flat. If I know I am going to roll them I absolutely look to ones that contain gums, such as Mission Yellow Corn Tortillas, which contain both cellulose gum and guar gum, neither of which is a FODMAP issue.
If I am going to keep them flat (see our Shrimp Tacos), I look for more traditional approaches such as El Milagro Corn Tortillas. They taste so much better and closer to authentic, homemade corn tortillas. For this kind of tortilla, look for corn, slaked lime (or calcium hydroxide) and water on the ingredient label and that's it. Or better yet, see if you can buy some from a local Mexican restaurant.
Flour Style Tortillas
Classic flour-based tortillas, used so often in burrito recipes and breakfast-style tacos, are traditionally made with fructan-rich wheat flour. For our low FODMAP purposes we have to use substitutes. Whereas I think some high-quality rice pastas replicate traditional wheat pasta quite well, the same cannot be said for flour-style tortillas. They are their own thing; but at least we can have them!
We have had the best success with brown rice-based tortillas. We like Food for Life Brown Rice Tortillas, which are wheat and gluten free, as are Trader Joe's Brown Rice Tortillas.
(For something a bit different, look into NUCO Organic Coconut Wraps. They are grain-free and made with coconut. These are flexible, gluten-free and considered low-carb, too. They are a shelf-stable product though and do not require refrigeration, FYI).
One Note: On occasion we will get a comment about tortillas falling apart. Here is what we have learned: follow the manufacturer's instructions! Some say to heat flat on a pan on top of the stove; others suggest warming in microwave wrapped in paper towels. We find that either technique can work – or not – and so perhaps success is related to their formulation. If there are no recommendations, our default suggestion is to heat one at a time, flat, on a hot pan. Nonstick works great, but so does cast-iron.
Shop Tortillas
Vegetables
Many folks new to the diet are under the false impression that vegetables are off-limits. Nothing could be further from the truth. Your Monash and FODMAP Friendly apps will give you a more complete listing, but here are our top choices:
Broccoli – The stems and the flowers of broccoli contain different FODMAP levels. Luckily, Monash has tested the stems, the heads (flowers) and a combo. You can have broccoli! We like it in stir fries, casseroles, steamed and raw.
Carrots – No FODMAPs folks! Enjoy them raw and cooked.
Cucumbers – These are a no FODMAP food. Enough said.
Green Beans – You can have up to 75 g of green beans; plenty for a side dish or as part of a recipe.
Leeks – Leek greens, that is. They are a major onion-replacer and we always keep them round.
Lettuce – There are several lettuces that contain either no FODMAPs, trace amounts or very generous low FODMAP servings. Check your apps. Let's eat salad and layer up that sandwich.
Potatoes – White, red, yellow and purple skinned; waxy and starchy: these potatoes contain no FODMAPs!
Scallions – Just like leeks, we use scallion greens for low FODMAP onion flavor in a great majority of dishes.
Spinach – Raw or cooked, baby or English, we love this low FODMAP vegetable.
Tomatoes – Common beefsteak, Rome plum tomatoes, grape and cherry tomatoes have all been lab tested and we can enjoy them cooked and raw.
Avocados – YES you can have up to 30 g of avocado! Read more in Is Avocado Low FODMAP?
Yeah, we know these last two are technically fruit, but we are sure you will forgive the listing here.
The Takeaway
Preparing low FODMAP meals does not require anything out of the ordinary and as with any cooking, having high-quality ingredients at hand will make the process go as smoothly as possible.
Check out our articles on 12 Essential Low FODMAP Pantry Items and 10 Essential Low FODMAP Baking Ingredients.
And be sure to check out our Shopping Lists which have thousands of low FODMAP food items curated by our Monash University trained RDs.
And our SHOP! Where we have gathered all of our favorite low FODMAP products in one easy to access and navigate shop.