How to Make a Lactose-Free Ice Cream Soda
Did you think you were never going to be able to have an ice cream soda again? The FODMAP Everyday® Lactose-Free Ice Cream Soda to the rescue!
With some careful label reading it is easy to find ingredients that will work for you while following the low FODMAP diet.
Lactose-Free Ice Cream Soda Ingredients – One by One
Let's break it down. You need ice cream of course, some soda, milk or cream, and for our purposes some chocolate sauce and some low FODMAP fruit.
It is actually easy to find lactose-free ice cream, but why not choose they best ice cream you can find?
When we indulge in a treat like an ice cream soda, which is not an every day event, we want to make sure the calories count!
Maybe you have heard the term "premium ice cream" and weren't sure what that meant.
Premium ice cream is denser and creamier.
It typically features high quality dairy and will have less "over-run", which is industry speak to explain that a premium ice cream product has less air incorporated, and more product!
You not only get more for your buck (since you aren't paying for air) but on your tongue and in your mouth your experience is going to be that much more satisfying.
Maybe you know what premium ice cream is and you have been a fan of brands like Häagen Dazs and Ben & Jerry's, but now that you are eating lactose-free you thought you were out of luck.
Beckon Premium lactose-Free Ice Cream to the rescue! It is a premium, lactose-free ice cream that also happens to be low FODMAP.
They use pure cane sugar and there are no gums or stabilizers and the flavors and textures are out-of-this-world. We used their Beckon Vanilla for this Lactose-Free Ice Cream Soda, but you will see that you could use any flavor you like.
Beckon Ice Cream ships their truly delicious ice cream all over the contiguous United States. And for FODMAP Everyday® readers we have a very sweet deal for you!
10% off your order when you put "FODMAPEVERYDAY" into the discount code box at check-out. Click here for the deal!
Some additional dairy, in the form of lactose-free whole milk or half-and-half is easy to find and makes our soda extra creamy. For the chocolate sauce component, you could use our Hot Fudge Sauce, or our Low FODMAP Chocolate Shell, and whichever you choose needs to be made ahead, so plan accordingly.
The Hot Fudge Sauce will dissolve more readily in the soda, creating more chocolate flavor and color throughout. The chocolate shell will harden and create awesome patterns on the glass, as seen in the images, but will not dissolve as easily.
Your choice! (This is one time it's nice to have choices to make!)
For the fizzy water you can use plain sparkling water – or if you know that the natural flavors in a flavored sparkling water agree with you, that is another choice.
(Full disclosure, I love La Croix Coconut Sparkling Water and that's what I used for the images).
As for the fruit, strawberries have no detectable FODMAPs and a few of them sliced and added to this mixture with vanilla ice cream and chocolate sauce (and coconut sparkling water) was a fantastic combination!
We like the look of one big ice cream soda, to serve 2. Or, you could divide the ingredients and make two smaller ones, so that you each have your own.
This recipe was sponsored by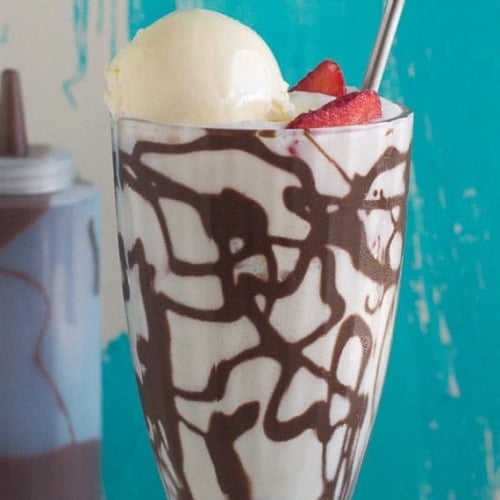 Lactose-Free Ice Cream Soda
Did you think that you couldn't have ice cream sodas anymore? Ours is lactose-free and work within low FODMAP protocols.
Preparation:
Have everything ready to go. Choose a tall clear glass and drizzle the chocolate sauce all over the inside of the glass. The Hot Fudge will kind of melt down the sides. The chocolate shell will adhere and you can make pretty patterns. I use a squeeze bottle but you could drizzle from a spoon. Add milk or cream to the glass and about half of the strawberries. Fill glass with sparkling water so that the glass is about three-quarters full. Add scoops of ice cream, top with remaining strawberries and serve immediately.

Oh, and add a straw! Or two, if you are sharing.
Nutrition
Calories:
279
kcal
|
Carbohydrates:
26
g
|
Protein:
5
g
|
Fat:
17
g
|
Saturated Fat:
1
g
|
Sodium:
25
mg
|
Potassium:
37
mg
|
Fiber:
1
g
|
Sugar:
20
g
|
Vitamin C:
14.1
mg
|
Calcium:
6
mg
|
Iron:
0.1
mg