Low FODMAP Asian Tofu Noodle Papaya Salad
I cook a lot. I am rarely really excited. You could say I am a bit jaded, but I would never complain because it is from being surrounded by amazing food all the time.
Every now and then a recipe rises to the top. This Low FODMAP Asian Tofu Noodle Papaya Salad is one of those recipes.
It has color, texture. It is nutritious and has so many incredible flavors intermingling they dance on your palate. Tofu, papaya, brilliant orange crunchy carrot, tons of rich, deep green from basil, cilantro, mint, arugula and watercress – and noodles!
It's About The Sauce!
The sauce, which combines all of your very favorite Asian flavors like garlic (from low FODMAP garlic-infused oil, of course), ginger, lime, fish sauce, soy sauce, toasted sesame oil and chiles can be used for other proteins as well and whips up in a flash.
Please note, that because this sauce is so delicious, I have provided you with a batch that has deliberate built-in extra dressing. You will not use all of the dressing for the salad.
Because of this the calories and fat for this recipe look artificially high. Just keep in mind that you can use as a little, or as much, dressing as you like and the salad definitely does not need the entire batch.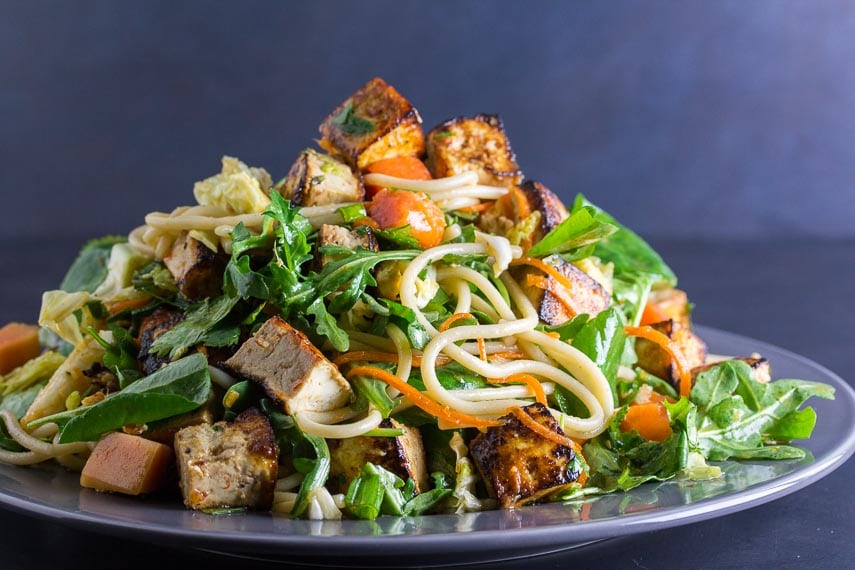 Dinner Salad
We love a good dinner salad. What is a dinner salad? To us it usually means something that has a high proportion of greens or vegetables to satisfy a larger appetite.
Sometimes it is based on tofu, like this one, or for a different take, check out our Low FODMAP Asian Steak & Noodle Salad with Mint & Peanuts, which features hearty beef.
Papaya Is Low FODMAP
Papaya, also called Pawpaw, is one of those fruits that we want you to pay attention to and get to know. In the amounts lab tested by Monash, no FODMAPs were detected.
This means that you can enjoy this tropical fruit typically with no trigger repercussions – and we like it in sweet recipes as well as savory, such as this salad.
Let's Talk Fish Sauce, Vegetarianism & Veganism
If it were not for the fish sauce in this recipe, the dish would be vegan. With its inclusion it is neither vegan nor vegetarian, since fish sauce is based on anchovies.
I have spoken elsewhere about my strong opinions about fish sauce. Different brands taste very different from one another, and many brands can be harsh, overly salty and ruin the dish.
I use Red Boat brand and this recipe works beautifully with it. Please use it for best results.
There is such a thing as "vegetarian" fish sauce. Recipes exist and rely heavily on the umami provided by dried shiitake mushrooms. While they are high FODMAP, we do have low FODMAP serving sizes of them and we could make a sauce, but I was not going to ask you to do that.
Commercially, you can find vegetarian versions and these also rely heavily on mushrooms and/or seaweed. Their FODMAP content is unknown but we can extrapolate that it will not be low, especially with a high mushroom content.
Also, the flavor is quite different from the Red Boat and would throw off the balance of the dish.
Savoy Cabbage & FODMAPs
Green cabbage is low FODMAP in amounts of 75 g. Savoy cabbage has a Red Light next to it on the Monash app, so you have perhaps never clicked through to learn more, which is a shame.
Always fully explore ingredients in the app and read our article High FODMAP Foods with Low FODMAP Serving Sizes. You can eat up to 40 g of Savoy cabbage, which is plenty and showcased in this recipe as well as our recipe for Low FODMAP Asian Steak & Noodle Salad with Mint & Peanuts.
If you love tofu and are looking for a lunch idea, check out our Green Theme Bento Box! Fancy? Yes, but we have do-ahead tips.
Low FODMAP Asian Tofu Noodle Papaya Salad
Looking for a substantial dinner salad? Try our Low FODMAP Asian Tofu Noodle Papaya Salad.
Ingredients:
Salad:
14 to 16-

ounces (400 g to 455 g)

block extra-firm tofu

1

tablespoon

Garlic-Infused Oil,

made with vegetable oil, or purchased equivalent

6-

ounces (170 g)

low FODMAP gluten-free spaghetti,

such as Jovial

6-

ounces (170 g)

diced ripe peeled and seeded papaya

5 ¾

ounces (160 g)

shredded Savoy cabbage

1

medium

carrot,

trimmed, peeled and julienned

½

cup (32 g)

chopped scallions, green parts only

½

cup (12 g)

torn basil leaves

½

cup (10 g)

torn cilantro leaves

¼

cup (5 g)

torn mint leaves

1-

ounce (30 g)

fresh baby arugula

1-

ounce (30 g)

fresh watercress leaves
Preparation:
Make the Dressing: Whisk together all of the dressing ingredients until combined and set aside.

Make the Salad: Cut the tofu block in half lengthwise. Place a triple layer of paper towel on a cutting board, place tofu slabs on top, then cover them with another triple layer of towel. Put something heavy on top, like another cutting board with a heavy pot on top. Allow to sit for about 10 minutes. This technique will remove excess water from the tofu so that it will fry up with a nice crisp outer texture. Once tofu has drained, discard paper towels and cut tofu into cubes.

Heat a large, deep skillet over medium heat and add the oil and heat until oil is shimmering. Add tofu and increase heat to medium-high. Cook undisturbed for a few minutes or until tofu is browned on the bottoms, then toss around and continue to cook until crisp and browned on most sides. Remove from pan and set aside.

Bring a large pot of salted water to a boil and cook the spaghetti until al dente. Drain well and cool.

In a large mixing bowl, toss the pasta with a bit of the dressing to coat and get the noodles slippery and separated. Add the tofu and a bit more dressing and toss again to coat and infuse with flavor. Add the remaining ingredients in order to the bowl and toss gently, adding just enough dressing to lightly and properly dress the salad - you will most likely have dressing left over for another use. Your dinner salad is ready to serve!
Dédé's Quick Recipe Tips Video
Tips
Choosing papaya can be tricky. I look for those that are slightly soft, but not mushy, and that give a whiff of sweet fragrance. You could also ask the produce person for help!
Nutrition
Calories:
521
kcal
|
Carbohydrates:
61
g
|
Protein:
17
g
|
Fat:
28
g
|
Sodium:
848
mg
|
Potassium:
17
mg
|
Fiber:
4
g
|
Sugar:
13
g
|
Vitamin C:
4.5
mg
|
Calcium:
175
mg
|
Iron:
0.1
mg
Low FODMAP Recipes Created Just For You!
We take low FODMAP recipes seriously at FODMAP Everyday®. That's why Dédé oversees our Test Kitchen and makes sure that each and every recipe works – and is low FODMAP following the most up-to-date science.
Rest assured that you will not find more trustworthy or delicious low FODMAP recipes anywhere – several hundred and counting.
FODMAP Everyday®Low FODMAP Recipes At A Glance:
Come Join Our Low FODMAP Recipe Community!
Use Our Exclusive Recipe Filter To Find The Low FODMAP Recipe You Are Looking For Today!