Easy & Festive Garlic & Herb Roast Leg of Lamb
This is the dish I always think of when I want an elegant main dish for a party. It is a little less expected than beef or poultry and lamb is actually quite versatile.
It lends itself to Mediterranean flavors, Indian or even very simple preparations like this Garlic & Herb Roast Leg of Lamb. 
Many folks say they don't like lamb, but I have often found that after speaking with them it is because they have only had over-cooked lamb.
And I don't like that either, even though I am a lamb fan! Follow our suggestions so that you end up with some nice, rosy meat.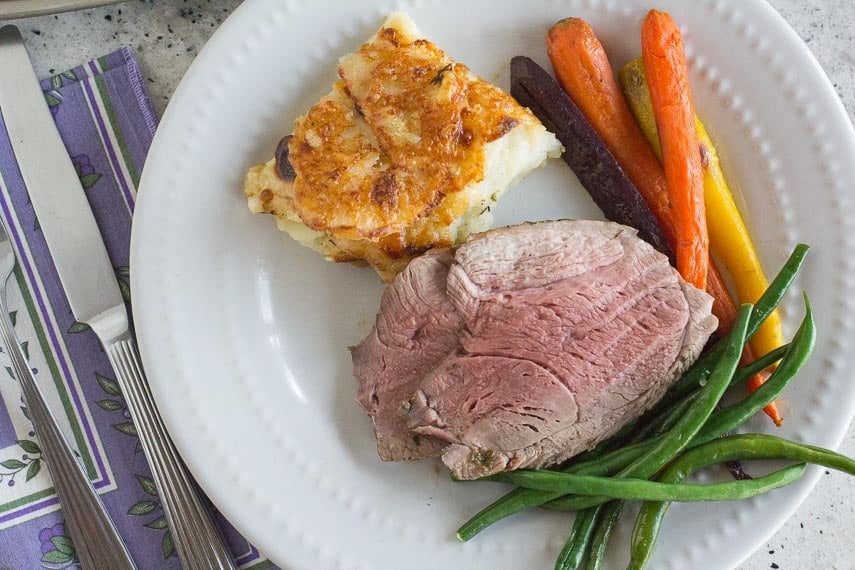 Choose Your Herbs
Fresh herbs along with Garlic-Infused Olive Oil, salt and pepper are puréed in the food processor or blender and slathered all over the meat to marinate and infuse flavor for a few hours before roasting.
I have made this dish with thyme, oregano, dill and marjoram, but I always come back to rosemary as my favorite. Here I decided to temper it a bit with the freshness of parsley, but you can pick and choose as you like.
My only caveat is, do use fresh herbs!
What Can I Do With Leftover Lamb?
My favorite dish to whip up with leftover lamb is a curry. The lamb goes very well with Indian seasoning, as I mentioned, and also that is a dish where I don't mind the lamb being cooked beyond rare.
Be sure to check out our recipe for Lamb Rogan Josh  (lamb curry) for an easy weeknight meal. It is a one-pot wonder using canned tomatoes, yogurt and fragrant curry powder along with fresh ginger.
For a fabulous party presentation, try this with our Potato Gratin, our Roasted Zucchini with Lemon & Garlic, Roasted & Glazed Carrots or something a little different like our Sautéed Radishes.
We serve this at Passover alongside our low FODMAP Charoset and warming bowls of Matzo Ball Soup.
We also love it at Easter and have some more ideas for that holiday, if you are looking.
And if you are in the market for a new carving set, we love this one from Viking.
Recipe Sponsored By FODY Foods
Garlic & Herb Roast Leg of Lamb
Our Garlic & Herb Roast Leg of Lamb is low FODMAP and very easy to make.
Cook Time:
1
hour
15
minutes
Total Time:
3
hours
25
minutes
Preparation:
Place oil, herbs, salt and pepper in a food processor fitted with a metal blade or in a blender and process into a paste. Scrape down the machine once or twice to get the job done.

Place leg of lamb in a large roasting pan and coat with garlic-herb mixture all over. Let lamb sit at room temperature for 2 hours. This allows the meat to come to room temperature for even roasting and for the garlic and herb flavors to permeate the meat.

Position rack in middle of oven. Preheat oven to 350°F/180°C.

Roast lamb for an hour and check temperature with an instant read thermometer. You want to bring the lamb to 120°F/48°C for very rosy pink lamb, or about 130°F/55°C if you want it more on the medium side, as in the images. Time is less important than temperature; just roast until desired doneness is reached. Remove from oven, loosely cover with foil and allow to sit for 15 minutes before carving. Lamb is ready to serve with pan juices.
Notes:
Tips
When you have a recipe that has such few ingredients, each and every one should be of the highest quality. Here, you want to have a very well-flavored oil, high-quality lamb and impeccably fresh herbs for the best results.
Nutrition
Calories:
298
kcal
|
Carbohydrates:
2
g
|
Protein:
37
g
|
Fat:
15
g
|
Saturated Fat:
1
g
|
Sodium:
237
mg
|
Potassium:
72
mg
|
Fiber:
1
g
|
Sugar:
1
g
|
Vitamin A:
670
IU
|
Vitamin C:
9.2
mg
|
Calcium:
27
mg
|
Iron:
0.8
mg