Low FODMAP Brussels Sprouts Salad
Did the title get your attention? Our Low FODMAP Brussels Sprouts Salad is actually compliant with even the Elimination Phase of the low FODMAP diet.
Are Brussels Sprouts Low FODMAP?
Brussels sprouts are low FODMAP in 38 g portions, which is about 1 ½-ounces. This sounds like a small amount, right? Behold the image below.
The mound of light and fluffy shredded Brussels sprouts in the measuring cup above is 38 g and a Green Light low FODMAP amount. That is a lot of Brussels sprouts! While playing in the Test Kitchen, this amount inspired me to create a salad that could take advantage of this fact.
Also, please note that while the Monash app says that 38 g will equal 2 Brussels sprouts, we have found that they vary widely in size, as seen in the image above. Go by weight.
And when you go by weight, go by TRIMMED WEIGHT. The image below shows you how much of a difference there is between a whole Brussels sprout (upper line), and one that has been trimmed of its heavy, woody stem and core (lower line).
The weight that counts is the weight that you eat, which is after trimming. Another way to look at this is if you weigh out 10-ounces (280 g) of sprouts at the store, that doesn't mean you will be eating 10-ounces (280 g). This goes for all vegetables that require trimming, coring etc. Something to think about!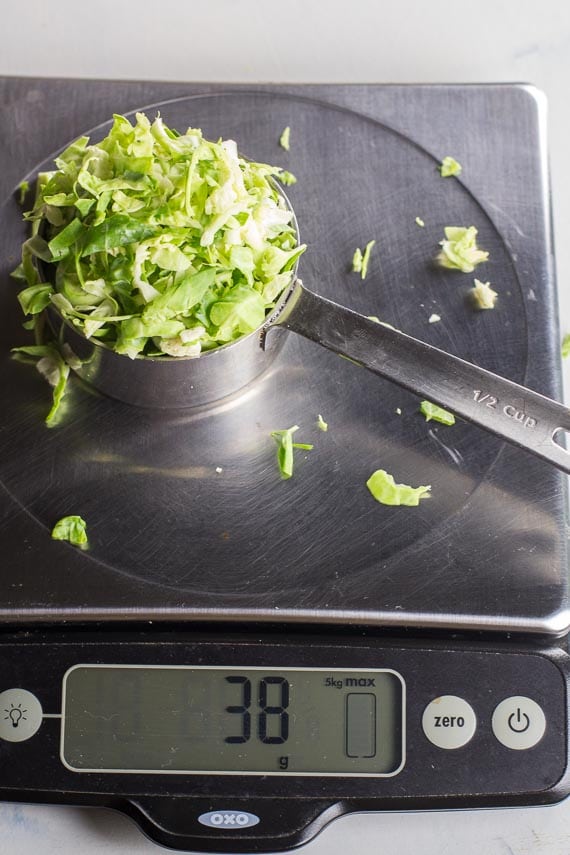 I have added shredded Romaine lettuce to make the Brussels sprouts go even further with fresh, green crunchiness.
Combine Flavors, Colors & Textures
I have always loved texture in my food. I like crunchy and silky and juicy and smooth. Rough and tender and every other word you can think of that describes a sensation brought about by an ingredient. This was true pre-FODMAP as well as now – and this salad has a LOT going for it in terms of texture as well as flavor and color.
We often hear that folks think the low FODMAP diet is boring. I say, serve them this Low FODMAP Brussels Sprouts Salad with smoked almonds, pomegranates and a simple, tangy vinaigrette. The shaved Parmesan cheese is optional. Without it the salad is vegan; your choice.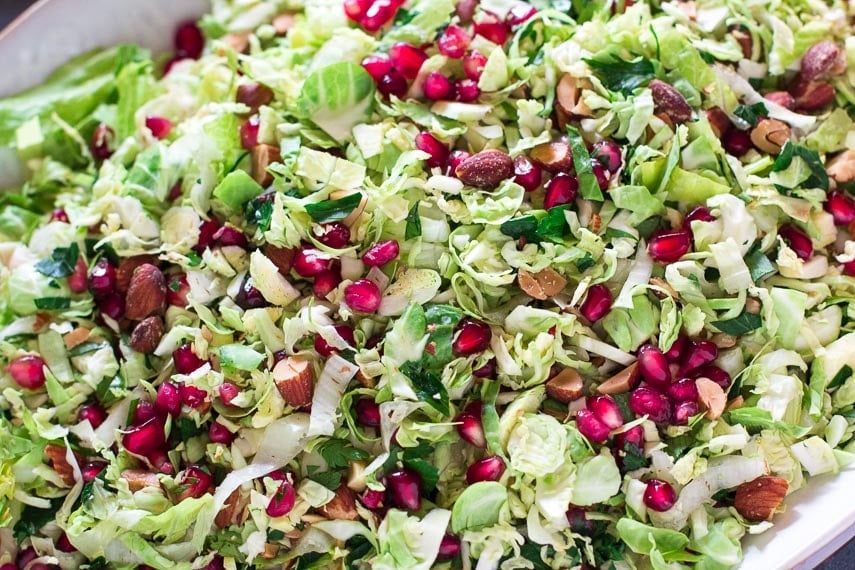 Let's Talk Parmesan Cheese
Not all cheese is the same when it comes to texture, and I wanted pretty curls here. We usually call for Parmigiano Reggiano, which is the finest of Parmesan cheeses. It is aged, sharp and crumbly and perfect for grating over pasta. Here I suggest you use Grana Padano, which is a similar hard cheese. It is a younger cheese, not as crumbly, and shaves beautifully, as seen here below.
For more info on cheese, please refer to our article Is Cheese Low FODMAP? It will help you understand how to tell if ANY cheese is okay to eat.
Low FODMAP Brussels Sprouts Salad
Thought Brussels sprouts were off limits? Our Low FODMAP Brussels Sprouts Salad shows you how you can enjoy them even during the Elimination phase.
Ingredients:
Salad:
10-

ounces (280 g)

fresh Brussels sprouts,

trimmed to equal 8-ounces (225 g) and shredded

1

large head Romaine lettuce,

cored and shredded, (about 5 to 6-ounces)

½

cup (69 g)

toasted whole smoked almonds,

chopped

½

cup (87 g)

pomegranate seeds

¼

cup (8 g)

chopped fresh flat leaf parsley
Dressing:
1/3

cup (75 ml)

extra virgin olive oil

1/3

cup (75 ml)

freshly squeezed lemon juice

2

teaspoons

Dijon mustard

2

teaspoons

maple syrup;

optional

Freshly ground black pepper

Shaved Parmesan;

optional
Preparation:
For the Salad: Toss together all of the salad ingredients in a serving bowl.

For the Dressing & Assembly: Shake the oil, lemon juice, maple syrup (if using) and mustard together in a lidded jar. Season to taste with salt and pepper. Dress the salad, lightly, but well (you might have dressing leftover). Salad is ready to serve but actually improves if allowed to stand for 1 hour. Garnish with shaved Parmesan, if desired.
Notes:
Tips
For a vegan option, do not use the Parmesan cheese.
If you do use the Parmesan cheese, know that a low FODMAP amount is considered 40 g per serving, which when it comes to shavings goes a long way!
Nutrition
Calories:
148
kcal
|
Carbohydrates:
8
g
|
Protein:
3
g
|
Fat:
13
g
|
Saturated Fat:
1
g
|
Sodium:
15
mg
|
Potassium:
35
mg
|
Fiber:
1
g
|
Sugar:
3
g
|
Vitamin C:
2
mg
|
Calcium:
3
mg
|
Iron:
1
mg
---
Low FODMAP Recipes Created Just For You!
We take low FODMAP recipes seriously at FODMAP Everyday®. That's why Dédé oversees our Test Kitchen and makes sure that each and every recipe works – and is low FODMAP following the most up-to-date science.
Rest assured that you will not find more trustworthy or delicious low FODMAP recipes anywhere – several hundred and counting.
FODMAP Everyday® Low FODMAP Recipes At A Glance:
Come Join Our Low FODMAP Recipe Community!
Use Our Exclusive Recipe Filter To Find The Low FODMAP Recipe You Are Looking For Today!