Brussels sprouts do have a low FODMAP amount and here in this low FODMAP recipe we have combined them with BACON!
We have created a low FODMAP amount of crunchy, savory Brussels sprouts sautéed in bacon fat and tossed with crispy bacon bits. ARE YOU READY?
We got so excited when we realized that we could eat Brussels sprouts in small amounts and still stick with our low FODMAP diet.
Are Brussels Sprouts Low FODMAP?
Yes! As always, portion counts. According to Monash University lab testing, we can have 38 g while on Elimination.
FODMAP Friendly lab tested Brussels sprouts and recommends 75 g for a low FODMAP serving.
The FODMAP Friendly app also provides helpful details, such as the fact that Brussels sprouts contain GOS, fructans as well as a small amount sorbitol. This is why you need to have these apps at hand!
We strongly believe that educating oneself is one of the most important thing you can do to have success with the low FODMAP diet. And it is an ongoing process. With the FODMAP Friendly app and Monash app at hand, you will begin to absorb tons of helpful information, which will help you make smart eating choices.
This recipe for Low FODMAP Brussels Sprouts With Bacon uses the more conservative Monash finding for determining our serving sizes for this recipe. Eat to your tolerance, as always. But look at how much this is visually; that is an overflowing ½ cup volume! Below is 38 g of shredded Brussels sprouts.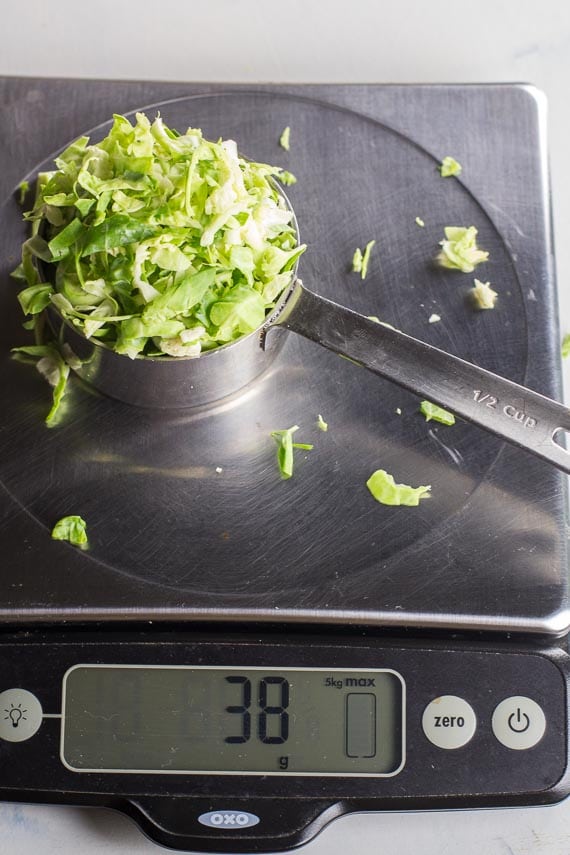 And please, go by weight, not number of sprouts. As you can see below, they can vary hugely in size.
Use Your Scale
If you do not have a digital scale yet, we strongly urge you to buy one. Not convinced? Look at these images above again, which show how the size of Brussels sprouts can vary widely. This why, although we love the apps, we suggest paying attention to the weights and not the volumes in certain entries.
Also, remember that the amount of Brussels sprouts that you can eat is the trimmed weight! You get more bang for your buck! Look here below. The top row shows the weight of whole sprouts. The bottom line is the trimmed weight and the amount that you actually cook with and eat.
Same thing for avocado: one-eighth of an avocado doesn't mean much. You can see those image comparisons in our article Is Avocado Low FODMAP?, but I digress.
And I say "digital" because they are the most accurate. I use an OXO scale in the Test Kitchen.
You might also find our article, What Is A Low FODMAP Serving Size? Of interest.
Is Bacon Low FODMAP?
If you are a bacon lover you are probably wondering if bacon is low FODMAP? We have an entire article dedicated to this most beloved food and the answer is YES you can find low FODMAP bacon, which the article details.
In brief, as always, you must be a label reader and check for any high FODMAP or potential high FODMAP ingredients. Read about our discussion with Monash researchers about what to look for, and what to leave on the shelves.
I prefer a thick cut style for this recipe, by the way, which you can see below.
Ingredients for Low FODMAP Brussels Sprouts With Bacon
When you are making a recipe that has such few ingredients, such and this one, make sure that each and every item is of the best quality.
I like to buy my Brussels sprouts in bulk (if possible); that way I can pick and choose the ones I want and I go for medium sized ones, which will then cook fairly evenly.
How To Make Low FODMAP Brussels Sprouts With Bacon
This recipe is super simple and you can prep it in about 5 minutes and cook it in less than 20!
All you need is a large skillet in which you will first cook the chopped bacon in a little olive oil until crispy. Remove the bacon pieces and reserve for later. Then cook the halved Brussels sprouts in the bacon fat until crisp-tender. Add the bacon bits back in, season to taste and VOILA!
More Bacon Recipes
More Brussels Sprouts Recipes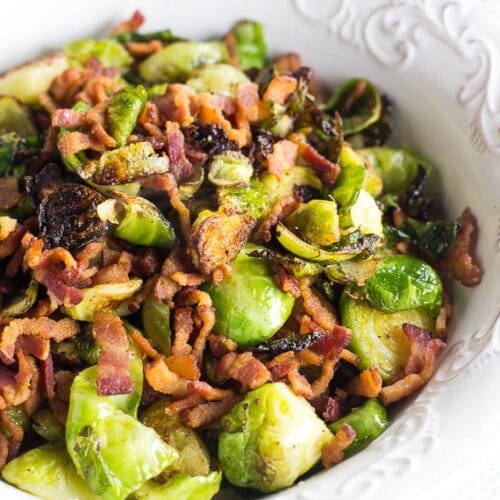 Low FODMAP Brussels Sprouts With Bacon
Our Low FODMAP Brussels Sprouts With Bacon shows you how you can enjoy both Brussels sprouts and bacon while following the low FODMAP diet.
Ingredients:
1

teaspoon

extra-virgin olive oil

5-

ounces (140 g)

thick-cut sliced bacon,

cut crosswise into thick matchsticks

1-

pound (455 g)

Brussels sprouts,

trimmed and halved lengthwise to yield 14-ounces (400 g)

Freshly ground black pepper
Preparation:
Heat a large skillet over low-medium heat and coat with the oil. Add the bacon and sauté for several minutes until bacon is crispy. Remove bacon with a slotted spoon and drain on paper towels; set aside.

Add Brussels sprouts to bacon fat in pan, increase to medium heat, and sauté until crisp-tender and a bit browned here and there, which will take several minutes. Season well with salt and pepper, toss in crisped bacon and serve immediately.
Notes:
Tips
FODMAP Information
Our recipes are based on Monash University and FODMAP Friendly science.
Brussels sprouts have been lab tested by both Monash University and FODMAP Friendly. The Monash lab results state that 38 g of Brussels sprouts are Green Light low FODMAP.
FODMAP Friendly has lab tested sprouts as low FODMAP at 75 g per serving.

Please always refer to the Monash University & FODMAP Friendly smartphone apps for the most up-to-date lab tested information. As always, your tolerance is what counts; please eat accordingly. The ultimate goal of the low FODMAP diet is to eat as broadly as possible, without triggering symptoms, for the healthiest microbiome.
Nutrition
Calories:
52
kcal
|
Carbohydrates:
3
g
|
Protein:
4
g
|
Fat:
3
g
|
Saturated Fat:
1
g
|
Sodium:
1
mg