One-Pan Low FODMAP Chicken & Lentils
Our Low FODMAP Chicken & Lentils is a one-pan chicken dish that is easy and hearty and even improves after being refrigerated for a day or two.
We think that makes it a great party dish – but you can also get it on the table in less than an hour, so don't overlook it for a weeknight.
Lentils Can Be Low FODMAP
Please refer to our Explore An Ingredient: Lentils to learn about dry lentils, canned lentils as well as several varieties, including the red lentils featured here and shown below.
Red lentils cook down to a lovely, soft "melty" texture. I usually say mushy, and although I do not mean that to have a negative connotation, the word "mushy" often does.
I have cookbook author, restaurant critic and colleague Daniel Young to thank for the "melty" description.
Say It Like You Mean It
What cracked me up is that he is such a well-respected journalist with a fine command of language and he was right, sometimes you just say it as you see it! The word "melty" fits.
I Love My Food Friends
As an aside, several of us were having a lively discussion about lentils on my personal Facebook page and Daniel weighed in with his perfect "melty" description. Check out the convo if you are interested.
Daniel, BTW, wrote The Paris Café Cookbook, The Bistros, Brasseries, and Wines Bars of Paris, and Made in Marseilles. He has eaten a lentil or two.
Some old friends came out of the woodwork to weigh in including Barbara Fairchild, my former Editor-in-Chief of Bon Appetit magazine; esteemed cookbook author and Parisian David Lebovitz (check out his My Paris Kitchen); recipe developer extraordinaire Rick Rodgers and Suzanne Fass, who is a very well-respected cooking authority and copy editor.
It was so much fun and gratifying to see all of you weigh in on our discussion. THANK YOU!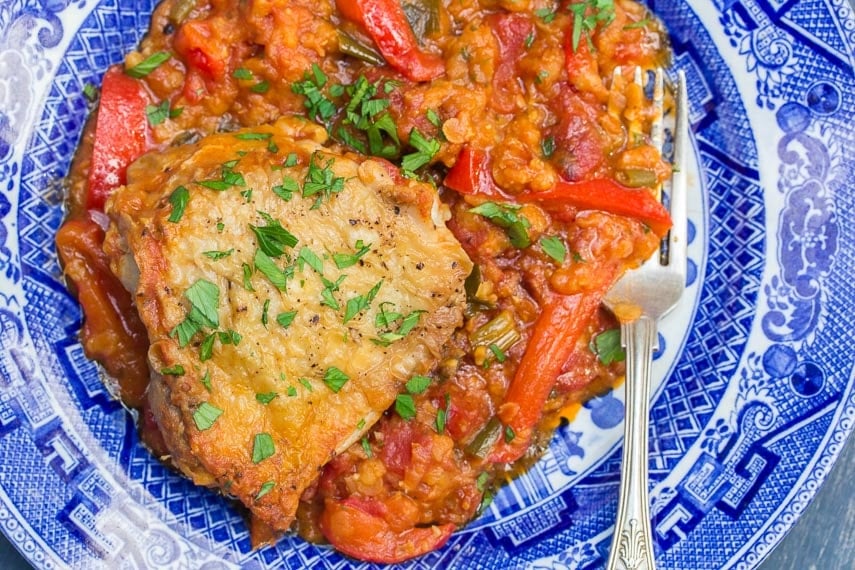 Texture & Substance
In this dish the red lentils indeed melt down and create a thick, subtly textured, earthy flavored sauce. Along with the chicken – and rice, if you choose to serve it alongside – the lentils are simply splendid and you will see how this dish is much more than a sum of its parts.
If you didn't know that lentils were in this dish, you might not even be able to identify them. But they add loads of character to what would otherwise be a more expected chicken preparation.
Want more quick and easy dinners? Check out our article, Easy Peasy Dinner and Dessert: 20 One-Pan, One Bowl Low FODMAP Recipes for Busy Nights.
Low FODMAP Chicken & Lentils
Our Low FODMAP Chicken & Lentils is an easy one-pan meal that you can get on the table in less than an hour.
Ingredients:
3-

pounds (1.4 kg)

chicken thighs

(about 6 pieces), bone-in, skin on

Freshly ground black pepper

2

tablespoons

Garlic-Infused Oil,

made with olive oil or purchased equivalent

1

cup (64 g)

chopped scallions,

green parts only

1

red bell pepper,

cored and cut into ½-inch (12 mm) thick strips

1 ½

teaspoons

ground coriander

1 ½

teaspoons

dried oregano

1 ½

teaspoons

smoked paprika

1, 28-

ounce (794 g)

can diced tomatoes

1

cup (240 ml)

low FODMAP chicken stock

¼

cup (56 g)

dried red lentils,

rinsed

¼

cup (8 g)

chopped flat-leaf parsley
Preparation:
Season the chicken on all sides with salt and pepper. Add oil to large, cold, straight-sided skillet and place chicken thighs in pans, skin-side down. Place over low-medium heat and cook for several minutes, about 8 minutes or so, or until the skin is crisped. The crisped skin is a must. Flip the thighs over and cook for a few more minutes, then remove from pan. The chicken should be a little more than halfway cooked through.

Add scallions and red bell pepper strips to pan and sauté over low-medium heat for a few minutes or until beginning to soften, then stir in coriander, oregano and smoked paprika and cook for 30 seconds, combining everything well.

Stir in the canned tomatoes, stock and lentils, nestle the chicken back into the pan, skin-side up, cover and bring to a boil. Adjust heat and maintain a low simmer for about 25 to 30 minutes or until the chicken is cooked through and the lentils are soft. Taste and adjust seasoning, if desired. Garnish with parsley right before serving. Leftovers can be refrigerated in an airtight container for up to 3 days.
Notes:
Tips
I like this dish as is, but occasionally I like it brightened with a little acid. Right before serving you could stir in a little vinegar. You could try red wine, or balsamic, or sherry vinegar. Sherry vinegar hasn't been lab tested for FODMAPs, but you could test it on yourself during your Challenge Phase to see if you tolerate it as I do.
Nutrition
Calories:
619
kcal
|
Carbohydrates:
15
g
|
Protein:
42
g
|
Fat:
43
g
|
Saturated Fat:
10
g
|
Cholesterol:
222
mg
|
Sodium:
371
mg
|
Potassium:
740
mg
|
Fiber:
3
g
|
Sugar:
4
g
|
Vitamin A:
583
IU
|
Vitamin C:
13
mg
|
Calcium:
64
mg
|
Iron:
3
mg
For more chicken recipes, check out our article, 10 Gut Friendly Chicken Recipes You Can Have On Your Table Tonight!