Chicken Is Versatile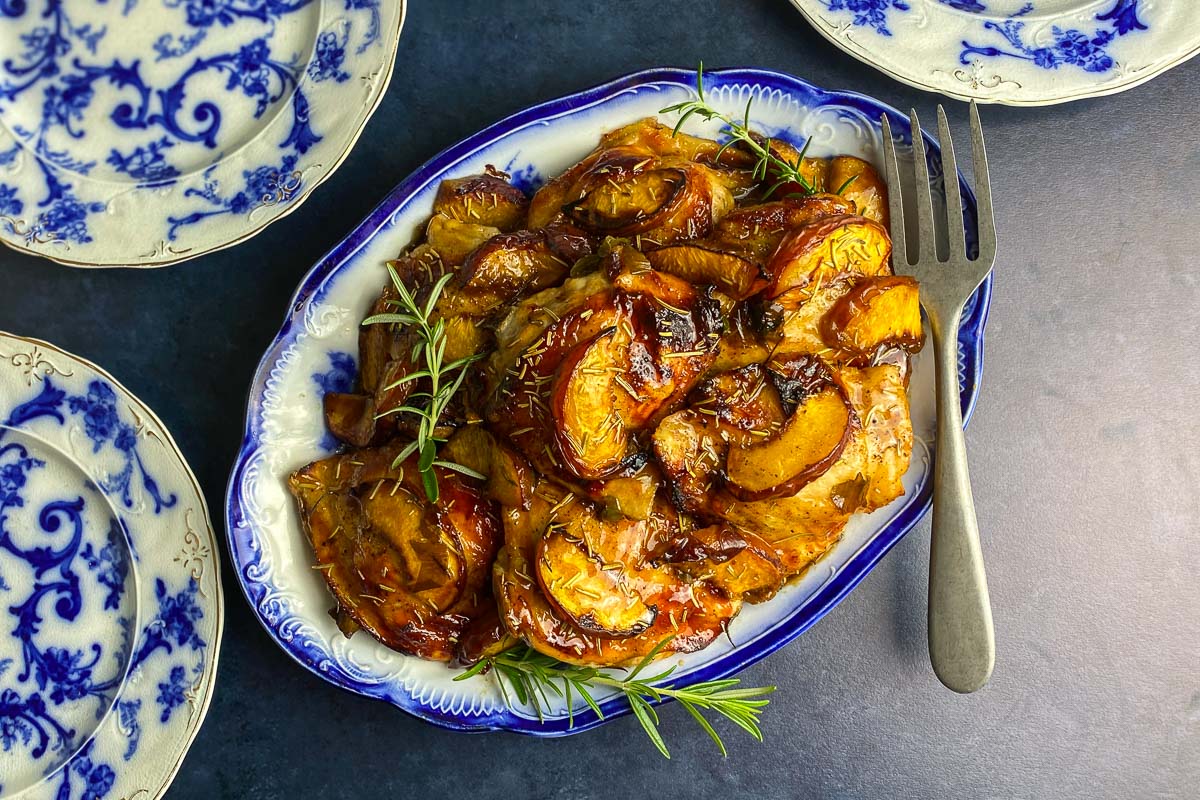 Chicken is one of our favorite protein building blocks for an easy, delicious low FODMAP meal. Sometimes you can get in a rut though and end up making the same chicken recipes over and over.
With a little bit of forethought you can add variety and additional flavors and nutrients to your diet very easily!
We've got one pan meals, warm weather salads and grill options, dinner party worthy dishes, lighter fare and hearty dinners.
Low FODMAP Moroccan Chicken with Preserved Lemons & Olive – One Pot!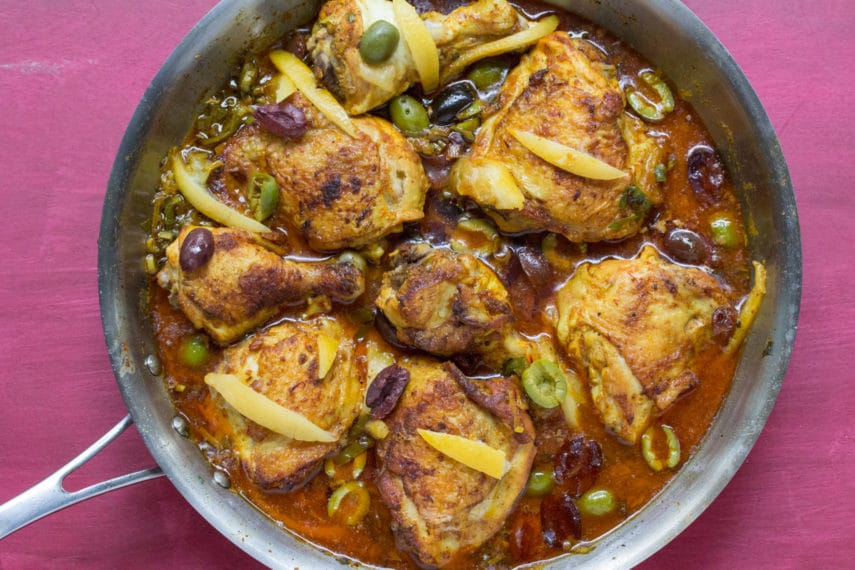 The enticing flavors of Morocco in a one-pot chicken dinner.
Look at the combination of ingredients in this recipe for Low FODMAP Moroccan Chicken with Preserved Lemons & Olive linked below. The blend of spices – saffron, turmeric, cumin, ginger and cinnamon – might seem unusual. Combined they are indeed heady and fragrant but they are also perfectly balanced by the acidity from the Preserved Lemons as well as lemon juice.
The classic rendition of this dish uses a fair amount of onion and garlic but that was easily remedied with Garlic-Infused Oil and a combo of scallion and leek greens. CLICK FOR RECIPE
​Chicken Thighs with Grapes, Thyme & Smoked Paprika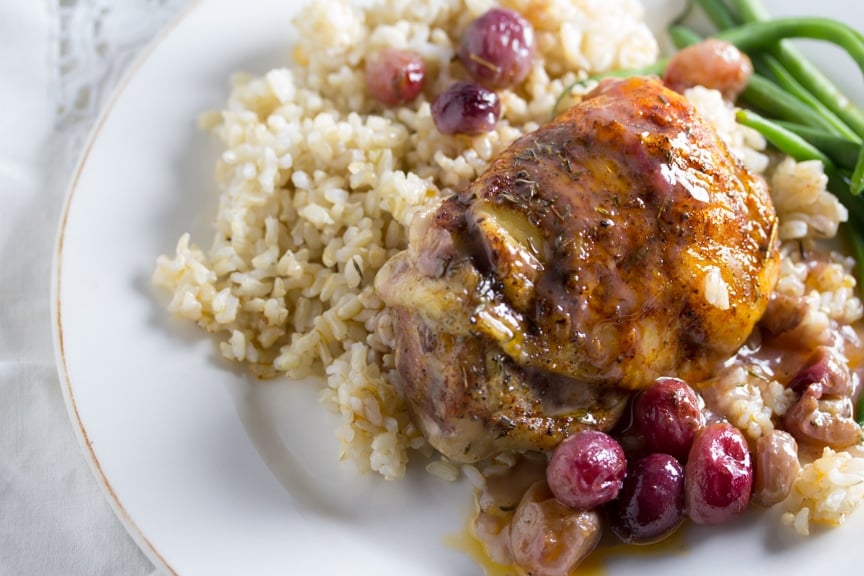 ​We Love Our Thighs. Chicken thighs that is. Chicken thighs are in regular rotation around here and this dish for Chicken Thighs with Grapes was a happy sweet and savory surprise.
This Chicken with Grapes, Thyme and Smoked Paprika is a simple one-pan, oven-roasted meal that highlights the sweetness of the grapes, the smokiness of the paprika and the savory-ness of the chicken and thyme.
It comes together in less time than it takes for the oven to preheat and is easy enough for a weeknight but fancy enough for non-FODMAP guests. CLICK FOR RECIPE
​Low FODMAP Chicken Enchiladas
Our Low FODMAP Chicken Enchiladas are Monash University low FODMAP diet compliant and even safe for the Elimination phase! Look for our kiwi icon for dishes that are safe even during the most restrictive part of the diet. CLICK FOR RECIPE
FIVE stars, Laura says, "These are AWESOME."
FIVE stars, Lynette says, "I love this recipe and have made it multiple times now. Again I am so thankful to have found this recipe since it allows me to have Mexican and it helped me see that I can make lots of my favorites without using onions, garlic, and chicken broth."
FIVE stars, Joe says, "We made this tonight for our family Christmas dinner, and it was DELICIOUS!"
​Chicken Ratatouille – Low FODMAP, Gluten Free
Low FODMAP Chicken Ratatouille is the best of both worlds: an easy braised chicken dish and ratatouille – eggplant, tomatoes, zucchini, peppers, olive oil, garlic and onion flavor – all in one delicious dish. CLICK FOR RECIPE
FIVE Stars, Richard says: "This was amazing!!!! Your website is saving me. Thank you so much"
FIVE Stars, Lela said: "We really enjoyed this! It was a nice change of pace from the salads, grain bowls, and Asian style dishes I had been relying on. Those are great too, but I had been craving a simple, warm "comfort food" type meal. It was perfect for that particular night, which happened to be very cold. So, we enjoyed a nice, cozy meal by the fire. The fresh herbs were a great addition, and I also added a small bit of crushed red pepper to the simmering sauce. Served with short grain brown rice for more fiber, a bit of chewy texture.
Chicken Pot Pie – Low FODMAP, Gluten Free
You asked for it! You all have made it very clear that a recipe for Low FODMAP Chicken Pot Pie was something you NEEDED. So, here it is! As delicious as any classic rendition that you have ever had. Promise. CLICK FOR RECIPE
FIVE Stars, Amy says: Turned out great! I did cheat and used frozen GF pie crust and made two pies. I just cannot get back to leek and scallion greens so I used hing powder instead. The flavor was delicious. My family loved it just as much as a "normal" pot pie.
FIVE Stars, Sarah says: I love this dish it's super easy to make and a good 'What do I have left in the fridge' pie.
Even my Dad (who is super picky' went for seconds!
​Maple Balsamic Chicken with Roasted Blueberries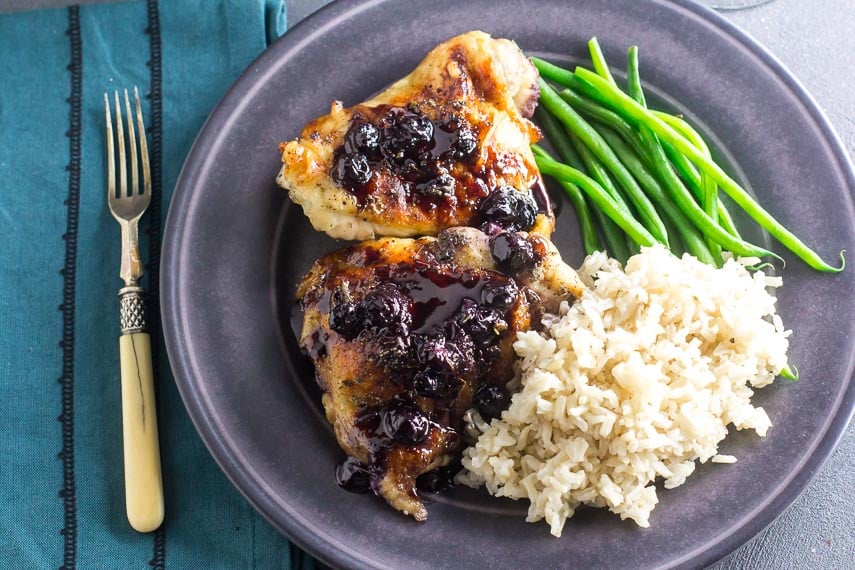 This Low FODMAP Balsamic Blueberry Chicken Recipe is a quick and easy dish using economical, juicy chicken thighs, maple syrup and low FODMAP amounts of balsamic vinegar and fresh blueberries. CLICK FOR RECIPE
FIVE STARS, Marj says: "Made this tonight and it was outstanding!"
FIVE STARS, Crystalline says: "Wonderful! Needed to leave feedback, as both my husband and I loved it. Simple, easy, delicious, and best of all for me no gripes with the Allium family! Added a pinch of pestled dried rosemary, too, which we thought went with the sage.
FIVE STARS, Shelly says: "I have never left a recipe review before, but this is seriously fantastic! I used frozen blueberries and fresh chopped sage (because that was all I had). I baked it in a cast iron skillet. The only thing I would do differently is make twice the sauce to use over the rice. Thank you so much."
​Balsamic Chicken with Peaches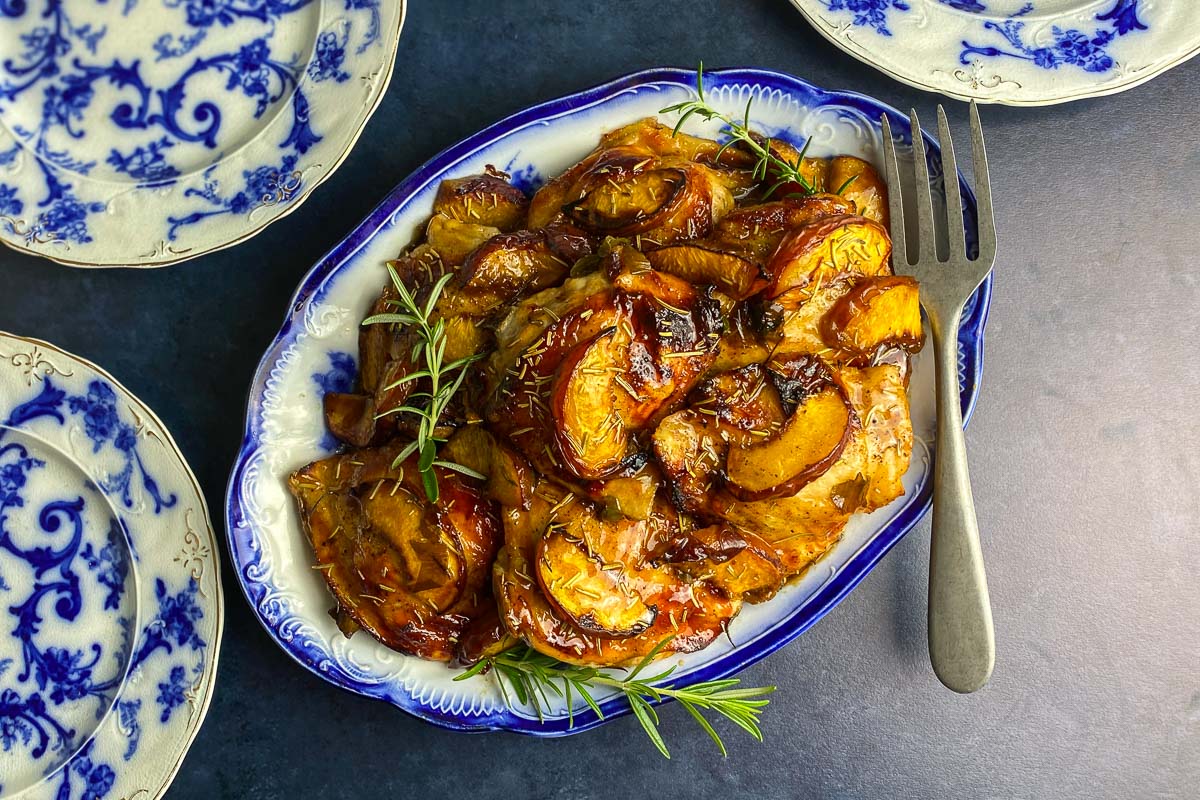 Juicy chicken thighs, peaches, balsamic vinegar, maple syrup and rosemary come together in our one-pan Low FODMAP Balsamic Chicken with Peaches. This recipe is based upon our incredibly popular Low FODMAP Maple Balsamic Chicken with Roasted Blueberries. If you love that dish, you gotta try this one – if you have passed your sorbitol Challenge. CLICK FOR RECIPE
FIVE STARS, Craig says: "Very yummy and super easy. I would definitely make this again!"
​Singapore Chicken Satay
​This version of Singapore Chicken Satay is light on peanut butter but has tons of flavor from garlic-infused oil, turmeric and ginger. CLICK FOR RECIPE
FIVE stars: Sally says: "This was delicious! I didn't use skewers – just cut the chicken into bite sized pieces and cooked them in a pan. Definitely my favorite low-fodmap meal so far! I'm so glad I stumbled across these recipes."
​Low FODMAP Braised Chicken & Mushroom Ragu​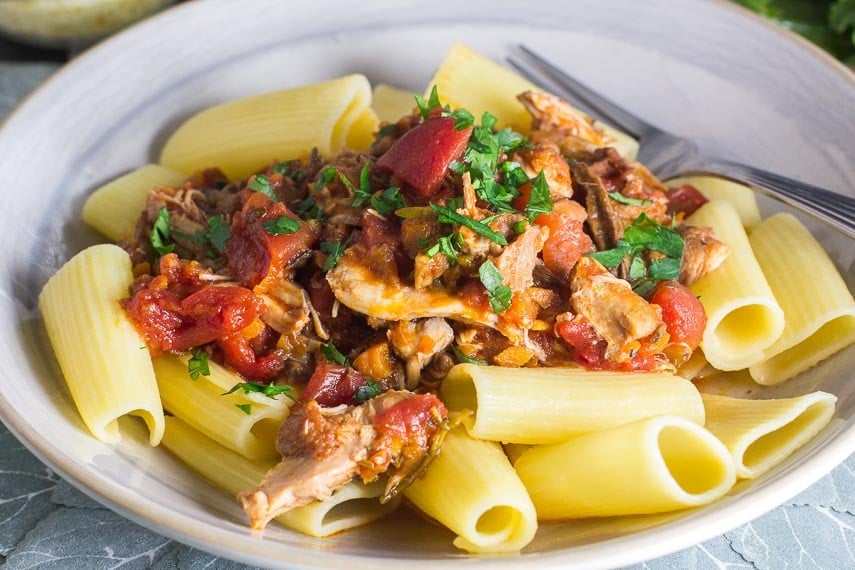 We love braised dishes because they are easy and even improve over a few days. This Low FODMAP Braised Chicken & Mushroom Ragu is a perfect dish to make for a party – for those following the diet and everyone else. CLICK FOR RECIPE
FIVE STARS, Barbara Ann says: "Oh wow. This dish was delectable and came together so easily. The flavor had plenty of dimension and I felt as if I were really dining! This dish seems far too good for a Wednesday night! I'm new to low FODMAP cooking and I loved the low FODMAP version of mirepoix… I am decent in the kitchen but I'm no chef so it was great to have the proportions of this standard base already figured out for me. I am so pleased to get my mushroom fix! I did use bone-in, skin-on chicken thighs and pulled the bones out before serving – I was too lazy to debone the thighs beforehand. I served the ragu over rotini (Jovial gluten-free pasta) and the sauce clung to the spirals in a most inviting way! Don't get intimidated by the length of the ingredient list; it requires very little effort to put together. You have to try this amazing dish!"
---
Looking for more inspiration?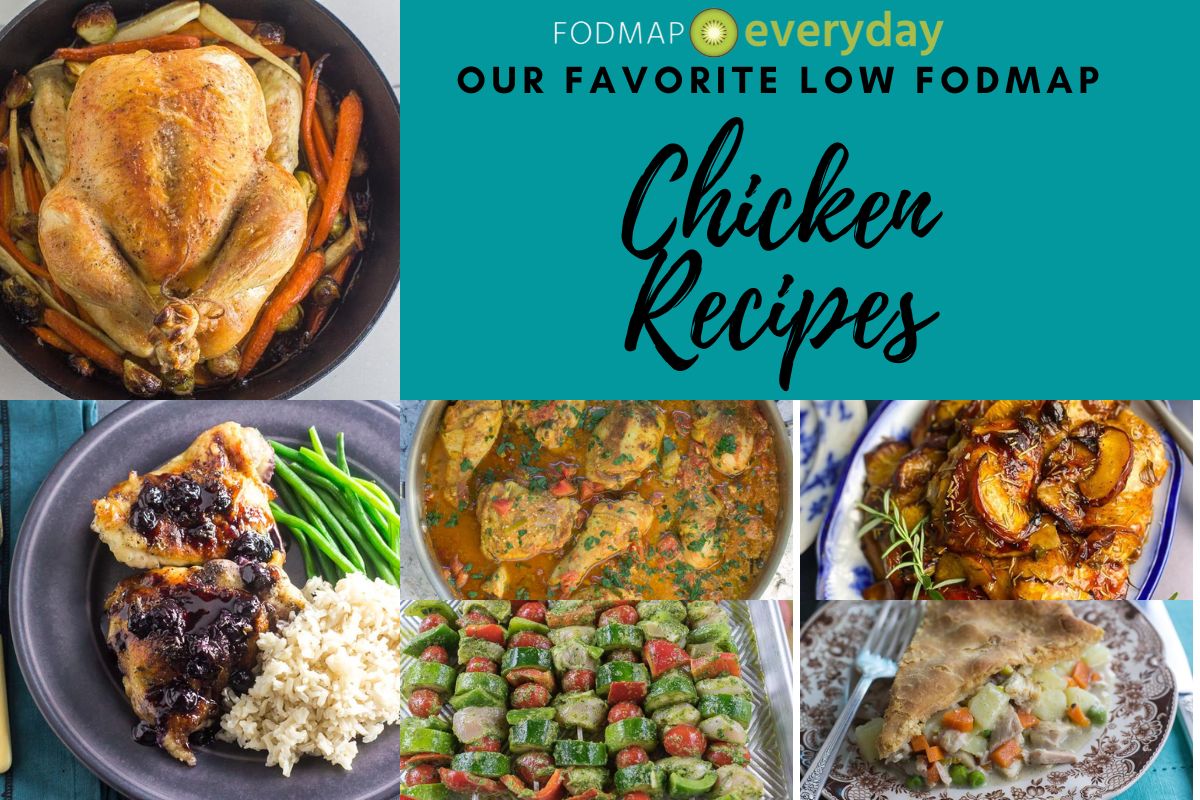 Or click here for all of our chicken recipes!
Chicken not your thing?
Then use our Recipe Filter to easily find what you are hankering for amongst our over 950+ Low FODMAP Recipes with tons of expert low FODMAP cooking shopping, prepping and cooking guidance we created for you!
You can never have another excuse for a boring low FODMAP meal again!
This post Our Favorite Low FODMAP Chicken Recipes was originally published on FODMAP Everyday