It Begins with Pesto!
Want to dig into these Pesto Chicken Wings? It all begins with our low FODMAP Basil Pesto recipe.
Pesto is one of those later summer recipes as it takes advantage of the plethora of fresh basil straight from the garden or farmers market. If you think you had to give up pesto because of its traditionally garlic-rich content, you have to check out our version.
And, guess what? It freezes well, which means that you can make pesto dishes any time of year, including in the midst of winter – like for the Super Bowl! A perfect time to make these Pesto Chicken Wings, if we say so ourselves.
On the other hand, we have enjoyed them sitting on the deck for July 4th, too. Your choice!
Pesto x 2
As you have figured out by now, you do need to make our basic pesto first. Once you have that made, this dish comes together quite quickly.
The pesto is added to the wings in 2 stages.
It sounds picayune, and maybe it is, but it isn't hard and it helps us infuse the wings with pesto flavor while still preserving the fresh green color of pesto somewhat. You could just slather the wings with all of the pesto and throw them in the oven and the recipe would work, but try it the way it is written at least once.
I think it is worth and think that you will agree.
When you are biting into a succulent wing, salty and cheesy and packed with basil flavor, you will grateful for the 2-step process.
Our Basil Pesto Recipe is Monash University Compliant
Please note that our pesto has been created with Monash guidelines in mind, as are all of our recipes. It is based upon our recipe for low FODMAP Garlic-Infused Oil – so that you will be able to enjoy all of the garlic flavor you are craving, without triggering your IBS.
Wings for All
Read All About Chicken Wings to help guide you in buying your wings. And if pesto is not your thing? Check out our Maple Dijon Chicken Wings with Fresh Herbs, Sticky Maple Ginger Soy Chicken Wings, and 5-Spice Ginger Chicken Wings.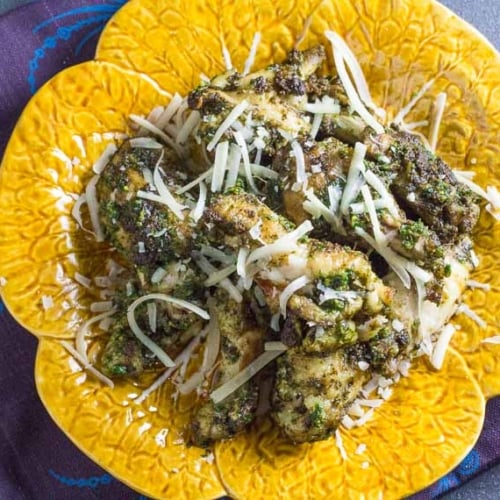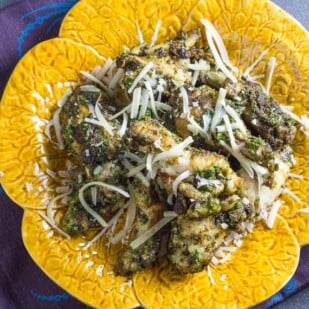 Pesto Chicken Wings
Make our certified low FODMAP Basil Pesto first and this recipe will come together in a flash.
Low FODMAP Serving Size Info: Makes about 12 servings; 2 pieces per serving
Ingredients:
2 ½ to 3

pounds (1.2 kg to 1.4 kg)

chicken wings,

made up of drumettes and flats (about 24 individual separated chicken wing pieces)

Freshly ground black pepper

1 1/2

cups (366 ml)

Basil Pesto,

divided

1/4

cup (20 g)

long shred Parmesan cheese
Preparation:
Preheat oven to 400°F/200°C. Line a large rimmed sheet pan with aluminum foil, then coat foil with nonstick spray.

Place wings in a bowl and season lightly with salt and generously with pepper. Add about three quarters of pesto (you can do this by eye) and toss well to coat. Place the pesto-coated wings on the prepared pan and roast for about 35 to 45 minutes or until the wings are just cooked through and register 165°F/74°C with an instant read thermometer.

Remove pan from oven and brush the remaining pesto over the wings. Sprinkle with cheese and serve immediately.
Dédé's Quick Recipe Tips Video
Notes:
Tips
Please refer to our recipe for Low FODMAP Basil Pesto to learn about how you can have classic garlic-laden pesto while following the low FODMAP diet.
Nutrition
Calories:
356
kcal
|
Carbohydrates:
1
g
|
Protein:
21
g
|
Fat:
30
g
|
Sodium:
32
mg