Learn How to Make a Dutch Baby!
We love stack of cakey pancakes, but every now and then we want something a little different. One large, grand Low FODMAP Dutch Baby Pancake, sometimes called a German pancake, fits the bill.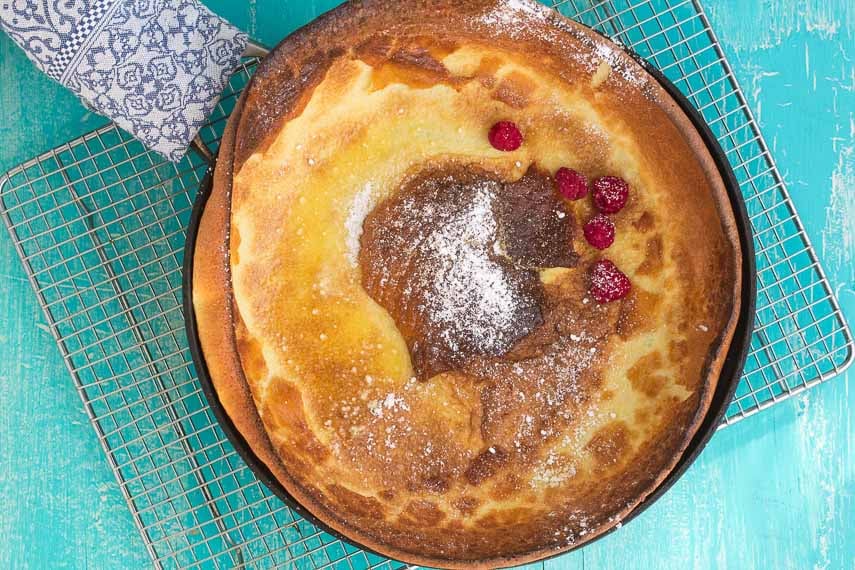 The very high heat of the oven and the egg-rich batter puffs up almost like a soufflé or, a better analogy might be its similarity to popovers.
Quick to Make & Trick #1
You can whisk the batter together in a mixing bowl in the time it takes the oven to preheat. The only trick with the Dutch Baby is that it must be served immediately.
Have everyone gathered and bring it to the table to serve so everyone has a chance to ooh and aah. It puffs up during baking but then begins to deflate the moment it is removed from the oven. Don't worry, though, because it still tastes fabulous in its eventual shorter stature.
The lemon juice and confectioners' sugar might seem odd for a pancake, but it is traditional. We like the acidity the lemon juice brings to the buttery pancake. Berries alongside are welcomed as well.
You can be liberal with the strawberries but keep your blueberry count down to what works for you (use your Monash University Smartphone App to guide you with serving sizes, which they set at 20 blueberries, but you really do not need that many for this dish. Save your FODMAPs for another recipe or meal. See our article on FODMAP Stacking for more information).
This Dutch Baby will serve 2 with hearty appetites, or 4 if eating more modestly.
You will need lactose-free milk for this recipe and you can buy it or make your own. We show you how in our article on DIY Lactose-Free Dairy.
Trick #2
Okay maybe there is one more trick, or maybe this isn't a trick as much as it is a circumstance. Every time you make a Dutch Baby it will come out differently – just look at these 3 images! The eggs inflate, and then deflate, on their own terms as you can see in our assortment of images.
Don't fret. They are always delicious. The one below looks a bit more like its popover cousin!
Low FODMAP Dutch Baby Pancake
You will LOVE our exclusive Low FODMAP Dutch Baby Pancake for weekend low FODMAP breakfasts and brunch.
Ingredients:
2

large eggs

1/2

cup (120 ml)

lactose-free whole milk

1/2

cup (120 ml)

low FODMAP gluten-free flour,

such as Bob's Red Mill 1 to 1 Gluten-Free Baking Flour

Pinch

Kosher salt

2

tablespoons

unsalted butter

Lemon juice

Blueberries,

raspberries and/or strawberries, optional
Preparation:
Position oven rack in center of oven. Preheat oven to 450°F/230°C.

Whisk eggs well in a mixing bowl. Add milk, flour and salt and whisk together well.

Melt the butter in a 10 to 12-inch (25 cm to 30.5 cm) ovenproof skillet until melted. We like making our Dutch Baby in a cast-iron pan as it hold heat so well. Swirl the butter around to coat the bottom and sides of the pan. Pour the batter into the hot skillet and immediately place in oven.

Turn heat down to 425°F/220°C and bake for 12 to 15 minutes or until Dutch Baby is puffed and golden brown. Remove from oven and quickly sprinkle with lemon juice and then confectioner's sugar. Serve immediately with fruit (in low FODMAP amounts), if desired.
Notes:
Tips
I have made this Dutch Baby recipe with alt milks and I just do not like the results. The mixture doesn't puff up and you end up with a more flat, somewhat dense affair. I recommend sticking with the lactose-free cow's milk.
If you add berries, make sure to keep the serving sizes within low FODMAP amounts.
Nutrition
Calories:
172
kcal
|
Carbohydrates:
17
g
|
Protein:
5
g
|
Fat:
9
g
|
Sodium:
30
mg
|
Fiber:
1
g
|
Sugar:
2
g
Low FODMAP Recipes Created Just For You!
We take low FODMAP recipes seriously at FODMAP Everyday®. That's why Dédé oversees our Test Kitchen and makes sure that each and every recipe works – and is low FODMAP following the most up-to-date science.
Rest assured that you will not find more trustworthy or delicious low FODMAP recipes anywhere – several hundred and counting.
FODMAP Everyday®Low FODMAP Recipes At A Glance:
Come Join Our Low FODMAP Recipe Community!
Use Our Exclusive Recipe Filter To Find The Low FODMAP Recipe You Are Looking For Today!