Yes, You Can Eat Low FODMAP Guacamole!
When you think of "guac" you might assume it is high FODMAP and that you cannot have any. Well, a hefty serving is high FODMAP, but avocado is low FODMAP at 30 g, which is about 2 tablespoons of mashed avocado, and that is what guacamole basically is.
So you might have to use some restraint, but you can have it! As long as the recipe is Low FODMAP Guacamole, like this one.
Is Traditional Guacamole High FODMAP?
Classic guac is made with red onion, which makes it high FODMAP.
Chances are that you will not be able to indulge in guacamole made by someone else at a party or from the salad bar. Or from the fast-food joint or sit-down Mexican restaurant.
You gotta make your own and that's why we are here to help.
Ours is flavored quite simply with salt, pepper, lime juice, scallions and a little cumin and jalapeno. All low FODMAP if you stick to the serving sizes.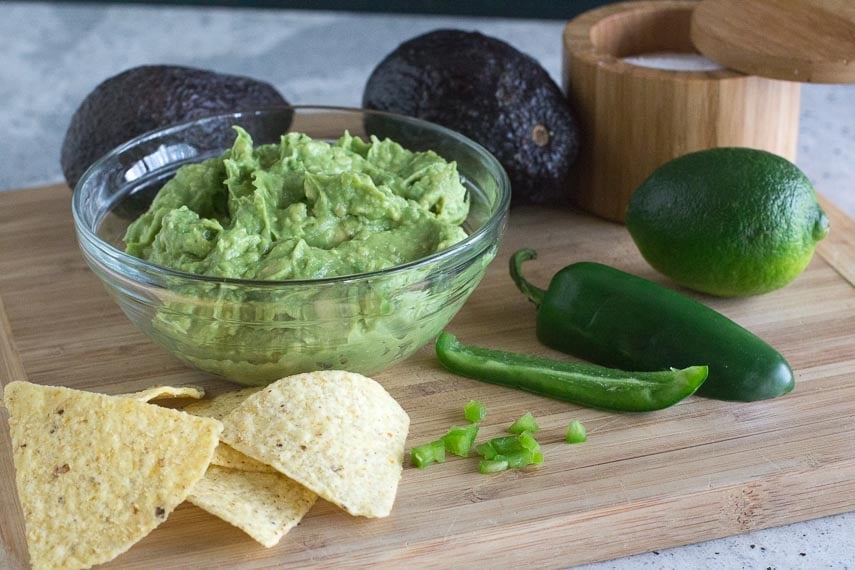 Let's Talk Avocados
Okay I am going to get on my soapbox. *Taps mic*. Hear me out. For some reason y'all are avocado crazy. I mean, full on passionate about this smooth green fruit (you knew it was a fruit, right?)
Our article Is Avocado Low FODMAP? our most popular page. By far. From day 1 this article gets the most hits.
I think it is because it contains some very helpful, valuable information. Basically there are avocados out there, like the Hass avocados that we love, that average about 6 ounces (170 g) each. Then there are gargantuan Florida style avocados that can weigh a whopping 2 pounds (910 g).
You might assume bigger is better, right? Wrong! For two main reasons.
First of all, the Hass avocados have a far superior texture. They are a prettier darker green, richer, smoother, butter-ier (we want that to be a word).
The Florida avocados pale in comparison in every respect. And then there is the size. Sigh.
The Monash University serving for avocado is for "eighth a whole avocado"…you see where I'm going with this, right?
Apples and oranges folks.
Or rather one avocado is not necessarily another avocado. When you look at the Monash University Smartphone App you have to look closer and see that there recommended serving size is 30 g.
This is what that looks like, below. This translates to a serving of 2 tablespoons of our guac.
Or, if you have passed a Polyol sorbitol challenge, you can have more and you can use your own best judgment as to what your body can tolerate.
How Do You Tell If An Avocado is Ripe?
Hass avocados will turn from dark green to an even darker green – almost black – as they ripen. But the best way to tell is to press them gently.
They should give a little under pressure.
The flesh, however, should still be firm enough that it is right up against the skin. When they are over-ripe, the skin looks wrinkled and you can feel that the flesh has shrunk away from the skin. Those are too ripe.
You can also buy hard avocados and leave them at room temperature for a few days to ripen.
Get Your Chips Ready
We love corn tortilla chips and they go hand-in-hand with our guacamole. So get your guac on. Our Low FODMAP guacamole is perfect for Memorial Weekend parties, Fourth of July and all of your summer outings.
But of course you don't have to limit making guacamole to the warmer months.
We see it at parties all year round.
If you want to see another use for mashed avocado, check out our low FODMAP 7-Layer Dip. We even have a spooky Halloween graveyard version!
Low FODMAP Guacamole
Our Low FODMAP Guacamole is easy to make and is low FODMAP in small portions. You're going to have to exert willpower with this one!
Low FODMAP Serving Size Info: Makes about 1 ½ cups (360 ml); servings size 1 ½ tablespoons
Ingredients:
2, 6-

ounce (340 g)

ripe Hass avocados

1

tablespoon

lime juice

1

tablespoons

finely minced scallions,

green parts only

1

teaspoon to 1 tablespoon

minced jalapeno

Freshly ground black pepper

1/4

teaspoon

cumin,

optional
Preparation:
Cut the avocados in half, remove and discard pits (or save one - see Step 2 below) and use a spoon to scoop out all of the avocado flesh into a nonreactive mixing bowl. Immediately add the lime juice and use a fork to mash the avocado and mix in the lime juice, which will retard oxidation and any discoloring. Add scallion, jalapeno to taste (the more, the hotter!) and season generously with salt and pepper. Stir in optional cumin, if desired. We leave it a little chunky. Feel free to keep mashing if you like it smoother. Guacamole is ready to serve or press plastic wrap directly on the surface of the guacamole and refrigerate for up to 4 hours.

If you want, you can stick an avocado pit in there during storage under the plastic wrap. Some folks think it helps the guac from turning brown. I think the plastic wrap does most of the work. We like to make it right before we are going to serve it. Serve with corn chips - and try and stick to the serving size.
Notes:
If You Can Tolerate
If you have passed the Polyol sorbitol challenge, you can eat more! Use your own judgement.
Nutrition
Calories:
32
kcal
|
Carbohydrates:
2
g
|
Protein:
1
g
|
Fat:
3
g
|
Saturated Fat:
1
g
|
Sodium:
1
mg
|
Fiber:
1
g
|
Sugar:
1
g
|
Vitamin C:
0.2
mg
---
Low FODMAP Recipes Created Just For You!
We take low FODMAP recipes seriously at FODMAP Everyday®. That's why Dédé oversees our Test Kitchen and makes sure that each and every recipe works – and is low FODMAP following the most up-to-date science.
Rest assured that you will not find more trustworthy or delicious low FODMAP recipes anywhere – several hundred and counting.
FODMAP Everyday®Low FODMAP Recipes At A Glance:
Come Join Our Low FODMAP Recipe Community!
Use Our Exclusive Recipe Filter To Find The Low FODMAP Recipe You Are Looking For Today!