Savory Low FODMAP Ham & Cheese Scones
Savory scones? Yes! These are rich and flaky, like all of our scones (check out the Pumpkin Cranberry and our Rhubarb Scones), gluten-free, and low FODMAP, of course, but these Low FODMAP Ham & Cheese Scones are savory and feature ham and sharp cheddar cheese.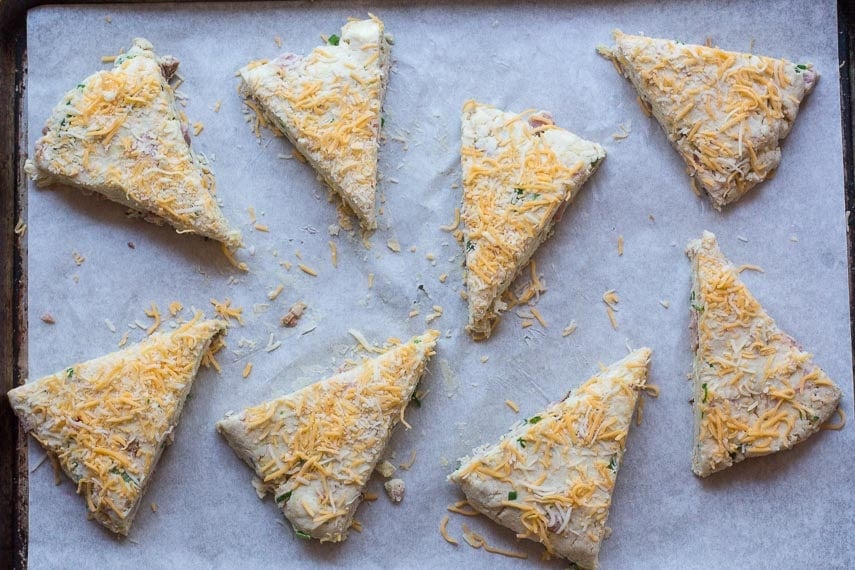 Ham Is Low FODMAP
First read our article, Is Ham Low FODMAP? to learn how to shop for ham that will keep your IBS symptoms in check.
We have a few recipes for baked ham, such as our Cranberry Hot Pepper Glazed Ham and our Brown Sugar Glazed Ham and the thing with ham, is that there are always leftovers! We love leftovers, but sometimes we get challenged as to how to use up extra ham.
Check out our savory ham, cheese and tomato strata, which is essentially a bread pudding for an additional idea, but turn to these Low FODMAP Ham & Cheese Scones when you want a savory pastry that you can eat out off hand.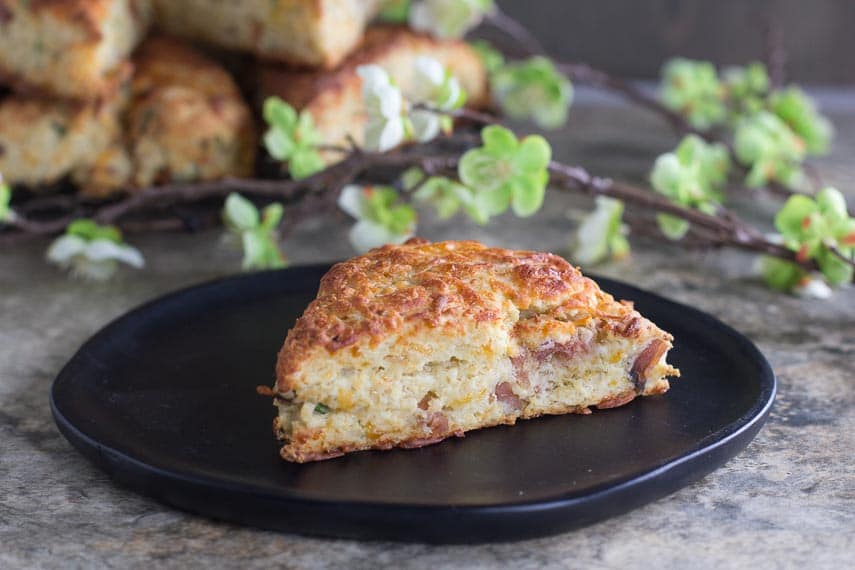 Low FODMAP Ham & Cheese Scones
These savory Low FODMAP Ham & Cheese Scones are perfect for an on-the-go breakfast or as a special treat at brunch.
Low FODMAP Serving Size Info: Makes 10 scones; serving size 1 scone
Preparation:
Position rack in upper third of oven. Preheat oven to 425°F/220°C. Line a half-sheet baking pan with parchment paper; set aside.

Whisk together the flour, baking powder and salt in a large bowl to aerate and combine.

Scatter the butter over the flour mixture and cut butter into flour mixture by hand with a pastry blender until butter is the size of small raisins.

Whisk the milk and egg together until well blended.

Drizzle the milk/egg mixture over the flour mixture and use a combo stirring/folding action to begin to incorporate everything. Halfway through, when some floury streaks still remain, add the ham, about three-quarters of the cheese and the scallions. Keep stirring and blending until a soft dough begins to form. It might look dry. Simply get in there with your hands and you will see that it holds together. Work briefly with your hands if necessary to bring together into a ball.

Transfer dough to center of prepared pan and used lightly floured hands to pat the dough into an 8-inch (20 cm) round. Sprinkle reserved cheese evenly over top of scone dough, patting it down to help it adhere. Cut the scones into 8 wedges; separate wedges and arrange them evenly spaced out on pan.

Bake for about 15 to 18 minutes, rotating pan once during baking, or until golden brown on top and bottom. Cool pan on rack for about 5 minutes. Scones can be served warm or at room temperature.

We like scones best the day they are made, but you can loosely wrap in foil and store at room temperature overnight. For longer storage, place cooled scones in a heavy freezer safe zip top bag and freeze up to 1 month. Defrost overnight in fridge or reheat gently in microwave or toaster oven.
Notes:
If You Can Tolerate
Fructans: If you have passed the fructan wheat Challenge you can substitute conventional  all-purpose wheat flour for the low FODMAP flour in the scone recipe. Please use weights to create your substitutions for best results.
Nutrition
Calories:
278
kcal
|
Carbohydrates:
29
g
|
Protein:
8
g
|
Fat:
14
g
|
Cholesterol:
6
mg
|
Sodium:
259
mg
|
Fiber:
1
g
|
Sugar:
1
g
|
Iron:
0.1
mg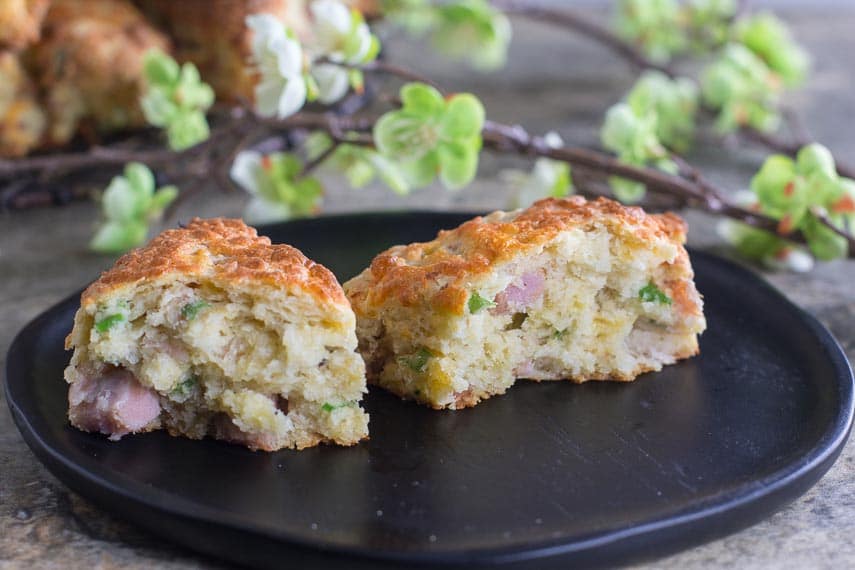 Never had a savory scone? Try these low FODMAP Ham & Cheese Scones. We think you will be a convert.