Yes, You CAN Have Artichokes on the Low FODMAP Diet!
I love a hot dip at a party and pre-FODMAP I would be the first to dive into a hot spinach-artichoke dip. Unfortunately artichokes are high in fructans, so I had been doing without.
But then I thought, that classic dip is very much about the spinach and the creamy base, so perhaps it could be re-worked without any high FODMAP ingredients? AND Monash has tested canned artichoke hearts and they have shown a low FODMAP serving at ½ cup (75 g) portions in one test, and ⅓ cup (50g) in subsequent tests.
This was knowledge I could put to delicious work! This Low FODMAP Hot Spinach-Artichoke Dip is perfect for a Super Bowl party or anytime you want a hot dip to please the hordes. Low FODMAP recipes can ROCK!
Let's Talk Amounts
This recipes calls for canned artichokes, which as stated above, Monash recommends in servings up to ½ cup or 75 g. In the U.S. it is standard to find 14-ounce (396 g) cans of water packed artichoke hearts and this is what you will shop for.
But that doesn't tell the whole story. When you are looking at a recipe and assessing its FODMAP value you have to use math and science, but you also have to understand cooking.
But don't worry, this is what we do FOR YOU! We do all the calculations for you, but we want to also educate you so that you can function on your own.
That 14-ounce (396 g) can becomes 8 ½ ounces (240 g) once drained and THAT is what is the amount of artichokes actually going into the recipe.
BUT when you are at the supermarket or making a shopping list, you will be looking for a 14-ounce can, which is why this recipe is written in this way.
Sourdough Bread is Your Friend
You might also be wondering about that incredibly crusty, yummy looking bread bowl in the images. Sourdough bread can be low FODMAP! During the process of a slow rise with sourdough starter, high FODMAP fructans in wheat flour are consumed, leaving you with a wheat bread that is low in FODMAPs even though it contains wheat.
The Low FODMAP Diet is Not Gluten-Free
Of course this means that the sourdough bread is NOT gluten-free, but the low FODMAP diet is not a gluten-free diet and this is perfect example of how these two things – gluten and FODMAPs – interrelate within the diet's scope.
Ovens & Microwaves
We use our conventional ovens and our microwave ovens in the Test Kitchen all the time. There are just some things that the microwave does exceptionally well, such as melt butter and chocolate and heat up this dip before placing it in the bread bowl.
This recipe asks you to take a dual approach: you will initially heat the dip in the microwave. The oven will crisp up the bread bowl and then finish off the dip until the mozzarella cheese is all melty.
The reason why I do not just use the oven is because the bread would become overly browned and hard by the time the dip was hot enough.
No Microwave, No Problem
If you do not have a microwave, or just don't want to use one, you could gently heat the dip mixture over low heat on your stovetop, stirring frequently to prevent scorching. This approach can work but you must use very low heat and a heavy pot. Clean up will be a bit of a chore, too.
Or, Use a Slow Cooker!
You can also make this dip without a bread bowl and place the dip mixture in a small slow cooker. Heat on low and serve with low FODMAP crackers, bread and/or veggies, like carrot sticks and cucumber spears.
See the Tips section for make-ahead information.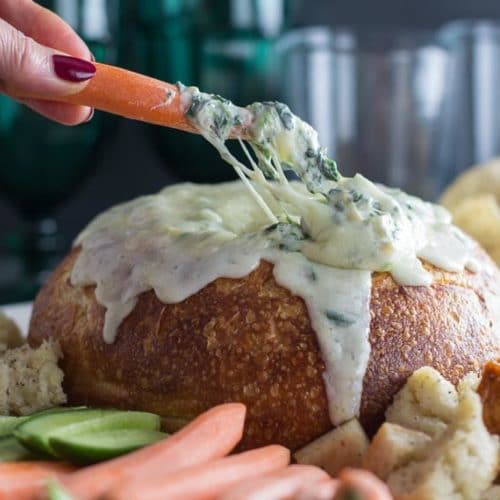 Low FODMAP Hot Spinach-Artichoke Dip
This Low FODMAP Hot Spinach-Artichoke Dip contains an allowable low FODMAP amount of artichokes! Enjoy! Perfect for Super Bowl or other get-togethers.
Low FODMAP Serving Size Info: Makes about 7 cups (1.75 kg); 28 servings; ¼ cup (63 g) per serving
Ingredients:
Dip:
14-

ounce (396 g can)

of artichoke hearts,

drained, patted dry and chopped

3

tablespoons

Garlic-Infused Oil,

made with olive oil, or purchased equivalent

1

tablespoon

red wine vinegar

1/8

teaspoon

dried basil

1/8

teaspoon

dried oregano

Freshly ground black pepper

8-

inch (20 cm)

round sourdough bread

(these are typically about 1 pound to 1 ¼ pounds/455 g to 570 g)

10-ounces

(280 g)

frozen chopped spinach,

thawed

8-ounces

(225 g)

lactose-free cream cheese,

such as Green Valley Creamery

1/2

cup (120 g)

lactose-free sour cream

1/3

cup (75 g)

mayonnaise

1/3

cup (33 g)

grated Parmesan cheese

1/4

cup (16 g)

finely chopped scallions,

green parts only

4

ounces (115 g)

shredded part-skim mozzarella cheese,

divided
Suggested Dippers:
Carrot sticks or baby carrots

Cucumber spears

Radishes

Low FODMAP crackers

Low FODMAP bread
Preparation:
Position two racks in upper and lower third of oven. Preheat the oven to 375°F/190°C.

Stir together the chopped artichoke hearts, 2 tablespoons of oil, vinegar, basil, oregano, red pepper flakes and generous pinches of salt and pepper and allow to marinate while you prepare the bread.

Cut off the top of the sourdough bread and pull out most of the center of the bread in large pieces, leaving a ¾-inch (2 cm) shell to the bread round. Cube the top piece that you removed and the bread that you pulled from inside the bread and toss all of these cubed pieces in a bowl with 1 tablespoon of the oil. Season lightly with salt and pepper and scatter on a rimmed baking sheet pan (leaving room for the bread bowl later); set aside.

Now let's make the dip! The only trick to this recipe is squeezing the spinach as dry as possible. I dump it in a colander and use the back of a sturdy spoon to press out as much liquid as possible. Then I wrap the spinach up in a clean linen towel, twist the ends of the towel as firmly as possible and squeeze over the sink. A lot more liquid should exude. Dump the dry spinach into a large microwave safe mixing bowl.

To the mixing bowl holding the spinach, add the marinated artichoke hearts (with the marinade), cream cheese, sour cream, mayonnaise, Parmesan, scallions and half of the mozzarella. You will need some elbow grease and a sturdy wooden spoon. Mix all of the ingredients very well together until thoroughly mixed. Scrape into a microwave safe bowl and cover.

Microwave on high for about 1 minute, stir it around, then microwave for 1 minute more. You just want to heat it up until it is hot throughout.

Place hollowed out bread bowl on a corner of the pan holding the bread cubes and scrape the hot dip into the bread bowl. Top dip with remaining mozzarella. Place bread bowl on upper oven rack and the pan holding the bread bits on the lower rack. Bake the bread pieces until toasty and the bread bowl until the mozzarella is melted and gooey - probably about 10 minutes.

Serve immediately with your choice of dippers - and try to use some restraint with your portions!
Notes:
Tips
At the end of Step 5, you can refrigerate the dip overnight or up to 3 days and then microwave it and bake it in your bread bowl right before serving.
Nutrition
Calories:
100
kcal
|
Carbohydrates:
2
g
|
Protein:
3
g
|
Fat:
9
g
|
Saturated Fat:
1
g
|
Cholesterol:
4
mg
|
Sodium:
65
mg
|
Potassium:
4
mg
|
Fiber:
1
g
|
Sugar:
1
g
|
Vitamin A:
60
IU
|
Calcium:
33
mg