Low FODMAP Lentil Salad with Greens & Yogurt
Our Low FODMAP Lentil Salad with Greens & Yogurt is a great way to incorporate this fabulous pulse into your diet. Lentils are high in protein and fiber and are a nutritious ingredient to add to your low FODMAP lifestyle.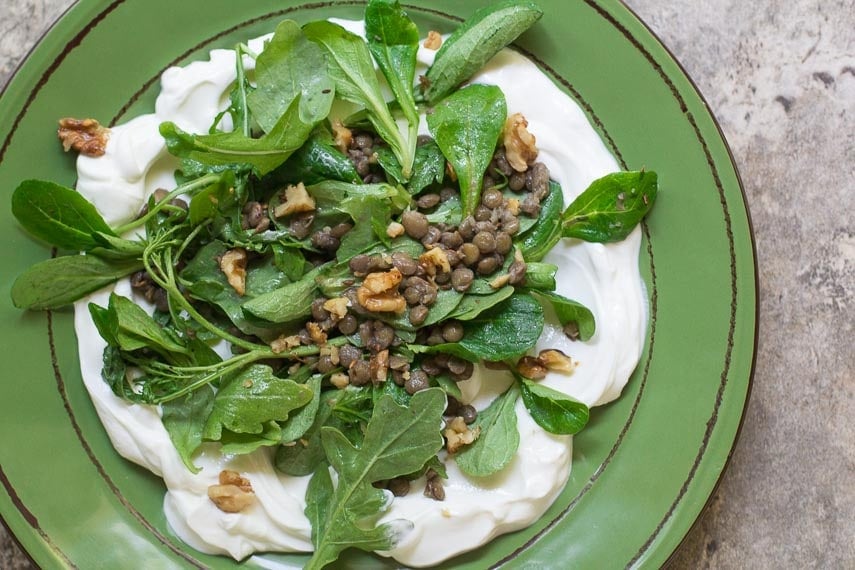 In this recipe canned, rinsed and drained green (brown) lentils are tossed with baby lettuce and arugula, simply dressed with Garlic-Infused olive oil and fresh lemon juice, mounded on top of a schmear of thick lactose-free yogurt and topped with crunchy walnuts and cumin seed that have been toasted in more Garlic-Infused Oil.
All About Lentils
There are low FODMAP serving sizes of all kinds of lentils and you can read more in our column, Explore An Ingredient: Lentils. 
Please note that  the volumes on the Monash app (as of 9/2019) do not correspond to our findings, nor those of the USDA. The volumes appear to be off by almost 100%. Please use weights. And please read our lentils article for more info.
Note that the 1 cup (164 g) of lentil called for is specifically for canned lentils that have been drained well before measuring.
A Salad By Any Other Name
 Truth be told I wasn't sure what to call this. It is sort of a salad, but it is really more of a mélange of wonderfully complementary components.
This "salad" is great eaten with a fork but even better with some plain or toasted low FODMAP baguette. Scoop up the yogurt, lentils and greens and spread them on the bread or, better yet, use the bread to draw through the mess-on-the plate to function as an edible "fork".
Lactose-Free Yogurt
For quite a while we had one choice in our local markets for real dairy yogurt that was lactose-free and that was Green Valley Creamery brand, which we like very much. It has a lovely tang to it, but it is not very thick.
Recently we have had access to Siggi's Icelandic-Style Lactose-Free Yogurt,  and while it is much milder than its Green Valley Creamery counterpart (which has its pluses and minuses) it is also much thicker. Much!
This thick texture lend itself to different kinds of presentations, such as in this dish, where it is spread on a plate and used to support a salad of tangled greens and toothsome lentils. Other yogurts might be too watery for the job.
If you cannot find Siggi's, try draining lactose-free yogurt in a wire-mesh strainer lined with a coffee filter for about an hour. This will remove excess whey and leave you with a thicker yogurt.
Low FODMAP Lentil Salad with Greens & Yogurt
Our Low FODMAP Lentil Salad with Greens & Yogurt is a quick and easy way to incoporated high protein lentils into your diet.
Ingredients:
3

tablespoons

Garlic-Infused Oil,

made with olive oil or purchased equivalent, divided

1/3

cup (45 g)

walnut halves,

chopped

1

teaspoon

cumin seed

1

cup (255 g)

thick lactose-free plain yogurt,

such as Siggi's

Freshly ground black pepper

1-

ounce (30 g)

baby arugula

1-

ounce (30 g)

baby lettuces

1

cup (164 g)

well-drained canned green (brown) lentils

2

tablespoons

freshly squeezed lemon juice
Preparation:
Heat 1 tablespoon of the oil in a nonstick skillet over low-medium heat and add the walnuts and the cumin seed. Toss frequently and cook just until lightly toasted and the cumin smells fragrant. Remove from heat and set aside.

Spread the thick yogurt on your serving platter to about 1/3-inch (8 mthickness. Salt and pepper lightly.

Place the arugula, lettuces and lentils in a mixing bowl. Scrape nuts and cumin seed and any oil over them. Season with salt and pepper, drizzle on a little of the reserved olive oil and some of the lemon juice to taste; don't over dress the salad. Just toss, taste and adjust lemon juice, olive oil and seasoning until you get it right.

Mound the lentils and greens on top of the yogurt and serve with slices of low FODMAP baguette or low FODMAP crackers.
Nutrition
Calories:
166
kcal
|
Carbohydrates:
11
g
|
Protein:
6
g
|
Fat:
12
g
|
Saturated Fat:
1
g
|
Sodium:
2
mg
|
Potassium:
23
mg
|
Fiber:
3
g
|
Sugar:
3
g
|
Vitamin A:
112
IU
|
Vitamin C:
1
mg
|
Calcium:
11
mg
|
Iron:
1
mg