Making Low FODMAP Ranch Dressing couldn't be easier and we are going to show you how! Just shake the ingredients in a jar and you will have a rich, creamy, herb-packed ranch dressing in about 10 minutes. Try it with our Fully Loaded Stuffed Potato Skins!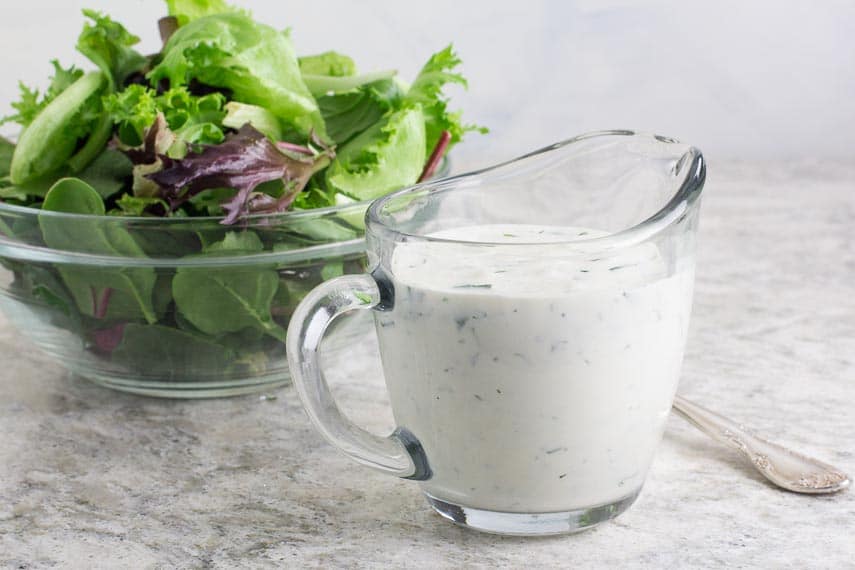 History of Ranch Dressing
Ranch dressing does not only come in a bottle. This creamy herbed concoction was invented by Steve and Gayle Henson at their dude ranch – the Hidden Valley Ranch – in Santa Barbara, CA in 1954. If you have only had the bottled kind you are in for a treat with homemade.
Fresh IS Best
While you can make this with dried herbs in a pinch, and directions are given for that, we encourage you to use fresh herbs; it makes all the difference. This is great as a dip for our Low FODMAP Fully Loaded Stuffed Potato Skins.
And by the way, if you have only tried bottled ranch dressing – and were not thrilled – trust me, this homemade version is completely different! Some folks love pre-made – it is the flavor and texture they crave. But if you tend to like fresher foods, try this recipe even if the bottled type has not been your thing. This is like a different animal.
About Mayonnaise: Flavor & FODMAPs
First lets talk flavor. The flavor of mayonnaise varies tremendously from brand to brand. So much so that when I make tried and true and beloved dish with a brand of mayo that I am not used to using, the dish tastes "wrong" to the point to where I even dislike it. Like tuna. Don't serve me tuna salad if it isn't made with Hellman's!
I think a lot of this has to do with what mayonnaise you grew up with. That's the flavor you have in your mind and palate memory and the one that you seek and thinks taste "right".
Monash University has lab tested mayonnaise and it is low FODMAP at 2 Australian tablespoon servings weighing 40 g. The same levels were detected for regular fat as well as low fat.
Did you know that many mayonnaise brands contain hidden garlic and/or onion? BUT DON'T PANIC!
We spoke with Monash and here is what they said:
"In Australia the most common plain, traditional mayonnaises include 'flavourings' or 'spices' as the last 1-3 ingredients. By Australian standards ingredient don't have to be listed if the compound ingredient makes up less than 5% of the final food and don't perform a purpose in the final food. Therefore, it is a possibility that garlic/onion were present but in tiny amounts.
This product was tested a low FODMAP (as listed in the app) so the levels are probably so small that not being detected.
Still probably exercise caution as this can vary from product to product."
You might find our article, The Ultimate Low FODMAP Guide to Low FODMAP Condiments to be an interesting read.
Let's Talk About Hellmann's Mayonnaise
I am partial to the flavor of Hellmann's, which is what it is called on the east coast of the U.S., and Best Foods brand is the name it sports out west. Same product – different names.
It turns out that Hellmann's "natural flavors" might contain a derivative of onion.
We contacted Hellman's corporate and here is what they said:
"Thank you so much for contacting Hellmann's!
We appreciate your patience in this inquiry. There is absolutely no garlic in our Hellmann's products.
Whole form, dehydrated, pulverized, and powdered onion are listed separately on the labels under their common or usual name and would not be contained within a spice or natural flavor listing. However, an essential oil, oleoresin, essence or extractive of onion may be declared as a natural flavor. Although these compounds have traditionally lower proteinaceous compounds, if you have a high sensitivity to any of them, we suggest you do not consume these products."
So, what should you do? Use the mayo that you like and see how you do with it. Also, review our article, What If A Food Hasn't Been Lab Tested For FODMAPs? and also What Is A Low FODMAP Serving Size?
Ingredients For Low FODMAP Ranch Dressing
Herbs – I have offered directions in the recipe proper for using dry herbs, but I do not recommend it. Unless you are desperate. And really, who is that desperate for ranch dressing? You? OK, I won't judge. Just promise that you will try it with fresh at some point.
Lemon Juice – You might notice the bottle of Minute Maid lemon juice. This is a frozen product and I love it. It is the only lemon juice I will use in the Test Kitchen and if you can find it, I recommend having it on hand. I use it when I need a small amount of lemon juice and either do not have a fresh lemon at hand or don't want to crack one open.
Oil – you need Garlic-Infused Oil for this recipe to provide the garlic flavor. It must be vegetable oil based. Olive oil based garlic-infused oils will not provide the flavor profile that is required for this recipe. We have a recipe for you, of course, or you can use purchased, such as the Tourangelle shown below.
Salt & Pepper – Also, good kosher salt (we use Diamond Kosher Salt) and freshly ground pepper are a must. Musty, tinned pre-ground black pepper just won't do.
How To Make Low FODMAP Ranch Dressing
Folks…this is SO easy. Just prep your ingredients and shake everything up in a jar!
Measure out your lactose-free milk, readying it for "souring" and turning into faux "buttermilk".
Chop your herbs finely. Use fresh (if you can).
Look at all of our carefully chosen ingredients, ready to be shaken up – and enjoyed!
Low FODMAP Ranch Dressing
Making Low FODMAP Ranch Dressing couldn't be easier and we are going to show you how! Just shake the ingredients in a jar and you will have a rich, creamy, herb-packed ranch dressing in about 10 minutes.
Low FODMAP Serving Size Info: Makes about 1 cup (240 ml); 4 servings; ¼ cup (60 ml) per serving
Ingredients:
1/2

cup (120 ml)

lactose-free whole milk

2

teaspoons

freshly squeezed lemon juice

1/2

cup (113 g)

mayonnaise

2

tablespoons

finely chopped fresh chives

or 2 teaspoons dried chives

1

tablespoon

finely chopped fresh dill

or 1 teaspoon dried dill

1

tablespoon

finely chopped fresh flat leaf parsley

or 1 teaspoon dried parsley

1

tablespoon

finely chopped scallions,

green parts only

2

teaspoons

Garlic-Infused Oil,

made with vegetable oil, or purchased garlic flavored vegetable oil

1/2

teaspoon

Dijon mustard

Freshly ground black pepper
Preparation:
Combine the milk and lemon juice in a 2 cup (480 ml) jar (with a lid on the side) and allow to sit for 5 minutes until slightly thickened. Add mayonnaise, scallions, chives, parsley, dill, oil and mustard. Cover jar and shake very well. Season to taste with salt and pepper. Dressing is ready to use or refrigerate for up to 3 days.

The recipe may be doubled, but we prefer to make it fresh when we need it, since the fresh herbs are the stars of this show.
Dédé's Quick Recipe Tips Video
Notes:
Tips
For a bit more tang, use ½ cup (114 g) lactose free yogurt instead of the milk/lemon juice combo. The dressing will be a bit thicker and can be thinned with lactose-free milk, if desired.
FODMAP Information
Our recipes are based on Monash University and FODMAP Friendly science.
Chives: Both Monash University and FODMAP Friendly have lab tested chives. Monash says that chives contain no FODMAPs. FODMAP Friendly gives them a "Pass" at 1 tablespoon (4 g).
Garlic-Infused Oil: Make your own Garlic-Infused Oil or buy a commercial equivalent for the easiest way to add garlic flavor to your food. Fructans in garlic are not oil-soluble, so garlic-infused oil is low FODMAP.
Lemon Juice: Monash University has lab tested lemon juice and it is low FODMAP in ½ cup (125 g) amounts.
Scallions: The green parts of scallions are low FODMAP as determined by Monash University lab testing and can be used to add onion flavor to your low FODMAP cooking.
Please always refer to the Monash University & FODMAP Friendly smartphone apps for the most up-to-date lab tested information. As always, your tolerance is what counts; please eat accordingly. The ultimate goal of the low FODMAP diet is to eat as broadly as possible, without triggering symptoms, for the healthiest microbiome.
Nutrition
Calories:
235
kcal
|
Carbohydrates:
2
g
|
Protein:
1
g
|
Fat:
25
g
|
Saturated Fat:
3
g
|
Cholesterol:
12
mg
|
Sodium:
195
mg
|
Fiber:
1
g
|
Sugar:
2
g
|
Vitamin A:
19
IU
|
Iron:
1
mg
If you want to try a commercially prepared Ranch Dressing that happens to be lab tested and certified low FODMAP, check out Live Free Foods brand. You can also learn about the company in this article.