Let's Make Low FODMAP Tuna Salad!
Classic tuna salad might seem boring, but I make it every week, as it is an economical, easy recipe to make for lunches and snacks – and the way we make it is delicious!
This is the approach I take to make a Low FODMAP Tuna Salad.
Growing up, tuna salad meant drained canned tuna, mayonnaise, lemon juice, diced celery, black pepper and maybe some dried dill or tarragon. I was never a pickle-relish in tuna person.
Read All About It!
Read our article, All About Canned Tuna, for the lowdown on how to best shop for tuna! Some water-packed tuna contains"broth" and high FODMAP ingredients. We tell you everything you need to know.
Know Your FODMAPs
The only issue, from a low FODMAP perspective, is the celery.
As you can see in the image below, the suggested low FODMAP amount of 10 g of celery is a small amount.
It might be just fine for your portion of canned tuna, but I like a bit more crunch.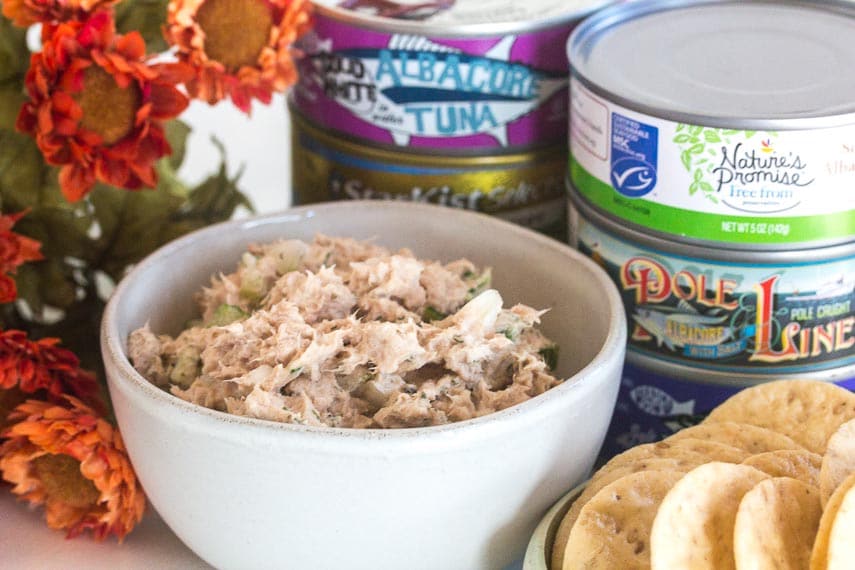 So, very early on in my low FODMAP diet days I got to thinking about what else would lend a fresh, green, crunchy aspect to my tuna salad, in lieu of celery and I came up with two options that I turn to again and again.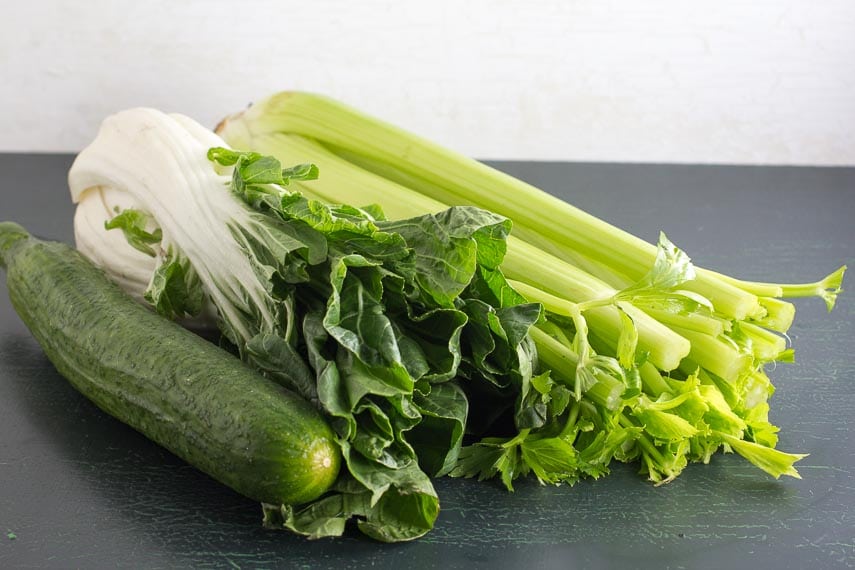 Celery, Bok Choy Or Cucumbers
Bok choy is low FODMAP in very generous 1 cup (75 g) amounts, while cucumbers have no detectable FODMAPs in amounts of ½ cup (75 g).
I tried both in my low FODMAP tuna salad and loved both versions!
The bok choy (above right) lends a pepperiness that I love in tuna anyway and the cucumber (center of image) is something I always have around, so these new approaches to low FODMAP tuna salad were a win-win, in my book.
Bread or Salad
I am partial to eating my tuna salad as a "salad" and use carrot sticks to scoop it up or sometimes gluten-free pretzels or corn chips.
If you are a sandwich kind of person, did you know that you can have 1 slice of white bread made with wheat flour and still be low FODMAP compliant!
Check out the Monash University Low FODMAP Diet Smartphone app and peruse the Bread section; you might be surprised.
This is a very straightforward recipe. Once you read it through and make it, you will be able to make it by heart. And in our busy lives, that is a great help!
And for more tuna inspiration: check out our article, 18 Ways to Use Canned Tuna. We have awesome recipes from salads, to casseroles, sandwiches, pasta and more. 
Looking for hearty main dish salads? Be sure to read: Make Salad The Star Of The Show With These 25 Main Dish Low FODMAP Salads Recipes.
Low FODMAP Tuna Salad
We have some tips for making Low FODMAP Tuna Salad - that go beyond celery!
Ingredients:
2,

5-ounce (142 g)

cans tuna,

preferably water packed

3/4

cup (60 g), diced

bok choy stems,

OR

3/4

cup (113 g), diced

European hothouse cucumber,

OR

1/2

medium (10 g)

celery stalk,

diced

2/3

cup (150 g)

mayonnaise

1 1/2

teaspoons

lemon juice

1/2

teaspoon

dried dill

Freshly ground black pepper
Preparation:
Scrape the tuna into a wire-mesh strainer set over a bowl and squeeze out as much liquid as possible, using the back of a wooden spoon; don't hold back! Discard the liquid. Place the tuna in a mixing bowl, stir in the chopped vegetable of choice (only one of them!), mayonnaise, lemon juice, dill (to taste) and then generously season to taste with pepper.

The tuna is ready to use in sandwiches or as part of a salad plate. May be refrigerated for up to 3 days in an airtight container. 
Notes:
If You Can Tolerate
Fructans: If you passed the fructan onion challenge, you can add ¼ cup (36 g) of finely chopped white or yellow onion to the tuna salad, if you like.
Nutrition
Calories:
279
kcal
|
Carbohydrates:
2
g
|
Protein:
18
g
|
Fat:
22
g
|
Saturated Fat:
3
g
|
Cholesterol:
11
mg
|
Sodium:
204
mg
|
Fiber:
1
g
|
Sugar:
1
g
|
Vitamin A:
15
IU
|
Vitamin C:
0.5
mg
|
Calcium:
2
mg
|
Iron:
0.1
mg