Low FODMAP Shrimp & Corn Chowder
I would be hard pressed to find a food more comforting than soup and we enjoy them year-round. This Low FODMAP Shrimp & Corn Chowder focuses on late summer, early fall vegetables like tomatoes, corn, potatoes, zucchini and fresh basil.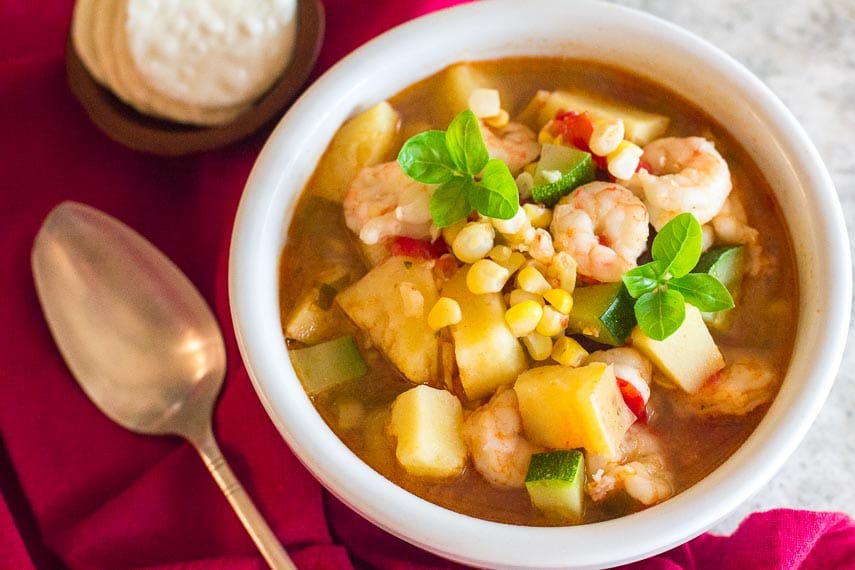 Corn Is Low FODMAP
Perhaps you were surprised to see corn in a low FODMAP recipe. There are many low FODMAP serving sizes for fresh corn, canned corn as well as corn meal and we love using them all. (Check out our Corn Bread Muffins, Cornbread Waffles and Pumpkin Cornbread for more corny recipes).
Fresh corn on the cob, which we use here, is low FODMAP in 38 g amounts, which is about half an average cob. Of course, as with ALL FODMAP recommendations, your tolerance might be more or less, but this is considered the starting point, as it is what was determined to be low FODMAP in lab testing. (You might also enjoy reading our article, What Is A Low FODMAP Serving Size?)
This soup can be made in less than an hour, so if you typically think of soups as an hours-long affairs, this one is a delightful exception.
Onion-Infused Oil
We talk a lot about Garlic-Infused Oil around here and I have to admit that our Onion-Infused Oil gets less attention. The onion flavor from Onion-Infused Oil truly enhances this soup and we strongly recommend that you make some!
You can also purchase shallot-infused oil.
Vegetables For Flavor
This is a brothy soup, as opposed to a creamy, dairy-enriched soup, or one thick with vegetable purée. While I do call for vegetable broth, I also add many vegetables (some stay in; some get removed) for additional layers of flavor.
The corncobs add loads of sweet, earthy flavor and they are a must! This is also a way to ensure that you use fresh corn, which I think adds the best taste.
Low FODMAP Shrimp & Corn Chowder
This late summer/early fall soup takes advantage of corn, tomatoes and zucchini and adds high protein shrimp in a brothy low FODMAP soup.
Ingredients:
2

fresh cobs of sweet corn

2

tablespoons

Onion-Infused Oil,

made with olive oil, or purchased equivalent

½

cup (32 g)

chopped scallions,

green parts only

6

cups (1.4 L)

Low FODMAP Vegetable Broth

12-

ounces (340 g)

Yukon Gold,

yellow-skinned or red-skinned waxy potatoes, diced

4

plum tomatoes,

cored and chopped

1

carrot,

trimmed and scrubbed, cut in half crosswise

½

stalk celery,

cut in half crosswise

1

tablespoon

minced fresh basil,

plus extra

Freshly ground black pepper

½

pound (225 g)

raw shrimp

peeled and deveined

½

medium zucchini,

trimmed and diced
Preparation:
Shuck the corn and discard the husks and silk. Cut the corn from the cob, reserving any juices and the kernels. Save the cobs.

Heat the oil in a large stockpot over low heat and add the scallions. Sauté for a few minutes until softened. Add the corncobs to the pot along with Vegetable Broth, potatoes tomatoes, carrot, celery and 1 tablespoon minced fresh basil. Bring to a simmer, covered, and simmer for 20 minutes or until. Potatoes should be tender and the flavors will have come together. Taste and season with some salt and pepper, as desired.

Remove and discard the corncobs, and carrot and celery pieces. Add the shrimp and zucchini along with corn kernels and any juices. Bring back to a simmer for and cook just until zucchini is tender and shrimp has turned opaque. Soup is ready to serve, garnished with extra fresh basil.

Soup may be cooled and refrigerated for up to 3 days in an airtight container.
Notes:
Tips
If you do not have Vegetable Broth around, you could use 6 cups (1.4 L) of water and then use a dry vegetable soup base or "bouillon" cube in the amount that works with 6 cups (1.4 L) of water. Low FODMAP, of course. We keep Fody Vegetable Soup Base in our pantry just for moments like this.
Nutrition
Calories:
188
kcal
|
Carbohydrates:
25
g
|
Protein:
11
g
|
Fat:
7
g
|
Saturated Fat:
1
g
|
Cholesterol:
95
mg
|
Sodium:
1246
mg
|
Potassium:
264
mg
|
Fiber:
2
g
|
Sugar:
3
g
|
Vitamin A:
504
IU
|
Vitamin C:
8
mg
|
Calcium:
72
mg
|
Iron:
3
mg