Low FODMAP Bolognese Sauce
Bolognese sauce is a traditional Italian meat sauce and while you might have had very tomato-y versions, that is not the classic approach. Our Low FODMAP Bolognese Sauce sticks close to the traditional approach and it is DELICIOUS.
Bolognese History
Properly called Ragù alla Bolognese it is a meat-heavy sauce that hails from the Emilia-Romagna region of Italy. It is often served with tagliatelle shaped pasta, which is a broad, flat noodle, as it is an excellent shape for capturing the sauce's bold texture.
Lucky for us, Jovial makes a low FODMAP gluten-free tagliatelle!
This is a rich dish and contains dairy, sometimes cream, sometimes milk, and also butter. As aforementioned, it is not a tomato-based sauce. There are tomatoes in it, but it isn't a "red sauce". It begins with meat (beef and/or pork/and/or veal) and usually a mirepoix (onion, carrot, celery) and always includes wine, sometimes red and sometimes white.
We have used scallions in lieu of onions and low FODMAP amounts of celery, in addition to the carrot. BTW you have to chop the vegetables really small. If you like, you can do this in a food processor, fitted with a metal blade, pulsing on and off.
I have seen version that contain mushrooms and others that enhance the ragu with prosciutto, pancetta, chicken livers and sometimes several or all of these ingredients.
One enhancement that is common and adds depth and nuance is nutmeg, but it must be used with restraint.
Our Low FODMAP Bolognese Sauce
I approached this version of Low FODMAP Bolognese Sauce with a few things in mind. I wanted it to be classic and use easy-to-find ingredients. I didn't want it to break the bank and require a large number of ingredients and of course it had to be delicious and enticing.
Sunday Supper
Every winter of my childhood involved us skiing in the Catskills, about 2 ½ hours from home. My father, Moses Acosta, was first a ski patrolman and then a ski teacher. He met my Mom in a chair-lift line. I was put on skis while still in diapers. Sunday nights we would get home late and need a quick, hearty dinner. Sunday was pasta night.
My father spoke 8 languages and travelled extensively. In the 60s and 70s he was introducing us to traditional Indonesian food, culinary delights from Morocco, Greece, France, Germany and of course, Italy.
While most of my friends were eating Italian-American food (and we were too, at times), my father loved to make classic Italian pasta sauces from Puttanesca to Amatriciana, true Alfredo and Bolognese.
My dad taught me about pasta shapes and why one shape works with a particular sauce, while another would do it no favors. He shaped my palate and my food knowledge.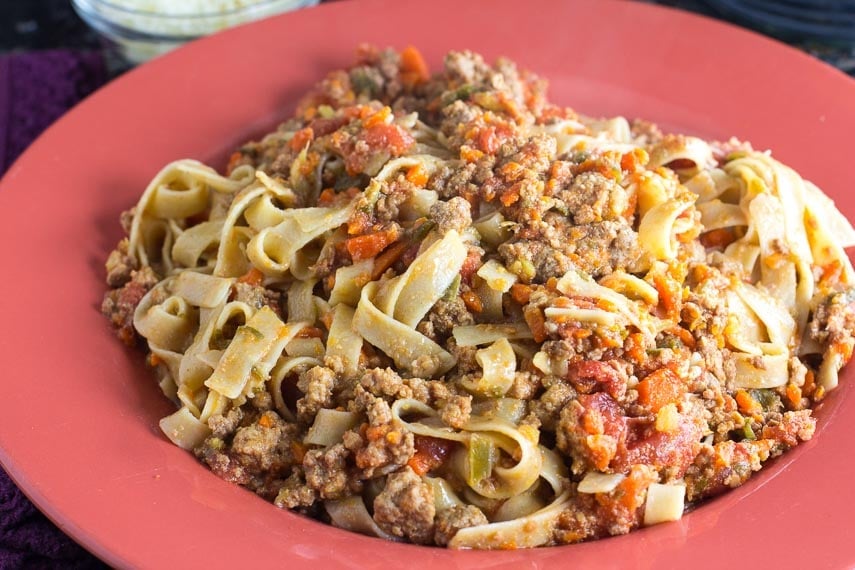 Mario vs. Moses
Once, in the early 2000s, my Dad and I went to eat at Babbo, Mario Batali's then hot spot in the West Village. They had Bolognese on the menu that night and my father said he liked to order it out, in establishments that would "make it right". Not only because he loved the sauce, but also because he liked to take notes, take home tips and compare it to his own.
I was excited (I get really excited about food LOL) and the dish came piping hot and we were both filled with anticipation. And then I tasted it.
It was so over-salted that it was inedible. I actually sent the dish back, but the second one was no better, and this did not surprise me, as I am sure it came from the same large batch. My father's was far superior.
Like a true cook, my dad would use what was at hand, so the color of the wine would change as would the level of fat in the dairy and the meat source – sometimes a single meat, sometimes a blend.
Our Low FODMAP Bolognese Sauce is based on the one of my childhood, which in turn was adapted from all the true Italian sources that my father referenced. It is not dissimilar to one presented by the legendary Italian cookbook author, Marcella Hazan. Like all great cooks, she had several versions that she rotated. I had the opportunity to host her son, Guiliano, on Seasonings, a PBS cooking show of mine, but I never got to cook with Marcella. Close enough?
For our take on a ground turkey based pasta sauce, check out our Turkey Meatballs.
Low FODMAP Bolognese Sauce
True to its classic roots, using dairy and butter and rich with meat.
Low FODMAP Serving Size Info: Makes 4 to 6 servings.
Total Time:
3
hours
20
minutes
Ingredients:
3

tablespoons

unsalted butter,

divided

2

tablespoons

Garlic-Infused Oil,

made with olive oil, or purchased equivalent

1

cup (70 g)

finely chopped scallions,

green parts only

3

medium carrots,

trimmed, peeled and minced

1

medium stalk celery,

trimmed and minced

1 ½

pounds

lean ground chuck,

or half beef and half ground pork

Freshly ground black pepper

2

cups (480 ml)

lactose-free whole milk

or half-and-half

2

cups (480 ml)

dry white wine

or red wine

1, 28-

ounce (794g)

can peeled tomatoes in juice

1-

pound (445 g)

low FODMAP gluten-free tagliatelle,

such as Jovial (you will need two boxes as they are 9-ounces/255 g each

Parmigiano-Reggiano
Preparation:
Heat 2 tablespoons of the butter and all of the oil in a Dutch oven over low-medium heat until melted. Add the scallions, carrots and celery and sauté over low-medium heat until very soft, stirring often. Break up the meat and add to the pot, add a small amount of salt and a pepper and stir until all the raw, pink color in the meat is gone. Add the tiniest amount of nutmeg. I take a whole nutmeg and simply swipe it over a very fine rasp-style grater right into the pot, maybe three or four swipes of the whole nutmeg.

Add the milk or half-and-half and bring to a simmer, stirring often, and cook until milk is evaporated. Add the wine and again, simmer until evaporated, stirring often. Use your hands to add the tomatoes to the pot, crushing them into very small pieces. Add all of the juice, too. Stir everything together well and bring to a very gentle simmer - barely a simmer - and leave uncovered. Cook at this very low heat for at least 2 hours. If too much liquid evaporates, you can add some small amounts of water as it cooks, stirring in well. Sometimes I cook this for 3 hours. Taste at the 2-hour mark and if the flavors have come together well, then you are done. Adjust seasoning if necessary. After cooling, the sauce may be refrigerated for up to 4 days in an airtight container, or even frozen for a month.

For serving, have the sauce hot and ready to go. Prepare pasta al dente, reserving some starchy pasta cooking water. Drain the pasta. Toss the pasta with butter, thicken the sauce with a little pasta water, and toss everything together very well. Serve immediately with Parmigiano-Reggiano for guests to add themselves.
Notes:
Tips
You could use other shape noodles, but we do think it is worth seeking out the Jovial Tagliatelle.
Nutrition
Calories:
756
kcal
|
Carbohydrates:
74
g
|
Protein:
32
g
|
Fat:
33
g
|
Sodium:
4
mg
|
Potassium:
56
mg
|
Fiber:
4
g
|
Sugar:
6
g
|
Calcium:
7
mg
|
Iron:
1
mg
---
Low FODMAP Recipes Created Just For You!
We take low FODMAP recipes seriously at FODMAP Everyday®. That's why Dédé oversees our Test Kitchen and makes sure that each and every recipe works – and is low FODMAP following the most up-to-date science.
Rest assured that you will not find more trustworthy or delicious low FODMAP recipes anywhere – several hundred and counting.
FODMAP Everyday®Low FODMAP Recipes At A Glance:
Come Join Our Low FODMAP Recipe Community!
Use Our Exclusive Recipe Filter To Find The Low FODMAP Recipe You Are Looking For Today!