Low FODMAP Tempeh Lentil Chili with Butternut Squash
I have been making an All-Beef Chili for years – and I love our low FODMAP version – but I knew it was time to bring a vegan version to all of you as well. This Low FODMAP Tempeh Lentil Chili with Butternut Squash also happens to be vegan.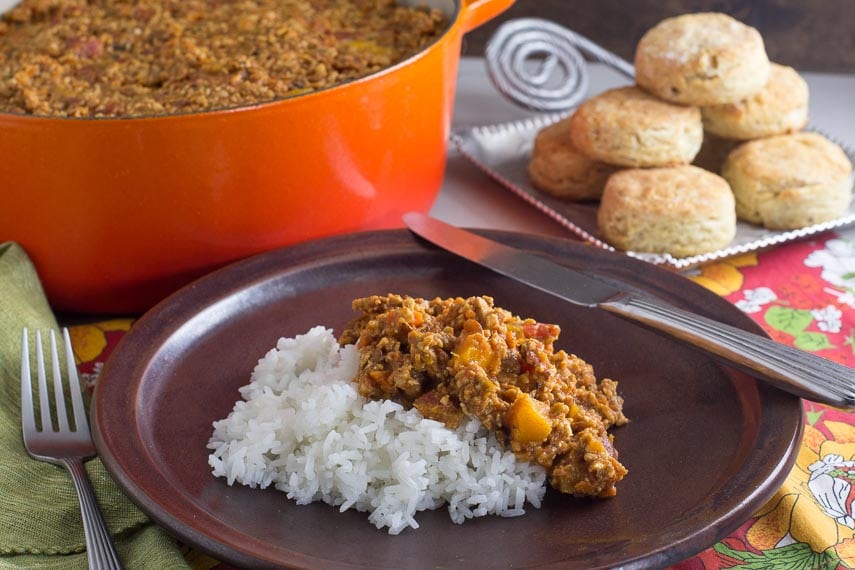 Tempeh Lovers – and Haters – Unite!
I tentatively served this chili to my son Forrester and my husband Damon – who both dislike tempeh. Actually, in Forrester's case, that is an understatement.
I think he said something approximating "of all the foods in the world I dislike tempeh the most".
I placed the dishes on the table. We all sat down. I watched the two of them. Silence and then…(drum roll)…they liked it!
In fact they both said it as very good! I attribute this to the fact that the sweetness of the butternut squash balances out the slight bitterness inherent in tempeh, and also that it is generously spiced.
But Tempeh Is Not For Everyone!
Robin on the other hand wasn't convinced. So you will have to try for yourself. She says it's the mold thing (tempeh is indeed inoculated with a mold).
I pointed out to her that she loves blue cheese and that has mold…she says, it's just different! We had to just leave this one be. No tempeh chili for her. More for you and me!
(PS: I read this paragraph to her and she admitted that she had actually liked the taste of this chili, but that she still has a psychological thing about tempeh mold in particular). You decide.
Lentils Can Be Low FODMAP
Lentils are low FODMAP in portions of 46 g. Monash has stated that this equals ½ cup, but in our tests, we have come up with a different, far smaller volume. Our ¼ cup equals 41 g. Monash has indicated that we should go by their weights, and those are reflected here.
Also, please note that the weight of the lentils as they come out the can is vastly greater than the weight once drained. Again, our recipe serving size recommendations are based on the drained weight, as are the entries in the Monash app.
For more on lentils, please read our Explore An Ingredient: Lentils.
Combined with the tempeh, this vegan chili is packed with protein!
BTW, this recipe is vegan as it is, but if you are so inclined and do eat cheese, this chili is very tasty topped with some shredded sharp cheddar cheese. (We also have a Turkey Chili for you, too).
And if you are going that route, check out our Biscuits and also our Pumpkin Cornbread, Cornbread, which make great accompaniments.
We also think you will be interested in our article on Chile, Chili & Chillies. It has a ton of info for spicy food lovers.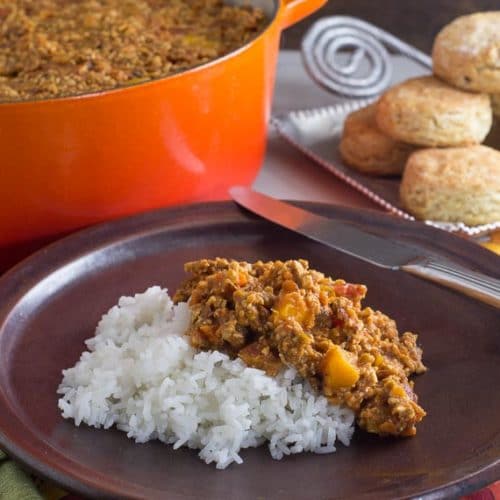 Low FODMAP Tempeh Lentil Chili with Butternut Squash
Not all chili needs meat! This Low FODMAP Tempeh Lentil Chili with Butternut Squash is packed with protein and is super hearty and filling - and low FODMAP, of course.
Low FODMAP Serving Size Info: Makes 4 quarts (3.8 L); 16 servings (about 1 cup/240 ml each)
Cook Time:
1
hour
30
minutes
Total Time:
1
hour
50
minutes
Ingredients:
2

pounds (910 g)

tempeh

3

medium carrots

trimmed, scrubbed and cut into chunks

3

tablespoons

Garlic-Infused Oil,

made with vegetable oil or purchased equivalent

3/4

cup (48 g)

finely chopped scallions,

green parts only

1/2

cup (36 g)

finely chopped leeks,

green parts only

1

tablespoon plus 2 teaspoons

ground cumin

2

teaspoons

kosher salt

1

teaspoon

ground chipotle powder

1/2

teaspoon

cayenne pepper

1 1/2

teaspoons

paprika

1 1/2

teaspoons

smoked paprika

1/2

teaspoon

dried oregano

1/2

teaspoon

freshly ground black pepper

3

cups (720 ml)

water

2, 28

ounce (793 )

each cans crushed tomatoes;

make sure they do not contain any onion or garlic

1, 15

ounce (425 g)

can lentils,

drained, rinsed and drained again

1

pound (455 g)

peeled butternut squash, diced

1/4

cup (35 g)

fine ground yellow cornmeal
Preparation:
Fit a food processor with a metal blade. Add the tempeh in batches and pulse on and off until coarsely ground. Scrape into a bowl and set aside; repeat until all the tempeh is ground, setting aside as you finish each batch. Now chop the carrots very finely, pulsing on and off until very finely ground, to a similar texture; set aside. (I use the food processor to chop the leeks and scallions, too, since I have it out).

Heat the oil in a large, heavy Dutch oven (such as a 6 quart) over medium heat and add carrots, leeks and scallions. Sauté for about 3 to 5 minutes, stirring often, or until softened, but not browned. Stir in the ground tempeh, coating with the oil and leek/scallion mixture and cook for several minutes, stirring often.

Stir the cumin, salt, chipotle, cayenne, paprika, smoked paprika, oregano and pepper into the tempeh mixture. Now stir in the water, crushed tomatoes, drained lentils and butternut squash. Cover, adjust heat to a low simmer and cook for about 1 hour to 1 hour and 15 minutes, stirring occasionally making sure it does not burn on the bottom, adding additional water if necessary. The squash should be tender and there should be some liquid, but it should not be soupy. Simmer a bit more if needed. Taste chili, adjust salt and pepper if desired and add cayenne if you want more heat.

Place cornmeal in a small bowl. Use a ladle to remove some cooking liquid and add it to the cornmeal, stirring to make a paste. Add this to the chili and stir in to distribute. Simmer covered for 10 more minutes to thicken chili. Chili is ready to serve, but we think it is even better on days 2 or 3. Cool to room temperature and either refrigerate in airtight containers for up to a week or freeze up to a month. (Defrost in refrigerator overnight). Reheat on stovetop over low heat.
Notes:
Tips
Cornmeal comes in many different textures from powdery corn flour, to fine cornmeal, to extra course polenta. You need a finely ground cornmeal for this dish.
Nutrition
Calories:
211
kcal
|
Carbohydrates:
23
g
|
Protein:
14
g
|
Fat:
9
g
|
Saturated Fat:
1
g
|
Sodium:
299
mg
|
Potassium:
249
mg
|
Fiber:
1
g
|
Sugar:
1
g
|
Vitamin A:
215
IU
|
Calcium:
68
mg
|
Iron:
1.9
mg