n
Robin and I both have interesting backgrounds that you can read about in our bio pages, but there are just some things that didn't get mentioned  (a LOT of things, actually), but one that we can share is the fact that we ran a Hot Food, Hot Jazz Festival 8 years in a row here in New England – and it included a chili cook-off. So we know a little bit about chili.
This is our first low FODMAP version – our Low FODMAP All Beef Chili! A one-pot, spicy wonder!
Did you know that true chili does not contain beans?
Well, at least according to the Chili Appreciation Society International, (CASI). Our annual event featured a CASI approved contest, which meant that the winner could go to the finals in Terlingua, Texas for the World Championships – we are talking serious chili people here, folks!
Award Winning Low FODMAP All Beef Chili
While we haven't actually won any awards with this chili, it is based upon the recipe created by Wick Fowler that did win one year at the World Championships!
IF you want to add beans for the non-FODMAPers, go ahead (we will just pretend we are not party to this).
Cornmeal As Thickener
This one-pot all beef chili is rich and spicy. It freezes well, you can easily adjust the heat level, and there is something here for everyone.
Wick used masa flour (a very fine corn flour) to thicken his chili, but I have found that finely ground yellow cornmeal works just as well and is easier to find.
Serve our Low FODMAP All Beef Chili with rice, Cornbread, or how about Pumpkin Biscuits? Or, how about Pumpkin Cornbread, if you can't make up your mind LOL.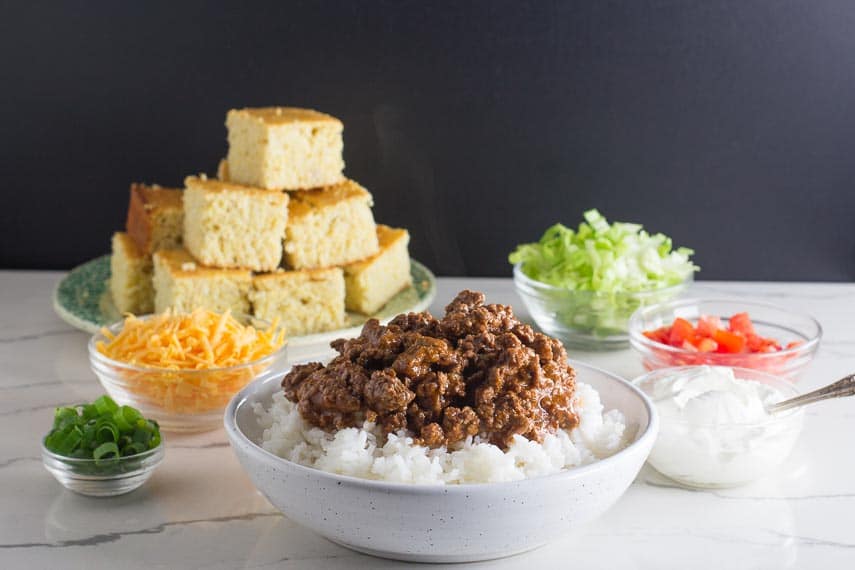 Toppings Galore
You can also offer toppings, such as grated cheese, scallion greens, lactose-free sour cream, shredded lettuce or cabbage or other low FODMAP ingredients – in low FODMAP amounts of course.
Brush up on FODMAP Stacking, to be sure.
And, BTW, even 30 grams of avocado are low FODMAP and acceptable even during your Elimination phase.
A Note About Chilli Powder
OK folks, let's talk chiles, chili and all things chilli. In the U.S. we use the spelling "chile" when we are referring to the various raw chile peppers, of which there are many, from sweet to blistering hot.
Again, in the U.S, we use the term "chili" when we are talking about a dish such as this recipe. We do not tend to use the spelling that Monash and Australians do, which is "chilli" and they use it in reference to the vegetables as well as dried, powdered spice.
In American, by the way, "chili powder" is a blend of pepper(s), cumin and usually garlic, in addition to other spices. In Australia, "chilli" powder can be pure dried ground hot peppers or it can also be a blend, hence there can be some confusion.
We have had communication with Monash about what "chilli powder" they tested and is reflected in the app and they have said it is pure ground red Serrano chile, which we cannot source.
Monash has also now tested ground chipotle chile powder and found it to be moderate for fructose in amounts of 1 teaspoon. We use it in smaller amounts and have found it to work quite well, taste and digestive-wise, for many.
We have opted to suggest a blend of ground chipotle pepper and cayenne, both of which are easy to find.
Spicy Food Is NOT for Everyone
Speaking of spices, some folks find spicy food to be an IBS trigger.
If you know this is true for you, then this dish might not be a great choice – or, simply use far less of the ground chipotle powder and cayenne.
Looking for a vegan chili? Check out Low FODMAP Tempeh Lentil Chili with Butternut Squash.
Low FODMAP All Beef Chili
Our Low FODMAP All Beef Chili is easy to make in one pot and as spicy and satisfying as any you can make - IBS friendly or otherwise!
Cook Time:
1
hour
30
minutes
Total Time:
1
hour
45
minutes
Ingredients:
4

pounds (1.8 kg)

boneless chuck roast,

cut into chunks (see Tips)

2

tablespoons

Garlic-Infused Oil,

made with vegetable oil or purchased equivalent

1

small white or yellow onion,

peeled and quartered

1/2

cup (36 g)

finely chopped leeks,

green parts only

1/2

cup (32 g)

finely chopped scallions,

green parts only

1

tablespoon

ground chipotle powder

2

tablespoons

ground cumin

2

teaspoons

paprika

2

teaspoons

smoked paprika

1

teaspoon

dried oregano

1

teaspoon

kosher salt

1/2

teaspoon

cayenne

1/2

teaspoon

freshly ground black pepper

2

cups (490 g; 470 m)

tomato sauce;

make sure it does not contain any onion or garlic - many of them do!

3 to 4

cups (720 ml to 960 ml)

water

1/4

cup (35 g)

fine ground yellow cornmeal
Preparation:
Fit a food processor with a metal blade. Add the meat in batches and pulse on and off until coarsely ground (a little coarser than the ground meat that you typically buy). Scrape into a bowl and set aside; repeat until all the meat is ground.

Heat the oil in a large, heavy Dutch oven (such as a 6 quart) over medium heat and add onions. Sauté for about 3 to 5 minutes, stirring often, or until onions begin to soften, but do not brown. Remove all onion pieces from the oil and discard. This is vital in order to keep this recipe low FODMAP. Now add the leek and scallion greens to the oil and sauté for about 2 to 3 to 5 minutes, stirring often, or until softened but not browned.

Stir in the meat, coating with the oil and leek/scallion mixture and cook for several minutes until browned, stirring often.

Stir the chipotle powder, cumin, paprika, smoked paprika, oregano, salt, cayenne and pepper into the meat mixture. Now stir in the tomato sauce and 3 cups (720 ml) of water to combine. Cover, adjust heat to a low simmer and cook for about 1 hour to 1 hour and 15 minutes, stirring occasionally making sure it does not burn, adding additional water if necessary. Check liquid level and meat doneness. The meat should be tender and there should be some liquid, but it should not be soupy. Simmer a bit more if needed. Taste chili, adjust salt and pepper if desired and add cayenne if you want more heat.

Place cornmeal in a small bowl. Use a ladle to remove some cooking liquid and add it to the cornmeal, stirring to make a paste. Add this to the chili and stir in to distribute. Simmer covered for 10 more minutes to thicken chili. Chili is ready to serve, but we think it is even better on days 2 or 3. Cool to room temperature and either refrigerate in airtight containers for up to a week or freeze up to a month. (Defrost in refrigerator overnight). Reheat on stovetop over low heat.
Notes:
Tips
You can use ground beef instead of grinding your own. If you like.
If You Can Tolerate
Fructans: If you have passed the fructan onion challenge you can add 1 to 2 tablespoons of chopped red, yellow or white onion as garnish, if you like. Note that for some folks cooked onions can be fine, while raw will still upset their tummy - or vice versa! Know your tolerances.
Polyol: If you have passed the sorbitol challenge, you can garnish the top of your chili with extra diced avocado.
Nutrition
Calories:
424
kcal
|
Carbohydrates:
8
g
|
Protein:
30
g
|
Fat:
30
g
|
Saturated Fat:
1
g
|
Sodium:
203
mg
|
Potassium:
33
mg
|
Fiber:
1
g
|
Sugar:
2
g
|
Vitamin A:
375
IU
|
Vitamin C:
0.1
mg
|
Calcium:
13
mg
|
Iron:
0.8
mg