Easy Low FODMAP Thai Curry Tofu & Green Beans
This recipe for Low FODMAP Thai Curry Tofu & Green Beans was inspired by Casa de Sante's Thai Curry Seasoning, which contains no onion or garlic and is certified as low FODMAP by FODMAP Friendly.
The fragrant mixture of turmeric, coriander, cumin, ginger, white pepper, cayenne pepper and cloves is ready to use and I was inspired to create a tofu-based dish.
All Coconut Milk Is Not Created Equal
This recipe was updated in May 2020 to better explain what kind of coconut milk to use and how to keep the finished dish in low FODMAP serving sizes.
In the Test Kitchen we keep three kinds of coconut milk on hand, as they have different uses. Full-fat canned coconut milk is very rich and is fabulous when you want that very rich mouthfeel. I did not think that is necessary for this dish and in fact, I think the full-fat canned is too rich for this dish. "Lite" canned coconut  milk, sometimes spelled "light", is a similar product but with more water content, and therefore the FODMAP load is less.
UHT coconut milk is what you find on the grocery shelves in cardboard containers. It has the largest low FODMAP serving size of those lab tested and the added benefit of being shelf-stable, so this is the easiest to keep on hand. I highly recommend the UHT for this dish for texture as well as FODMAP levels.
Monash has lab tested both. Canned (full-fat) is low FODMAP in serving sizes of 60 g or ¼ cup (60 ml). UHT is low FODMAP in much larger servings of 180 g or ¾ cup (180 ml). 
Vegan or Vegetarian
Ghee is low FODMAP, casein-free and very low lactose-product. Ghee is often used in curry dishes and I tried this recipe once with ghee and another time with Garlic-Infused Oil, made with vegetable oil. Both versions worked very well.
If you are looking for a vegan version of this dish use the oil, as the ghee, which is clarified butter, is based on dairy.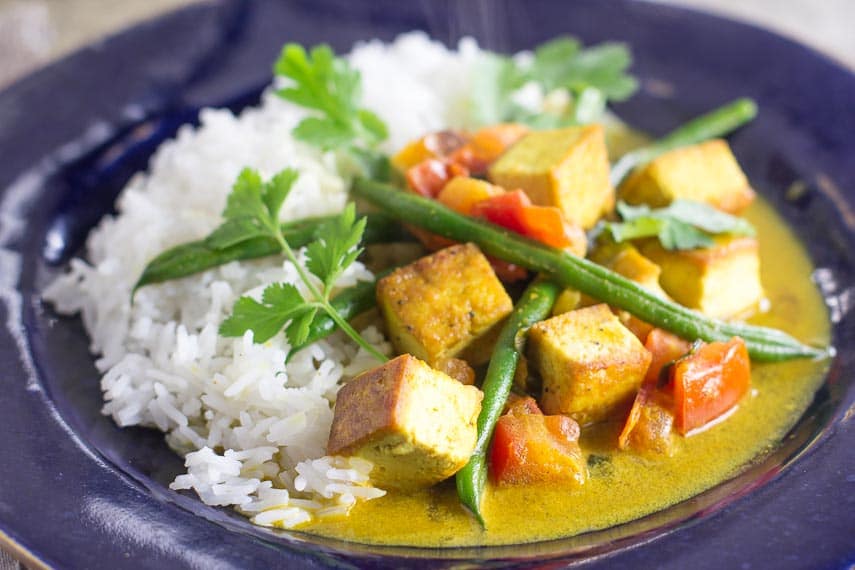 This is a quick weeknight dish that is packed with flavor. Serve with the rice of your choice.
Check out our interview with Dr. Onyx Adegbola, the founder of Casa de Santé. She is an amazing FODMAP pioneer and we have an exclusive chat with her about her entrepreneurial approach to bringing you Certified Low FODMAP products.
This Recipe Generously Brought to You By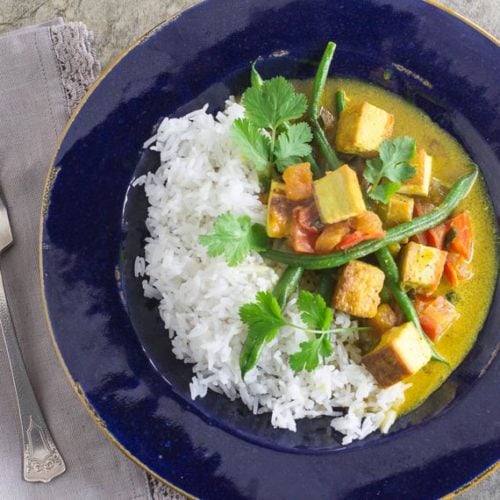 Low FODMAP Thai Curry Tofu & Green Beans
This Low FODMAP Thai Curry Tofu & Green Beans is an easy one-dish meal and we give you vegetarian and vegan options.
Ingredients:
1, 14-

ounce to 16-ounce (400 g to 455 g block)

of extra-firm tofu

2

tablespoons

ghee or Garlic-Infused Oil,

made with vegetable oil, or purchased equivalent, divided

¼

cup (16 g)

chopped scallions,

green parts only

1

tablespoon

Casa de Sante's Thai Curry Seasoning

2

medium beefsteak tomatoes,

cored and chopped

8

ounces (225 g)

fresh green beans,

trimmed

1, 14.5

ounce (403 ml)

can lite coconut milk or preferably 14-ounces UHT coconut milk,

well stirred if canned

Freshly ground black pepper

Cilantro,

optional
Preparation:
Cut the tofu block in half lengthwise. Place a triple layer of paper towel on a cutting board, place tofu slabs on top, then cover them with another triple layer of towel. Put something heavy on top, like another cutting board with a heavy pot on top. Allow to sit for about 10 minutes. This technique will remove excess water from the tofu so that it will fry up with a nice crisp outer texture.

Once tofu has drained, discard paper towels and cut tofu into cubes.

Heat a large, deep skillet over medium heat and add 1 tablespoon of the ghee or oil (use oil for a vegan version) and heat until oil is shimmering. Add tofu and increase heat to medium-high. Cook undisturbed for a few minutes or until tofu is browned on the bottoms, then toss around and continue to cook until nicely browned. Remove from pan and set aside, keeping warm.

Add remaining tablespoon of ghee or oil to the pan over medium heat. Add scallions and sauté for about a minute or 2 until softened but not browned. Add Thai curry powder and stir around for 30 seconds, then add tomatoes and green beans and toss to coat, then coconut milk and stir everything around together well. Adjust heat, partially cover and simmer for about 3 minutes, then stir in tofu to coat with sauce and simmer for 5 more minutes or until heated through. Taste and season with salt and pepper as desired. Your curry is ready to serve with or without a garnish of cilantro. And we like this best with rice.
Notes:
Tips
Often in recipes that call for canned coconut milk you can choose between classic style or lite (also sometimes spelled "light"). To remain low FODMAP I suggest you use "lite", if using canned, or I highly suggest the UHT coconut milk, which has a larger serving size.
Nutrition
Calories:
260
kcal
|
Carbohydrates:
8
g
|
Protein:
9
g
|
Fat:
23
g
|
Fiber:
1
g
|
Sugar:
1
g