Reduced Sugar Baking
We heard you loud and clear! Many of you have asked for some recipes with reduced sugar. This Lower Fat, Reduced Sugar Banana Bread has so much going for it…
You can whip it up in less time than it takes to preheat the oven, it can be made by hand in a bowl with a wooden spoon, it is tall and moist, very banana-y and dare I say it? I think I like it even better than our original approach, which you can see in our Monash Certified Low FODMAP Recipe for Banana Bread Muffins.
For this recipe we have reduced the fat by one-third and halved the sugar.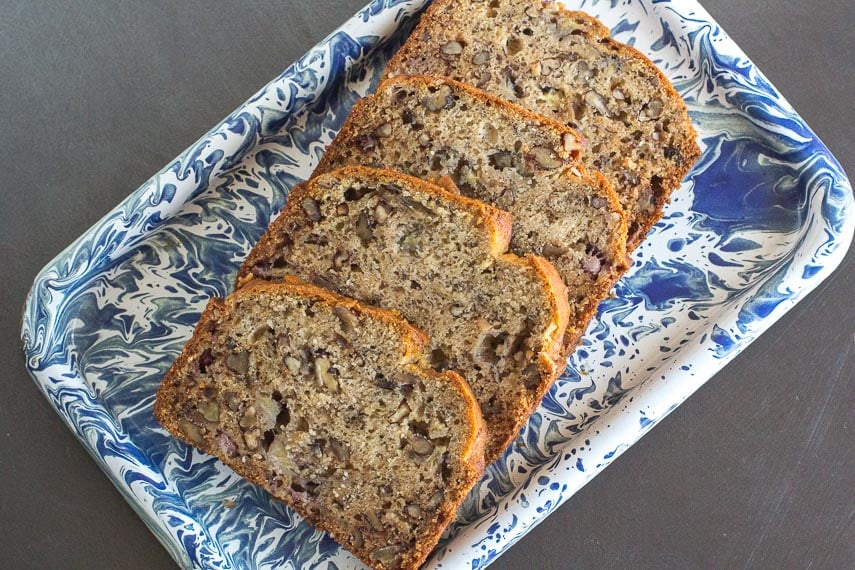 Make Two, Freeze One!
Not all baking recipes double well, meaning that the results will be as good as a single version. This recipe does double well and if you have two pans we recommend that you make two and freeze one.
I freeze very few baked goods, as I find they dry out and really degrade in the freezer. This is one recipe that does freeze well, if you follow the directions.
Loaf Pans
And speaking of pans, you will note that I call for a 8 1/2 inch x 4 1/4 inch (21.5 cm x 10.5 cm) loaf pan. This dimension will give you the nice tall, square shape you see in the images.
You could use a 9-inch by 5-inch (23 cm x 12 cm) loaf pan, but the Banana Bread will end up being much more squat.
Also, watch your baking times as it will bake more quickly.
Use Really Ripe Bananas
Just make sure to use really ripe bananas – they should have no green on them at all and should be sporting a nice coat of black freckles and a very strong, sweet banana aroma.
Don't worry about the FODMAPs. If you stick to the suggested portions, this recipe is low FODMAP.
The addition of light brown sugar, with its slightly caramel-like flavors, actually enhanced the tropical banana taste.
Feel free to use the walnuts or pecans if you like a bit of crunch – or go for straight banana bread flavor and texture and leave them out.
Lower Fat, Reduced Sugar Banana Bread
Our Lower Fat, Reduced Sugar Banana Bread is low FODMAP if you stick to the portions suggested. Make sure to use super ripe bananas for best results.
Low FODMAP Serving Size Info: Makes 1 loaf; 14 slices; serving size 1 slice
Total Time:
1
hour
10
minutes
Ingredients:
11/2

cups (218 g)

gluten-free all-purpose flour,

such as Bob's Red Mill Gluten Free 1 to 1 Baking Flour

1

teaspoon

baking soda

1/2

teaspoon

salt

1/3

cup (75 ml)

vegetable oil,

such as canola

1/4

cup (50 g)

sugar

1/4

cup (54 g)

firmly packed light brown sugar

2

large

eggs,

at room temperature

11/2

cups (360 ml)

fork-mashed banana

(about 3 medium very ripe bananas.)

1

teaspoon

vanilla extract

1

cup (99 g)

toasted walnut or pecan halves,

finely chopped (optional)
Preparation:
Position rack in the center of your oven. Preheat to 350° F/180°C. Coat an 8 1/2 inch x 4 1/4 inch (21.5 cm x 10.5 cm) loaf pan with nonstick spray (see Dédé's notes in headnote above).

Whisk the flour, baking soda and salt together in a large bowl and set aside.

Whisk the oil, sugar and brown sugar in a medium bowl until thoroughly combined. Whisk in eggs, one at a time, until incorporated. Whisk in banana and vanilla.

Pour wet ingredients over dry ingredients and whisk gently just until combined, finishing off with a rubber spatula. Gently fold in walnuts and/or chocolate morsels at this time, if using.

Scrape batter into loaf pan and bake for about 50 minutes to 1 hour. A toothpick should just test clean when inserted in center of bread, the top will be golden and risen and the edges will just be pulling away from the sides of the pan.

Cool pan on rack for 10 minutes, then turn bread out and cool completely on rack. Bread is ready to eat, however it slices best after being wrapped in plastic wrap and allowed to sit at room temperature overnight. Bread will keep for about 4 days. If you want to freeze it, double wrap a cooled loaf in plastic wrap, then slip into a heavy zip top bag. Freeze for up to one month. It will defrost very quickly at room temperature.
If You Can Tolerate
Fructans: If you passed the fructan wheat challenge, you can sub in all purpose unbleached flour for the gluten-free flour. Note that the banana bread will no longer be gluten-free. Use weight equivalents for most accurate results with this substitution.
Nutrition
Calories:
441
kcal
|
Carbohydrates:
76
g
|
Protein:
11
g
|
Fat:
14
g
|
Saturated Fat:
1
g
|
Cholesterol:
30
mg
|
Sodium:
173
mg
|
Potassium:
11
mg
|
Fiber:
10
g
|
Sugar:
15
g
|
Vitamin A:
0.9
%
|
Calcium:
5.9
%
|
Iron:
17.3
%
---
Low FODMAP Recipes Created Just For You!
We take low FODMAP recipes seriously at FODMAP Everyday®. That's why Dédé oversees our Test Kitchen and makes sure that each and every recipe works – and is low FODMAP following the most up-to-date science.
Rest assured that you will not find more trustworthy or delicious low FODMAP recipes anywhere – several hundred and counting.
FODMAP Everyday®Low FODMAP Recipes At A Glance:
Come Join Our Low FODMAP Recipe Community!
Use Our Exclusive Recipe Filter To Find The Low FODMAP Recipe You Are Looking For Today!