Our Low FODMAP Banana Chocolate Chip Muffins are super simple to make and packed with banana and chocolate flavor. The crumb is light and fluffy – and eaten warm are extra-special. You need very ripe bananas for this recipe and mini chocolate chips, such as those from Enjoy Life, which are Certified Low FODMAP!
Bananas & FODMAPs
Perhaps you think bananas are high FODMAP? Maybe someone has even told you that ripe bananas should not be eaten on the low FODMAP diet? Guess what? You CAN have them! It is all about paying attention to serving sizes.
Both Monash University and FODMAP Friendly have lab tested conventional bananas, both ripe and unripe. To understand the results, you have to look carefully at the app entries. Let's focus on ripe bananas, since that is what we need for this recipe.
FODMAP Friendly tested 1 large sized banana, which they say weighs 150 g, and they give it a "Fail" for its fructan content. Luckily for us banana lovers, Monash has tested smaller portions and 35 g of a ripe banana, which is about one-third of a medium-sized banana is considered low FODMAP.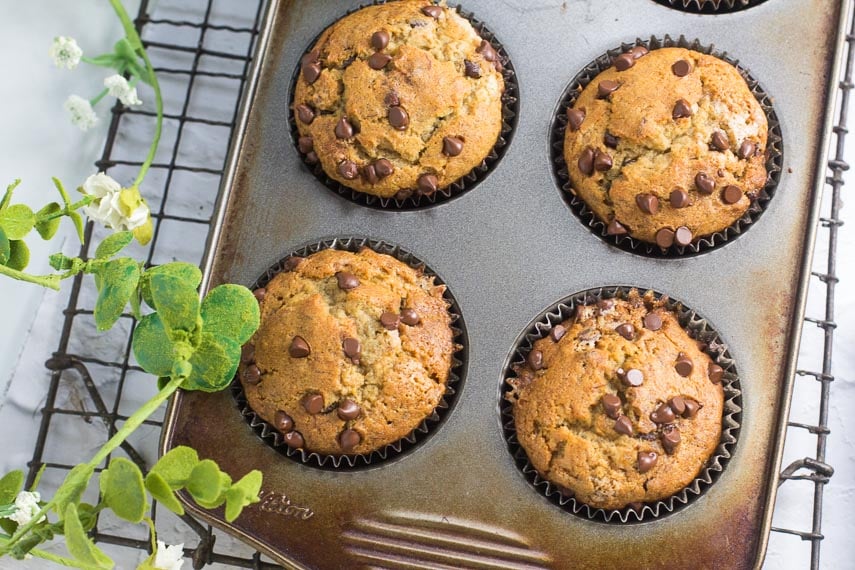 Note that the ripe Banana entry on the Monash app is Red Light and at first it looks like the fruit is high FODMAP. But if you click into the entry, as you always should, you will find the Green Light Low FODMAP information.
Since we use a total of 300 g of ripe banana for this recipe, and the recipe makes 12 muffins, with a recommended serving size of 1 muffin, the total banana per serving is 25 g, which is within low FODMAP guidelines.
Dark Chocolate & FODMAPs
We delve into my all-time favorite ingredient – dark chocolate – in our article All About Dark Chocolate & FODMAPs. What you need to know here is quantity and choice of product.
First of all, I do suggest dark chocolate for these Low FODMAP Banana Chocolate Chip Muffins, as milk chocolate would be too sweet. Milk chocolate does have low FODMAP serving sizes, but it isn't preferred for this recipe.
You could use standard sized chips, or even chunks for this recipe, but I far prefer the mini chips. They just distribute more evenly in the batter, and I love the way they look. I used Enjoy Life Semi-Sweet Chocolate Mini Chips, which are dairy-free, soy-free, vegan and Certified Gluten Free. As with all of Enjoy Life's products, they are free of 14 common allergens.
Reads our interview with Enjoy Life to learn more about this company that has dozens of products that have also been Certified Low FODMAP by FODMAP Friendly, including these chips!
Each bag of Enjoy Life Semi-Sweet Chocolate Mini Chips contains 10-ounces (283 g) of chips, so you can get two batches of our delectable muffins from each bag.

Ingredients For Low FODMAP Banana Chocolate Chip Muffins
The only trick here is to have VERY ripe bananas, which probably means you have to plan ahead. I always have some in the freezer. That is what the slop is in the bowl below! The banana alongside is there to give you an idea of ripeness. The bananas cannot have any green on them at all, and are preferably quite black, even more so than the one pictured!
How To Make Low FODMAP Banana Chocolate Chip Muffins
Unlike some recipes, I did not combine the dry ingredients first – I just wanted to make this as easy as possible for you!
Cream the butter, sugar and vanilla.
Add eggs and bananas – the batter will look a bit curdled. That's okay.
After the dry mix and chips are added, it will look like this:
Dole the batter out into prepared muffin pans (with or without fluted paper liners) and sprinkle with reserved chips. The muffin on the lower right hasn't been topped off yet!
Then they are ready to go into the oven! In about half an hour you can be eating WARM MUFFINS!!!! With melty chocolate…MMMmmmmm.
While you are waiting, read our article Are Bananas Low FODMAP, for the most complete banana/FODMAP info.
For another recipe featuring Enjoy Life products, please check out our Low FODMAP "Key" Lime Pie!
And if you are a muffin fan. and we assume you are, check out our article about The Best Low FODMAP Gluten-Free Muffins in general!
This Delicious Recipe Generously Brought To You By
Low FODMAP Banana Chocolate Chip Muffins
Our Low FODMAP Banana Chocolate Chip Muffins are super simple to make and packed with banana and chocolate flavor. The crumb is light and fluffy – and eaten warm are extra-special. You need very ripe bananas for this recipe.
 Low FODMAP Serving Size Info: Makes 12 muffins; 12 servings; 1 muffin per serving
Preparation:
Position rack in middle of oven. Preheat oven to 350°F (180°C). Coat the inside of 12 muffin wells with nonstick spray or line with fluted paper cups (that's what I did).

Beat the butter and sugar in a large mixing bowl with an electric mixer until light and fluffy, scraping down the bowl once or twice. Beat in vanilla, then beat in the eggs, one at a time, allowing each one to become incorporated before adding the next. Beat in the very soft, ripe bananas. The mixture might look a tad curdled; that's okay.

Sprinkle the flour, baking soda and salt over the wet mixture and beat in until a few floury streaks remain, then add about three-quarters of the chips (you can do this by eye) and beat in until the batter is uniform.

Divide the batter into prepared pans and sprinkle extra mini chips on top of the raw muffins. Bake for about 25 to 35 minutes or until puffed, golden brown and a toothpick inserted in the center comes out with a few moist crumbs clinging. Cool pan(s) on rack for 5 minutes, then unmold muffins. They are ready to eat warm! Or, cool and store in an airtight container at room temperature for up to 3 days. They can also be frozen in heavy-duty zip-top bags with air removed for up to 1 month.
Notes:
Tips
FODMAP Information
Our recipes are based on Monash University and FODMAP Friendly science.
Bananas: Bananas have both low and high FODMAP serving sizes. For the common banana, Monash University lab tests report that 1 medium unripe banana of 100 g is low FODMAP, and that ⅓ of a medium ripe banana at 35 g is low FODMAP. Note that most baking recipes use very ripe bananas; our serving sizes reflect low FODMAP portions.
Chocolate: Monash University has lab tested dark, milk and white chocolate all have low FODMAP amounts: 85% dark at 20 g; dark at 30 g; milk at 20 g; white at 25 g.
Sugar: Monash University and FODMAP Friendly have both lab tested white, granulated sugar. Monash states that a Green Light low FODMAP serving size of white sugar is ¼ cup (50 g). FODMAP Friendly simply states that they have tested 1 tablespoon and that it is low FODMAP. Regular granulated white sugar is sucrose, which is a disaccharide made up of equal parts glucose and fructose. Sucrose is broken down and absorbed efficiently in the small intestine.
Please always refer to the Monash University & FODMAP Friendly smartphone apps for the most up-to-date lab tested information. As always, your tolerance is what counts; please eat accordingly. The ultimate goal of the low FODMAP diet is to eat as broadly as possible, without triggering symptoms, for the healthiest microbiome.
Nutrition
Calories:
278
kcal
|
Carbohydrates:
41
g
|
Protein:
3
g
|
Fat:
11
g
|
Sodium:
198
mg
|
Fiber:
2
g
|
Sugar:
22
g
And since you are a banana lover, please do check out our mega-banana round-up for loads of more delicious recipes.