Fresh, Colorful Summer Rolls
I love Summer Rolls and knew that I wanted to present a recipe to you all here at FODMAP Everyday®, but I held off until I could cook side by side with my son's Vietnamese girlfriend, Ngoc Doan, seen here on the left below.
I figured I could learn a thing or two (tongue in cheek, because Obviously!) and also, it is always fascinating to me to learn about how families pass along their ways around a dish.
Indeed, according to Ngoc (she pronounces it as "Knock"), every Vietnamese family has their own way of making summer rolls; this is how her Mom taught her.
We will be bringing you more posts by guest chefs and home cooks – welcome Ngoc!
Here below you can see all of our ingredients ready to go – as well as the beautiful bouquet Ngoc brought to me. She is a professional floral designer extraordinaire as well as a great cook.
Where's the Avocado?
We know that we can enjoy 30 g of Hass avocado on our low FODMAP diet (according to Monash University; more if you use FODMAP Friendly lab testing as a guide) and in fact it seems to be the rule, not the exception, that avocado is present in summer rolls that you find here in the U.S. The ones made by non-Vietnamese that is.
Ngoc says her family never uses avocado, so we didn't include it here. But it sure is tasty inside these rolls, so feel free to include some in yours, sticking to recommended amounts, of course.
Homemade Hoisin
Most commercial hoisin sauces contain FODMAPs and Ngoc makes her own version anyway, which we were excited to learn. You will see in the recipe that it is very easy to make – and you could make it the day ahead if you like.
Ngoc also taught us how to make homemade Sweet Chili Sauce, which you can see in some of the images below.
Pickled Carrots
As Ngoc began to explain her approach, she mentioned something about pickling the carrots. At first I was surprised because I hadn't heard of doing this for Summer Rolls before, but then it made perfect sense.
As she explained it, she and her Mom like to bring a little extra flavor and a more nuanced texture to the carrots with a quick pickling in a mixture of seasoned, sweetened rice vinegar.
We used three colors of Rainbow carrots, but you can use good ole' orange colored ones, too.
Make Ahead? Yes, With a Caveat
When I asked Ngoc if we could make these together to present already rolled she said, "of course" but then she also went on to tell me that they way they do it in her home is to put everything on the table and let everyone make their own!
Well, that would certainly be easier than doing it all yourself, but in the interest of being able to have them made ahead, we went through the process together just so that we could show you – and so I could learn from someone who has been doing this since she was a wee child.
When you are shopping for the rice papers, the package will look like this.
Here we are below getting ready to dip the rice papers – and having fun!
It's all about having fun.

Shrimp, Tofu…Both?
Note that we show you two versions: one with shrimp and one with tofu, the latter which would be vegetarian and vegan. Or you could go crazy and use both shrimp and tofu in one roll! Your choice.
Let's Make Summer Rolls!
Most of our recipes do not show you how step by step but Summer Rolls are one of those recipes that you might be intimidated to try at home – and yet, they are easy, once you see how.
And we wanted to take advantage of having Ngoc in the kitchen.
First thing is to read the recipe through and make sure that you have all of the ingredients prepped and ready to go. Then just follow along.
Step #1
Assemble your ingredients and prep area. Have a dish large enough to soak the rice papers flat without breaking them and Ngoc likes to use a large, smooth dinner plate to place the soaked papers on and to use as a surface to assemble the rolls themselves.
Also, have a large platter ready to receive the finished rolls.
Step #2
Dip the rice papers very briefly, just until pliable…
…and place on plate. (PS: That's the Sweet Chili Sauce below the plate. We highly recommend that you make some for your Summer Rolls, in addition to the homemade Hoisin in this recipe).
Step #3
If using shrimp, place them on the rice papers first.

This way they will show up through the translucent papers, which is very inviting.
Step #4
Now come the veggies! Ngoc places lettuce first, then some herbs. You could use just one herb, or a mixture. Here are 3 fresh mint leaves going on top of the red leaf lettuce. You can barely see the translucent rice paper below.
Next come julienne strips of carrot and cucumber and green strips of scallion. You could add the cabbage now, too.
Creativity reigns! Add what you like, just do not over-stuff.
If you want to use tofu, instead of the shrimp, Ngoc likes the place it on top of the lettuce, as seen below.
Step #5
Noodles! I love this photo below of Ngoc. It shows her familiarity with the ingredients; her comfort in the kitchen. At FODMAP Everyday we want all of you – especially if you are suffering with IBS – to know that you can truly enjoy food.
Delicious, authentic wholesome food!
Add some noodles to your assembled filling.
Step #6
Time to roll! Make that first turn by bringing the top of the rice paper wrapper up and over the filling towards you.
You want to completely enclose the filling without tearing the paper. Below you can see the shrimp showing through the gossamer rice paper.
Below are some side view of Ngoc's technique. Gently pull the sides in towards the center before you continue rolling.
The rice paper will stick to itself.
Notice above how gentle she is with the rice paper. Once you get the hang of it, you will know how much tension to apply.
I can never decide whether I like the shrimp or tofu better!
Here they are cut open. That way we can have half of each! ?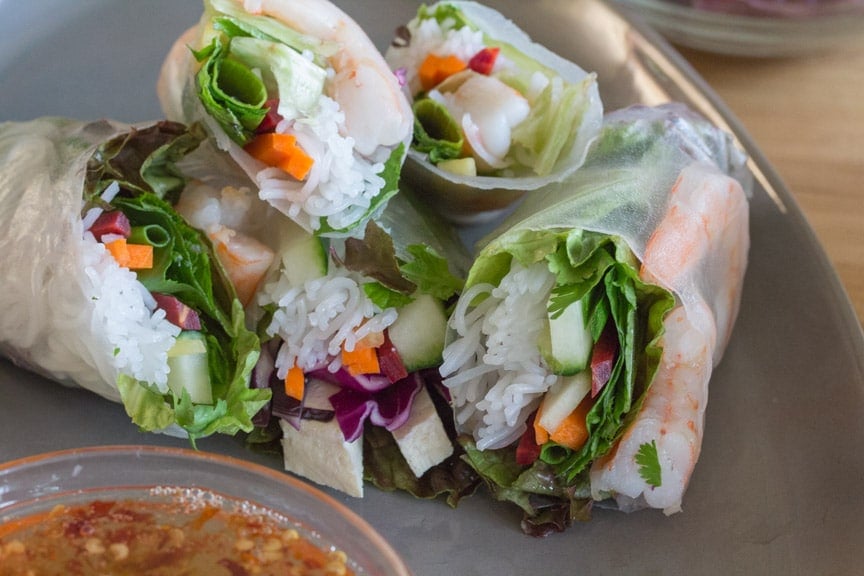 Summer Rolls
Ngoc Doan shows us how to make her Vietnamese Mom's classic Summer Rolls - and they are low FODMAP!
Low FODMAP Serving Size Info: Makes 12 Summer Rolls; serving size 1 roll
Ingredients:
Preparation:
Make the Pickled Carrots: Simply whisk together the vinegar, water, soy sauce, sesame oil, salt and sugar in a nonreactive bowl. Add the carrots and allow to sit while you prep the rest of the recipe - about 5 or 10 minutes.

Make the Hoisin: Whisk the soy sauce, sugar, peanut butter, miring and fresh ginger together in a small bowl and set aside. You can also make this a day ahead and refrigerate until needed.

Assemble the Summer Rolls: Bring a large pot of water to a boil over high heat. Add the vermicelli and allow water to return to a boil. Cook for about 3 minutes or until tender but al dente. Drain and set aside.

Have all of your prepped ingredients ready to go. Dip a rice paper wrapper in tepid water just until pliable, then set it on a smooth plate. If making a roll with shrimp, place three shrimp about a quarter of the way down from the top of the wrapper, as seen in images above. On top of the shrimp, add a piece of lettuce, then add herbs, carrots (drained of pickling liquid), cucumber, cabbage and scallion greens. Place some cooked noodles on top and you are ready to make the first turn of the roll.

Lift the rice paper wrapper up and over the filling. Bring in each side of the wrapper to completely enclose the filling, then complete rolling until the Summer Roll is all rolled up. Give it a gentle squeeze and place seam side down on platter.

If making a roll with tofu, place lettuce directly on rice paper wrapper, then add herbs and veggies and proceed as described above. 

Repeat with remaining ingredients. Summer Rolls are best prepared as close to serving time as possible, although they could be held for about an hour; simply cover lightly with plastic wrap. Do not refrigerate as the wrappers will harden. Serve with homemade Hoisin and our Sweet Chili Sauce as an additional option.
Notes:
Tips
Use our step-by-step images to learn to make Summer Rolls. Seeing how might be the key to success! They make fantastic hors d'oeuvres, lunch and even dinners.
Nutrition
Calories:
247
kcal
|
Carbohydrates:
56
g
|
Protein:
9
g
|
Fat:
5
g
|
Saturated Fat:
1
g
|
Sodium:
222
mg
|
Potassium:
10
mg
|
Fiber:
1
g
|
Sugar:
28
g
|
Calcium:
71
mg
|
Iron:
0.4
mg
And some bonus shots of that gorgeous bouquet.
Peonies are my favorite!