Get Your Hot/Sweet Fix
Sweet Chili Sauce was always part of my pantry. It is a popular sauce in Thai and Malaysian cuisine, and it has become quite popular with American diners and beyond.
That bottle of thick sweet sauce speckled with tons of hot pepper flakes provided the perfect hot/sweet balance to stir-fries and was a perfect dipping sauce for Summer Rolls and other dippable items. The problem is that it contains garlic.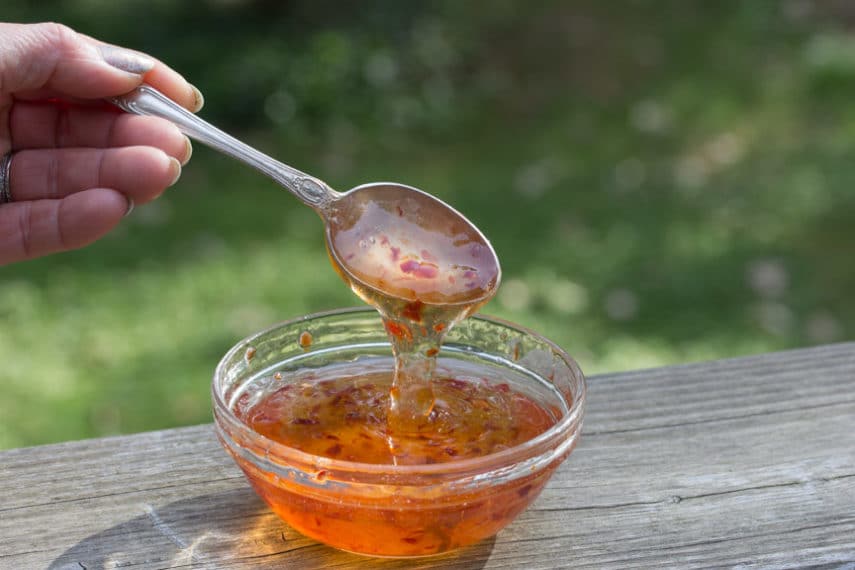 Ngoc to the Rescue
Ngoc Doan stopped by the Test Kitchen to teach us how to make Summer Rolls – her own family's version. She also showed us how to make this low FODMAP version of Sweet Chili Sauce and we decided to list it as a Basic. Now we never have to go without. It keeps pretty well and if you have it on hand you will think of uses for it. Give it a try!
Note that the recipe uses sambal oelek, a type of hot chili sauce. Read the ingredient label, which should list only chiles, vinegar and salt.
Sweet Chili Sauce
Bottled Sweet Chili Sauce contains garlic. Ngoc Doan helped us make a low FODMAP version that is perfect with Summer Rolls.
Makes about 1 cup (240 ml) of sauce; serving size 1 tablespoon
Ingredients:
1 cup sugar
5 tablespoons water
2 teaspoons sambal oelek (make sure ingredients are only chiles, vinegar and salt)
1 tablespoon rice vinegar
1 teaspoon lime juice
Preparation:
Stir sugar and water together in a small saucepan, then stir in sambal. Bring to a boil over medium-high heat and boil until sugar dissolves. Remove from heat and whisk in rice vinegar and lime juice. Cool.
Sweet Chili Sauce may be used immediately or refrigerated in an airtight container for up to 1 week.