Super Simple Chunky Tomato Sauce – and Super Quick!
Sometimes we simmer sauces for hours – and sometimes we want to make tomato sauce so quickly that we can get that piping hot bowl of spaghetti on the table in less than 30 minutes. This Super Simple Chunky Tomato Sauce is a go-to quickie in our kitchen.
You can make the whole batch – it makes a lot – and freeze some, or you can halve the recipe and just use it that night.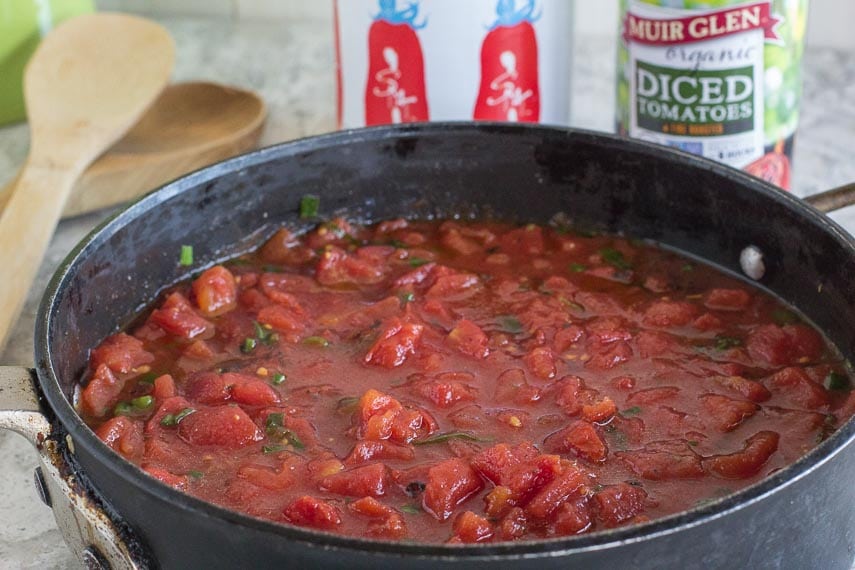 It is versatile, too. While it is perfect on spaghetti, you can also use it for lasagnas or anytime you need a boldly textured tomato sauce. We also like it spooned over cod loins roasting in a hot oven.
For a smooth version, check out our Low FODMAP Everyday Quick Tomato Sauce.
Super Simple Chunky Tomato Sauce
When you need a quick, easy and fabulous tomato sauce this is a great option.
Low FODMAP Serving Size Info: Makes about 6 cups (1.4 L); 12 servings; serving size ½ cup (240 ml)
Preparation:
Heat the garlic-infused olive oil in a large sauté pan over medium heat. Add scallions and sauté until softened, just a minute or two. Stir in oregano and red pepper flakes, if using.

Add the tomatoes and all their juice and season well with salt and pepper. Cover, and adjust heat to simmer for about 20 minutes or until slightly thickened, stirring once or twice. If you want a thicker sauce, only partially cover, but watch splattering!

Sauce is ready to use or cool, place in airtight containers and refrigerate for up to 3 days or freeze for up to 1 month.
Notes:
Tips
If using to top spaghetti or linguine, simply add some of the pasta cooking water to the sauce. The starch from the pasta will be in the water and will help thicken the sauce, and also help it better adhere to the pasta. Don't overdue it. Just add a tablespoon at a time and go by eye to assess sauce's texture.
If You Can Tolerate
Fructans:
If you have passed the garlic fructan Challenge, by all means sauté a clove or two of chopped garlic along with the scallion greens.
If you have passed the onion fructan Challenge, sauté 1 cup of chopped yellow or white onion in the olive oil in lieu of the scallion greens. 
Nutrition
Calories:
73
kcal
|
Carbohydrates:
9
g
|
Protein:
2
g
|
Fat:
4
g
|
Saturated Fat:
1
g
|
Sodium:
1
mg
|
Fiber:
1
g
|
Sugar:
1
g
|
Calcium:
1
mg
---
Low FODMAP Recipes Created Just For You!
We take low FODMAP recipes seriously at FODMAP Everyday®. That's why Dédé oversees our Test Kitchen and makes sure that each and every recipe works – and is low FODMAP following the most up-to-date science.
Rest assured that you will not find more trustworthy or delicious low FODMAP recipes anywhere – several hundred and counting.
FODMAP Everyday®Low FODMAP Recipes At A Glance:
Come Join Our Low FODMAP Recipe Community!
Use Our Exclusive Recipe Filter To Find The Low FODMAP Recipe You Are Looking For Today!