Everyone Needs A Recipe For Meatballs in Tomato Sauce!
Is there anything more comforting than a bowl filled with spaghetti and meatballs in tomato sauce? Well, maybe Mac n' Cheese, but if I am in a tomato-y mood nothing satisfies like this classic combo.
This is our recipe for a basic beef-based low FODMAP meatball that we first par-cook in the oven and then finish cooking right in our Monash University Compliant Low FODMAP Everyday Quick Tomato Sauce. Then, it's up to you! Ladle them over gluten-free spaghetti or stuff them into a low FODMAP roll for a meatball sub!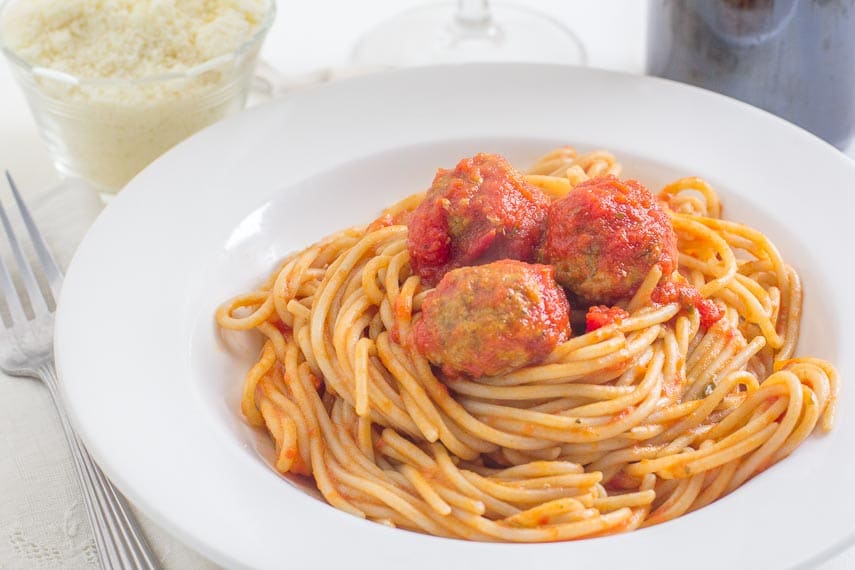 Breadcrumbs
I have experimented in the Test Kitchen with a variety of fillers from oats to ground oats, to dried breadcrumbs to fresh. I have decided I like fresh breadcrumbs the best – and they work wonders for this recipe for Meatballs in Tomato Sauce.
We make ours from Udi's White Sandwich bread. First I trim away the crusts, then I pulverize the bread in a food processor fitted with a metal blade. You could also try grating the bread on a box grater. But watch your knuckles! (Speaking from unfortunate experience here).
Milk or Water?
You will notice that the breadcrumbs, although fresh and soft, get further plumped and hydrated with a soak in some liquid. My Mom and Robin's Mom always used milk but one day I wondered if water would be as good, so we did a taste test.
Here's what we found.
The meatballs made with milk were a bit more tender in a way that we all liked. The ones made with water were firmer, but very surprisingly tasted more of "beef".
The water didn't get in the way of the inherent beefy flavors from the meat, whereas the milk seemed to mute the flavor a bit.
So, it is your choice. If you are out of milk, just use water or choose whichever you like. Or do both and conduct a test taste of your own and let us know your thoughts!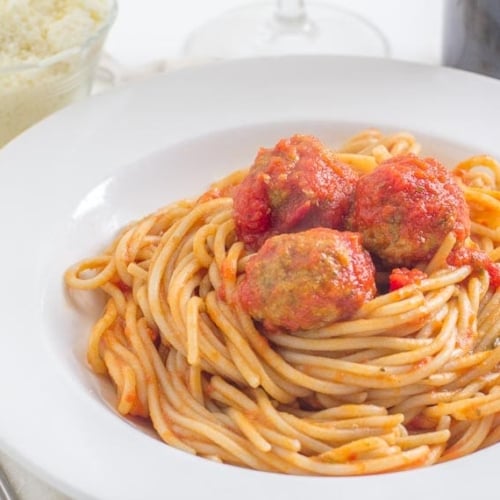 Meatballs in Tomato Sauce - for Spaghetti or Meatball Subs!
Our low FODMAP, gluten-free meatballs are versatile! Enjoy with spaghetti or stuff inside bread for a meatball sub!
Low FODMAP Serving Size Info: Makes bout 25 to 30 golf ball sized (43 mm) meatballs; 8 to 10 servings; about 3 meatballs per serving
Ingredients:
Meatballs:
1/4

cup (55g)

low FODMAP gluten-free fresh breadcrumbs

1/3

cup (75 ml)

lactose-free warm milk or water

1

large

egg,

at room temperature

1

tablespoon

minced fresh flat-leaf parsley

1

tablespoon

finely chopped scallions,

green parts only

1/2

cup (50 g)

finely grated Parmesan cheese

1

pound (455 g)

lean ground beef,

such as 85% lean

2

teaspoons

Garlic-Infused Oil,

made with olive oil

Freshly ground black pepper
Preparation:
Preheat oven to 350°F/180°C. Have one rimmed baking sheet pan set aside and ready to use.

Combine the breadcrumbs and the milk or water in a large bowl and allow to sit for about 5 minutes or until breadcrumbs hydrate and soften. Add egg, parsley, scallions and Parmesan and mix thoroughly to combine, then add meat and olive oil and combine well (we like to do this with our hands, but you could also use a sturdy wooden spoon). Season with salt and pepper. Roll into golf-ball sized (43 mm) meatballs (see Tips) and place on the baking sheet pan, evenly spaced apart.

Bake for 15 minutes, then shake pan gently a few times so that meatballs roll around, allowing additional surfaces to come into contact with the pan. Bake for 15 more minutes or until they are almost cooked all the way through.

Place the tomato sauce in a large Dutch oven or deep pot. Use a slotted spoon to scoop up the meatballs and gently lower then into the sauce. Bring to a gentle simmer, covered, and cook for about 10 minutes or until meatballs are cooked through and hot. Meatballs are now ready to serve with spaghetti or used inside low FODMAP rolls or baguettes for a meatball sandwich.
Notes:
Tips
I like to use small ice cream scoops to ensure that all of the meatballs are the same size. For this recipe I use a Zeroll #40. Simply dip it into the meatball mixture, scrape the open end of the scoop against the edge of the bowl for a perfect amount every time. Then pop the meat out of the scoop and give it a quick roll between your palms to create a nice round shape.
If You Can Tolerate
Fructans: If you have passed the garlic fructan challenge feel free to add 1 or 2 minced garlic cloves to the raw meatball mixture.
Nutrition
Calories:
59
kcal
|
Carbohydrates:
3
g
|
Protein:
5
g
|
Fat:
3
g
|
Saturated Fat:
1
g
|
Cholesterol:
16
mg
|
Sodium:
40
mg
|
Potassium:
55
mg
|
Fiber:
1
g
|
Sugar:
1
g
|
Vitamin A:
10
IU
|
Calcium:
3
mg
|
Iron:
0.4
mg