You Say Rarebit, We say Rabbit…
This dish, Welsh Rarebit, with the funny name is also sometimes referred to as Welsh Rabbit, but don't ask us why. No one is exactly sure.
It might have had something to do with the fact that there was never any rabbit involved, but was meant to imply that it was a hearty enough dish even without it. Welcome to our Low FODMAP version!
Read our article, Is Cheese Low FODMAP? We teach you how to tell if ANY cheese is low FODMAP.
Rarebit or Rabbit – It's All About the Cheese – and the Beer!
Welsh Rarebit does indeed hail from 1700s Britain and is simply a very flavorful cheese sauce, always made with some type of beer, making it akin to a boozy fondue.
This dish is ladled over toasted bread; it's like a toasted cheese sandwich that you eat with a knife and fork. The egg yolk is not always included in all renditions, but we think it helps make a smooth, rich sauce.
The blend of beer and milk tempers the alcoholic tanginess making it more appealing to a variety of diners.
Read our article, How To Choose Low FODMAP Bread? We tell you everything you need to know about choosing the right bread for you.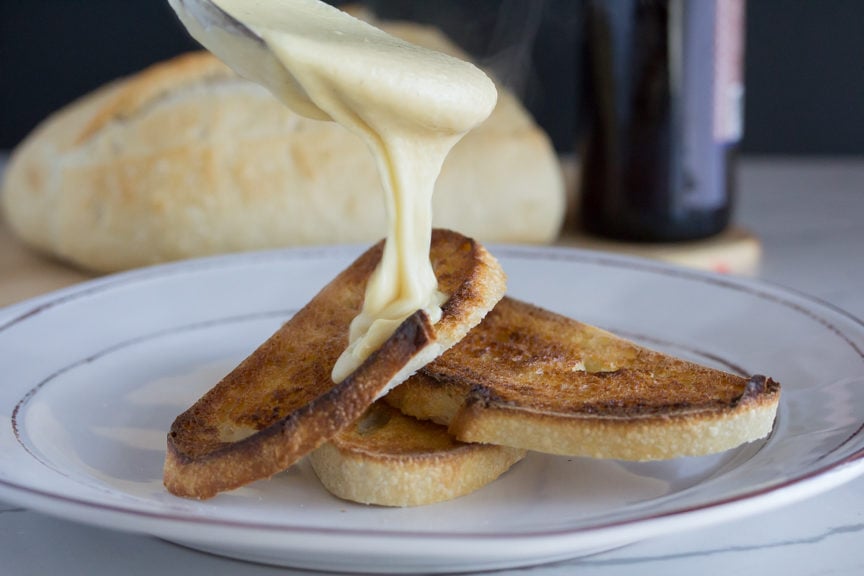 Note the dish will only be gluten-free if you use gluten-free bread.
Welsh Rarebit
Welsh Rarebit is basically a decadent melted cheese sauce to be ladled over bread. Follow our recipe to make sure your version is low FODMAP.
Ingredients:
8,

½ inch (12 mm)

slices low-FODMAP sourdough bread,

about 4-inches long by 2 1/2-inches wide (10 cm by 6 cm) or equivalent low-FODMAP gluten-free bread (will be gluten-free with this option)

1

tablespoon

unsalted butter

1

tablespoon

low-FODMAP gluten-free all-purpose flour

1/2

cup (120 ml)

ale or Guinness for stronger flavor,

at room temperature

1/4

cup (60 ml)

lactose-free whole milk,

at room temperature, such as Organic Valley

1

teaspoon

dry mustard

1

teaspoon

Worcestershire sauce

Freshly ground black pepper

6

ounces (170 g)

sharp cheddar cheese, grated,

such as Organic Valley Raw Cheddar Cheese

1

large egg yolk
Preparation:
Toast the bread either in a toaster or on a sheet pan under the broiler; make sure both sides get toasted. We like them well toasted to stand up to the rich sauce. Place individual servings of toast on warmed plates, ready to receive sauce.

Melt the butter in a small saucepan over low-medium heat, then whisk in flour and cook for about 1 minute, whisking often, to remove the raw flour taste. Whisk in beer, milk, dry mustard, Worcestershire sauce and a few grinds of black pepper. Bring to a simmer, whisking frequently, and cook until smooth, about 30 seconds more. Whisk in the shredded cheese, bring back to a simmer, and cook and whisk until very smooth and combined, about 1 more minute. Whisk in egg and cook for about 15 seconds more.

Ladle over toast and serve immediately.
Notes:
Tips
Branch out with your cheeses! Any of the following hard cheeses are low-FODMAP and would make a Welsh guest happy: double Gloucester, Cheshire, Lancashire or Caerphilly.
Nutrition
Calories:
189
kcal
|
Carbohydrates:
14
g
|
Protein:
7
g
|
Fat:
12
g
|
Saturated Fat:
1
g
|
Sodium:
273
mg
|
Potassium:
6
mg
|
Fiber:
1
g
|
Sugar:
1
g
|
Calcium:
20
mg
|
Iron:
0.1
mg
SaveSave