Mmmmm…Baked Shells, Meatballs! Gooey Cheese!
Pasta shells stuffed with cheese and meatballs and topped with a quick tomato sauce. Sound like a classic? It is! And our Baked Shells Stuffed with Meatballs is suitable for our low FODMAP Elimination phase.
For this sauce we use a blend of canned diced tomatoes and a thick purée-like tomato product called strained tomatoes. We use Pomi brand. You could substitute tomato purée (without onion and garlic, of course).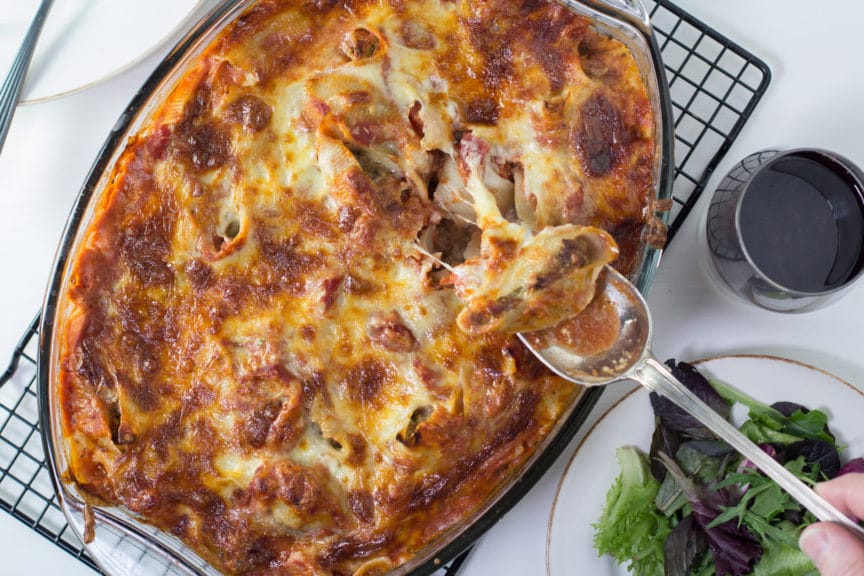 This is the Dish to Convince Your Family that low FODMAP Doesn't Mean Deprivation
We love making this dish for parties and potlucks. It is loved by young and old(er) alike and even reheats really well; leftovers are as good if not better than the first time round. We use Tinkyada pasta shells and suggest that you seek them out; you can get them from Amazon if they are not in your local stores.
Their flavor and texture is exceptional; just like with all baked pasta dishes make sure not to over cook the pasta during the boiling step as they will be cooked again in the oven.
You can make this with just ground beef but if you can find the pre-packaged trifecta of beef, pork and veal, sometimes referred to as "meatloaf blend" we heartily recommend it.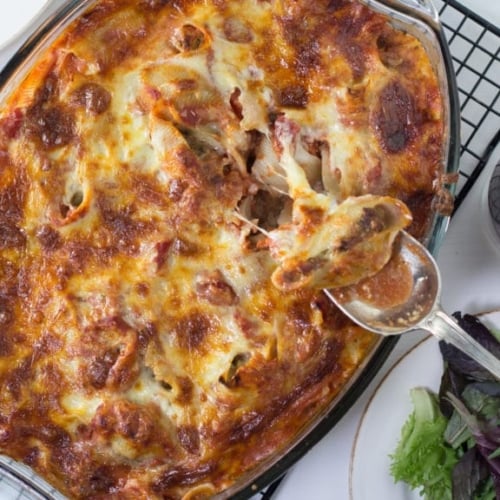 Low FODMAP Baked Shells Stuffed with Meatballs
These Baked Shells Stuffed with Meatballs are the low FODMAP stuff of dreams. Need comfort food? Make this!
Total Time:
1
hour
20
minutes
Ingredients:
Pasta and Meatballs:
1 1/4

cups (300 ml)

lactose-free cottage cheese,

divided

12-

ounces (340 g)

low FODMAP, gluten-free large pasta shells,

such as rice pasta, (cooked pasta weight is 680 g)

1 1/4

pounds (570 g)

ground beef,

preferably 80%, or equal amount of "meatloaf blend or mix", which is a combo of beef, pork and veal

2

slices

low-FODMAP gluten-free white sandwich bread

1

large

egg,

whisked

1/2

cup (50 g)

grated Parmigiano Reggiano cheese

1/2

cup (16 g)

finely chopped flat leaf parsley,

divided

1

teaspoon

kosher salt

1/2

teaspoon

freshly ground black pepper

1/2

pound (225 g)

mozzarella, low-fat or full fat,

shredded
Preparation:
For the Sauce: Heat the oil in a large pot over medium heat until shimmering. Add the basil and oregano and stir around for 30 seconds to release flavors. Add the strained tomatoes, diced tomatoes and salt and stir mixture together well. Bring to a simmer, cover, adjust heat and cook at a low simmer for about 10 minutes. Taste and adjust seasoning if necessary; set aside.

For the Pasta and Meatballs: Scrape the cottage cheese into a fine-meshed strainer set over a bowl to partially drain while you par-boil the pasta.

Line a sheet pan with a triple layer of paper towels; set aside. Bring 5-quarts (4.7 L) of salted water to a boil in a large pot and cook shells until a little firmer than al dente. They should be a tad chewy. Drain very well in colander, then go a step further and dump them out onto paper-lined pan. Toss around gently to get all the water that might be trapped inside the shells to drain.

Position rack in middle of oven. Preheat oven to 375°F/190°C. Lightly coat a 13 by 9-inch (33 cm by 23 cm) casserole pan with nonstick spray; set aside.

To make the meatballs place the meat in a large bowl. Finely shred the bread into small soft crumbs and add to the meat. (We sometimes actually grate it on the large holes of a box grater). Add the egg, cheese, ¼ cup (8 g) parsley, salt and pepper, then add 1 cup (120 ml) of the drained cottage cheese, reserving the rest of it to the side. Use your hands to combine meatball mixture very well. Use a small scoop or a tablespoon to make small meatballs that will fit inside the shells. You should have the same number of meatballs as shells, but if there are a few extra meatballs, that's fine too.

Stir the reserved drained cottage cheese into the tomato sauce.

Stuff each and every shell with a meatball. Pour about half of the sauce in the prepared pan. Nestle the shells in the sauce and tuck any extra meatballs here and there. Cover with remaining sauce then cover evenly with shredded mozzarella. Cover with aluminum foil.

Bake for 45 minutes then uncover and bake for about 15 minutes more until casserole is bubbling and cheese is melted and tinged golden brown. Sprinkle reserved parsley on top and serve. Leftovers should be packed in airtight containers and can be refrigerated for up to 3 days.
Dédé's Quick Recipe Tips Video
Notes:
Tips
The casserole may be prepared up to one day ahead and refrigerated after being wrapped in foil. Bring to room temperature while pre-heating oven and it might need a few more minutes oven time.
You can even freeze this ahead in which case double wrap in plastic wrap and then foil. Freeze for up to 1 month. Defrost in refrigerated over night, then proceed as above.
If You Can Tolerate
Fructans: 
If you have passed the garlic fructan Challenge you can add 1 to 2 minced garlic cloves to the tomato sauce and use regular olive oil.
If you have passed the wheat fructan Challenge you can use conventional soft breadcrumbs and pasta, of course checking for other FODMAP ingredients.
Lactose:
You can use conventional cottage cheese or even purchased ricotta if you can tolerate lactose. Commercial ricotta doesn't need to be drained.
Nutrition
Calories:
524
kcal
|
Carbohydrates:
46
g
|
Protein:
33
g
|
Fat:
24
g
|
Saturated Fat:
1
g
|
Sodium:
797
mg
|
Potassium:
103
mg
|
Fiber:
2
g
|
Sugar:
3
g
|
Vitamin A:
65
IU
|
Vitamin C:
5.1
mg
|
Calcium:
26
mg
|
Iron:
0.6
mg
SaveSave
SaveSave
SaveSave
SaveSave