Making the perfect low FODMAP pie crust is easier than you think – and I am going to show you how. I learned to make pies at the knee of my maternal Nana Dora and her pie crusts always came out perfectly. I'm talking serious Norman Rockwell territory. Not everyone had that advantage, so we created this article, Pie Crust 101: Making The Perfect Low FODMAP Pie.
Flaky crusts, delicious flavor, oozing pie fillings, steam emitting from the vents as the pies emerged from the oven. I don't remember whether she cooled them on a windowsill, but let's just imagine that she did.
Easy As Pie? It Can Be!
The truth of the matter is that making rolled pie crusts scares people. Which is funny, since there is a saying, "Easy as pie"! Many would argue that point. But maybe that's because they never had a pie Master to learn from. Our FODMAP Everyday® Pie Crust 101 to the rescue!
I have made thousands of pies in my day and have learned a thing or two. I am here for you to have pie success! Let me be your pie muse…
Top 10 Pie Making Tips
Read the Recipe! 
Sometimes fillings need to chill. Sometimes oven temperatures start high and get turned down at some point. Know what you are getting into. And by all mean, start with our Foolproof All Butter Low FODMAP Pie Crust recipe!
Choosing Low FODMAP Gluten-Free Flour
The majority of our pies will be gluten-free and the choice of flour makes a huge difference in your pie crust. We use Bob's Red Mill Gluten Free 1 to 1 Baking Flour, which contains xanthan gum. We also have some additional xanthan added to our All Butter Pie Crust recipe. All of these facts make a difference in how easy your crust will be to roll out – and how flaky it will be in the end!
Choose Your Pie Plate Material
We use ovenproof glass, such as Pyrex, in the Test Kitchen. I find that they conduct heat very well, I can see the browning of the crust and they provide very reliable results. As an alternative, I will occasionally use a heavy ceramic, such as the Emile Henry, but they are pricey. The Pyrex, or equivalent, are inexpensive and easy to find. I am not partial to metal pie plates and I never use disposable foil. Your choice of material will affect how heat is conducted and how well your crust bakes – and a well-baked crust is a huge part of pie enjoyment.
Size Counts
Use the proper size pie plate as suggested in each recipe. A 9 inch (23 cm) pie plate is not the same as a deep-dish pie plate, which is typically 9 ½ (24 cm) inches wide and also deeper; they are not interchangeable. Pie recipes are developed specifically and the filling of one might overfill or under-fill the wrong pie plate. This not only throws off visuals and baking time but also ultimately the texture and quality of the final product as well. You can see in the images below how there truly is a difference.
Prep Your Plate
We always coat our pie plates with nonstick spray for an easier time upon cutting and serving.
Know Your Dough!
Our All Butter Pie Crust does not need to be chilled before it is rolled out and in fact, will be much more difficult to work with if you do chill it. Again, follow directions.
For an alternative crust, try our Low FODMAP Cream Cheese Pie Crust. A little richer than the classic all-butter, and REALLY delectable.
Easy Rolling
Roll out on lightly floured parchment paper. This reduces sticking and also allows you to pick up the crust and easily transfer it to your pie plate. This hand roller, seen below, is one of our favorite tools. After you have rolled out your crust with your standard size rolling pin, it sometimes needs a little finessing. This hand-held device makes quick work of evening out the dough, helping create a nice round shape and generally is just a huge help. Trust me.
Hot, Hot Hot Oven
Make sure the oven is preheated properly. Many pies need a very hot oven in order to set the crust quickly. Also, know where your heat source is and adjust your oven racks as needed.
Raw, Par-Baked, Fully Baked
Individual recipes will tell you about how to proceed. Many fruit pie recipes such as our Blueberry Pie, call for raw dough. Other recipes such as our Maple Pumpkin Pie call for a partially baked crust – before the filling is added – to ensure a crisp bottom. This is called par-baking, pre-baking or blind baking. Full instructions are given in our article, Blind Baking Pie Crusts.
Make, Bake and Eat!
Take advantage of do-ahead steps as laid out in our Foolproof All Butter Low FODMAP Pie Crust recipe, as many pies are best served as close to baking time as possible.
Which Pie Will You Make First?
Here are just some of our recipes that use our Foolproof All Butter Low FODMAP Pie Crust:
Low FODMAP The Berries Pie
This Berries Pie is special. It combines blueberries, raspberries and strawberries in a low FODMAP gluten-free crust and it is about as satisfying a pie as you can make. Get the recipe.
FODMAP IT!™ Chocolate Pecan Pie with Whiskey
Pecan pies are sweet by nature, but in this recipe the sweetness is tempered by extra-bittersweet chocolate and a shot of whiskey incorporated into the pecan filling. Get the recipe.
Low FODMAP Maple Pumpkin Pie with Fresh Lemon & Ginger
This version of pumpkin pie is lightly sweetened with maple syrup and flavored with fresh lemon zest and freshly grated ginger, which provide a bit of zing. If you love pumpkin pie and have been looking for something a bit different, this is it! Get the recipe.
Low FODMAP Blueberry Pie
This classic two crust blueberry pie is based on the one my Nana used to make. It is bursting with blueberries and very juicy. Get the recipe.
Low FODMAP Chicken Pot Pie
We love savory pies and this chicken pot pie is probably our favorite. Get the recipe.
Low FODMAP Cranberry Snowdrift Pie
This recipe is a bit unusual. It features a sweet tart cranberry filling and is crowned with toasted meringue, no drift! And you get to haul out your propane torch. Get the recipe.
Low FODMAP Pumpkin Chiffon Pie
We have even more pumpkin pie recipes then we have mentioned on this page, but this is the lightest one. This low FODMAP Pumpkin Chiffon pie is a nice addition to any other pies you have on your holiday table. Get the recipe.
Low FODMAP Rhubarb Pie with Lattice Crust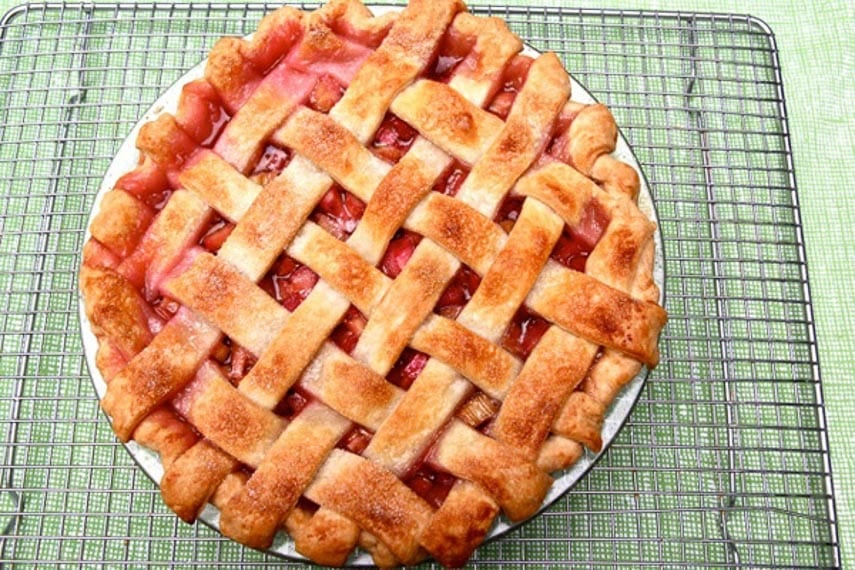 We simply adore rhubarb and have low FODMAP several recipes for you. In the spring when it is at its peak we make as many rhubarb recipes as possible, and always include this lattice crust rhubarb pie. Get the recipe.
Low FODMAP Salted Caramel Apple Pecan Pie
We hope the title of this recipe entices, because it's certainly gets our mouth watering! Salted caramel is combined with low FODMAP amounts of apple and pecan for a unique pie that your guests will be clamoring for. Get the recipe.
Low FODMAP Banana Cream
Diner food at its best, Banana cream pie is a favorite for many, and our low FODMAP version tastes just like the classic. Get the recipe.
Low FODMAP Thanksgiving Leftover Pie
This Thanksgiving Leftover Pie is one of our most creative recipes and a perfect and artful way to use up what you have left the day after a big holiday meal. Get the recipe.
…and we have dozens more!
Now go into the kitchen and master that pie crust!
We wish you flaky success and are here for you with any questions.