Low FODMAP Chopped Chicken Caesar Salad
This Chopped Chicken Caesar Salad makes a very hearty lunch or a light dinner. The chopped texture makes it very easy to pack in a Mason jar for a take-along meal. It features our Low FODMAP Caesar Salad Dressing, which we think is pretty damn fabulous. We developed it just for this recipe but you will find other uses for it once you taste it.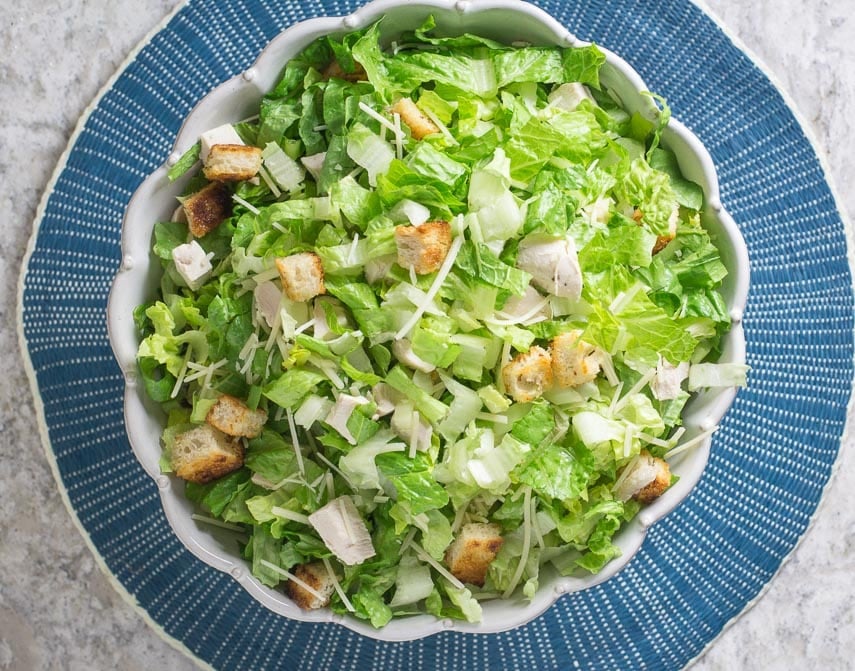 We encourage you to go read that recipe post because it delves into the history of the Caesar salad, which we find quite interesting.
Chicken Every Which Way
The chicken for this dish can be poached just for this dish or you can re-purpose last night's roast chicken, grilled chicken or if you are lucky enough to have a grocery store nearby that offers low FODMAP rotisserie chicken – go for it! I happen to love poached chicken for its moistness and neutral backdrop for the tangy, flavor-packed Caesar Salad Dressing.
Homemade Croutons
I like using a slow-rise sourdough bread to make the croutons; this will leave the salad low FODMAP but not gluten-free. You can use low FODMAP gluten-free sliced sandwich bread, if you like. Either way you will be pan toasting the bread cubes in a skillet with a combination of Garlic-Infused Olive Oil and butter to create awesome croutons! Croutons are one of those things I just don't think can be purchased pre-packaged. I feel the same way about popcorn, but I digress.
Don't be put off by the crouton part; it takes mere minutes!
---
Low FODMAP Recipes Created Just For You!
We take low FODMAP recipes seriously at FODMAP Everyday®. That's why Dédé oversees our Test Kitchen and makes sure that each and every recipe works – and is low FODMAP following the most up-to-date science.
Rest assured that you will not find more trustworthy or delicious low FODMAP recipes anywhere – several hundred and counting.
FODMAP Everyday®Low FODMAP Recipes At A Glance:
Come Join Our Low FODMAP Recipe Community!
Use Our Exclusive Recipe Filter To Find The Low FODMAP Recipe You Are Looking For Today!