What Are Brookies?
If you love brownies and cookies, then this recipe for Brookies is for you. Rich, deep, dark and chocolaty through and through, these look like a cookie but have a somewhat soft texture of a brownie.
They are intensely chocolaty.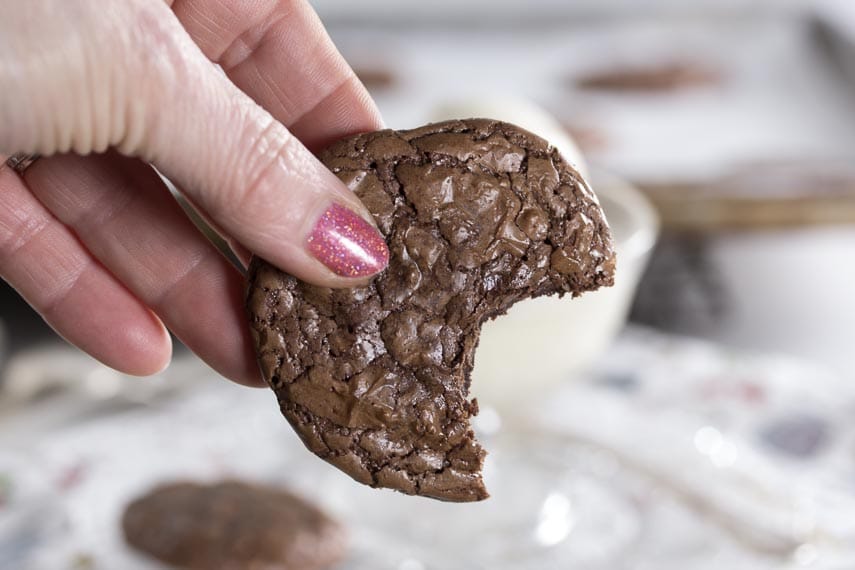 Clinton Street & Beyond
These cookies are a close cousin to my Ménage à Trois Cookies, which I have been making since the 1980s (and are what my husband says were the inspiration for him telling me we were getting married. Yes, he told me; no asking involved!)
Who knows where the term "brookie" came from but in 2010 DeDe Lahman and Neil Kleinberg published The Clinton St. Baking Company Cookbook in which they included their brookie recipe, upon which this version is based.
You might find other brookie recipes here and there. Some look like brownies being made in pans and cut into squares. Others look more like classic chocolate chip cookies, without the melted chocolate in the dough.
And then there are the versions with a brownie like batter on the bottom and a chocolate chip cookie dough baked right on top. Arguments could be made why any and all of these are combos of brownies and cookies could be called brookies, but this one here is my favorite approach.
Our Brookies Are Low FODMAP & Gluten-Free
This brookie version is low FODMAP and gluten-free. It is a sweet, special treat and we recommend one at a time – which is going to be hard. We won't lie. These are awesome. They pack a huge chocolate wallop. They are fancy enough to serve guests or to bring as a housewarming gift.
Choose Your Chocolate Wisely
A dozen or so times a year I travel around the country and conduct a chocolate tasting class. Every now and then I have to pinch myself when I realize that I get paid to talk about and eat chocolate.
It's a good gig!
One of the slides in the presentation shows two cookies side by side that are very similar to this recipe. One looks luscious and the other one looks dry and crumbly and the only difference is the cacao percentage of the chocolate used in the lesser version.
Percentages Count
Those percentages like 62% and 70% that you see on chocolate bars represent the part of the cacao tree (Theobroma cacao) that is in that chocolate, usually refered to as cacao mass.
The rest is sugar, cocoa butter and perhaps dairy products, vanilla and/or lecithin (as an emulsifier).
Cacao mass is what makes chocolate, chocolate! This is all a simplification but the main point is that the percentages count.
In well-written chocolate recipes the cacao mass percentage will be listed, if it makes a difference. If you are folding chunks of chocolate into a classic chocolate chip batter, it is not as important, but if you are melting chocolate and it is incorporated into a batter, such as in this recipe, it can make or break the results.
The chocolate that you use to melt and fold into this batter should be around 50% to 55%.
I have made them with 60%, but the texture suffers; it becomes drier and the visuals are not as good either.
Now, for the chunks that fold in, I do prefer something around 60% to 65% or even 70%! This gives the cookie a really great bittersweet flavor.
So, you can either use 50% to 55% for all of the chocolate required, in which case the cookie will be more semisweet rather than bittersweet, or you can use two kinds of chocolate, like I do BUT you cannot make the cookies with 60% to 70% for both parts of the recipe that call for chocolate.
Well, I mean, you can and they will be okay but they will not be their best. And since you are spending the time and money to make delicious homemade cookies, why not take the time to use the ingredients that will help produce the best end result.
Other than that, these are easy to make. The only other trick is to not over bake them. They should be a tad soft when you remove them from the oven.
Always remember when making cookies (or cookie-like brookies) that there is residual pan heat that will continue to "cook" the cookies even after they are removed from the oven.
You might enjoy our articles, All About Dark Chocolate and also All About Cocoa.
FODMAP IT!™ Brookies
If you like cookies and brownies, then this rich chocolatey brookie is for you! Low FODMAP and gluten-free, too.
Low FODMAP Serving Size Info: Makes 30 Brookies; serving size 1 brookie
Ingredients:
6

ounces (170 g)

50% to 55% semisweet chocolate,

finely chopped

1

tablespoon

vegetable oil,

such as canola or other neutral flavored oil

1

teaspoon

unsalted butter

3/4

cup (160 g)

firmly packed light brown sugar

2

large

eggs,

at room temperature

1/2

teaspoon

vanilla extract

1/8

teaspoon

instant espresso powder,

optional

1/3

cup (49 g)

low FODMAP gluten-free flour,

such as Bob's Red Mill 1 to 1 Baking Flour

1/4

teaspoon

baking powder;

use gluten-free if following a gluten-free diet

1/4

teaspoon

salt

6

ounces (170 g)

60% to 70% bittersweet chocolate,

chopped into small chunks
Preparation:
Melt the 6 ounces (170 g) of 50% to 55% semisweet chocolate along with the oil and butter either in a microwave safe bowl or over simmering water. Whisk together until smooth and cool. This cooling part is very important and it is easy to want to rush. Be patient! Whisk the mixture from time to time to dissipate the heat.

Meanwhile, position two racks in the upper and lower third of oven. You will be baking a total of three sheet pans of cookies, but if you try and bake them all at once, they will not bake evenly. Baking two at a time, and then the last one on its own is the way to go. Line three half-sheet pans with parchment paper; set aside. Preheat oven to 350°F/180°C.

Beat brown sugar, eggs and vanilla (and espresso powder, if using) in a mixing bowl with an electric mixer until lightened and fluffy. Use a combination of a whisking motion and a folding motion to add the cooled chocolate mixture until combined. Sprinkle flour, baking powder and salt over this batter and fold in until a few floury streaks remain. Add the 6 ounces (170 g) of 60% to 70% chopped bittersweet chocolate and fold in until everything is combined.

Dole out 10 brookies on each pan; each should be about the size of a walnut in the shell. Space them evenly.

Bake for about 10 to 12 minutes total (switching pans front to back, and upper to lower rack halfway through) or until cookies have spread, the tops look a bit crackled and the edges are a bit more done than the centers, which should remain a tad soft. Cool pans on racks. Brookies are ready to serve or may be stored in single layers, separated by parchment paper, in airtight containers at room temperature for 3 days.
Notes:
Tips
You can very easily make a nut version by pressing one walnut half onto each cookie before baking. You can see in the image below that this batch came out a bit drier in texture; this was due to a higher percentage cacao used within the batter.
If You Can Tolerate
Fructans: If you have passed the wheat fructan test, you can use all-purpose flour in lieu of the gluten-free flour. Use weight measurements to make this substitute instead of volume measurements for best results with this substitution.
Nutrition
Calories:
89
kcal
|
Carbohydrates:
13
g
|
Protein:
1
g
|
Fat:
4
g
|
Saturated Fat:
1
g
|
Cholesterol:
14
mg
|
Sodium:
28
mg
|
Potassium:
5
mg
|
Fiber:
1
g
|
Sugar:
10
g
|
Vitamin A:
20
IU
|
Calcium:
2
mg
|
Iron:
0.1
mg
---
Low FODMAP Recipes Created Just For You!
We take low FODMAP recipes seriously at FODMAP Everyday®. That's why Dédé oversees our Test Kitchen and makes sure that each and every recipe works – and is low FODMAP following the most up-to-date science.
Rest assured that you will not find more trustworthy or delicious low FODMAP recipes anywhere – several hundred and counting.
FODMAP Everyday®Low FODMAP Recipes At A Glance:
Come Join Our Low FODMAP Recipe Community!
Use Our Exclusive Recipe Filter To Find The Low FODMAP Recipe You Are Looking For Today!