Lemony Low FODMAP Carbonara
Yearning for a rich pasta dish? Our Lemony Low FODMAP Carbonara is the one to make. Why lemony? Because the addition of lemon juice and zest makes this classically rich dish a little more balanced.
As you delve into the world of low FODMAP eating, we urge you to read recipes with an open and positive mind and you will soon realize that many classic dishes are well within your reach.
Classic Carbonara
Carbonara is a classic Roman pasta dish that is easy enough to make on a weeknight – in the time it takes to boil a pot of pasta. Carbonara is a rich, creamy assemblage of silky egg yolks, Parmesan cheese, lots of black pepper and guanciale, which is Italian cured pork cheek or jowl. Our version adds the aforementioned lemon juice and zest, as well.
Pick Your Pig
Guanciale is a lovely fatty, porky product, but is not always easy to source. Pancetta is an easier to find option and can be substituted. If you cannot find either and must use bacon, make sure it is unsmoked.
This is a rich dish, best reserved for an occasional indulgence and please adhere to the suggested servings size; it is the ultimate carb craving tamer. Read the recipe through before starting, as timing is everything with this dish (see Tips).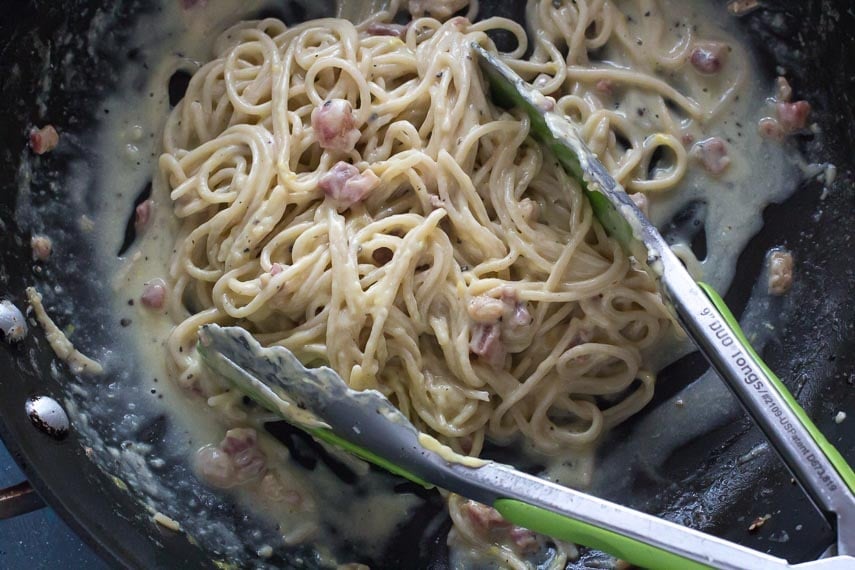 Fat Content
Any Carbonara, including our Lemony Low FODMAP Carbonara, is a rich, fatty dish. Fat does not contain FODMAPs and is therefore not a FODMAP issue.
Fat, however, can be an IBS trigger for some, so know your tolerances. If you and fat do not get along, this is not the dish for you.
If you have been missing this classic Italian dish, then this IS the recipe for you! Buon Appetito!
For other low FODMAP pasta dishes, check out our Eggplant, Tomatoes & Zucchini Pasta Sauce, our classic Amatriciana, Penne Rigate with Gorgonzola, Super Deluxe Baked Ziti and our Summer White Lasagna.
Lemony Low FODMAP Carbonara
Our Lemony Low FODMAP Carbonara will curb any carb cravings you are having!
Ingredients:
16-

ounces (455 g)

low FODMAP gluten-free spaghetti,

such as Jovial

1/4

cup (60 ml)

extra virgin olive oil

6-

ounces (170 g)

guanciale,

cut into ½ inch (12 mpieces

4

large egg yolks,

at room temperature

1 1/2

cups (150 g)

grated Parmigiano Reggiano,

divided

2

tablespoons

freshly squeezed lemon juice

Lots of freshly cracked black pepper

1

teaspoon

fine lemon zest
Preparation:
Bring a large pot of well salted water to a boil and cook pasta until it is just shy of "al dente" and still has a slight firmness, reserving 1 ½ cups (360 ml) of starchy cooking liquid.

Meanwhile, heat olive oil in a 10 to 12 inch (25 cm to 30.5 cm) skillet over medium heat, add guanciale, and cook, stirring occasionally, until the pork fat begins to render and the guanciale lightly browns, about 5 minutes. Take off heat but keep warm.

While pasta is boiling and guanciale is cooking, break egg yolks into a large mixing bowl, stir in about 1 ¼ cups (125 g) of the cheese (mixture will look thick), stir in lemon juice and grind a generous amount of black pepper on top.

Once pasta is drained (with the 1 ½ cups/360 ml of cooking water reserved), place skillet with guanciale back over very low heat, add pasta and quickly toss the pasta to coat for about 15 to 30 seconds; make sure the pasta is coated and warmed. REMOVE from heat.

Immediately add about ¼ cup (60 ml) of the pasta water to your egg/cheese mixture and whisk to loosen. Quickly add this mixture to pasta and begin to toss. Add more pepper and water as you toss and a creamy sauce will develop (see Tips). Keep adding water and tossing until the pasta is coated with a rich, creamy sauce. Serve immediately with more black pepper, reserved cheese and lemon zest on top.
Notes:
Tips
I love to make this dish with a combo of Parmigiano Reggiano and Pecorino Romano cheese. The extra-sharpness of the sheep milk based Romano adds another layer of flavor. Not necessary, but a great variation.
The one tricky part of this dish is to not curdle the egg yolks. My technique recommends combining the ingredients off of the heat, so this should not happen. There is a stage during which you are tossing the pasta where you might think the mixture has curdled, but it is most likely that you just haven't added enough pasta water, which is integral to creating this "sauce". If your mixture looks sticky or gloppy, simply keep adding the reserved pasta water a little bit at a time. Toss as you go, until the mixture is silky and creamy. The pasta should look like it is coated with heavy cream and the reason why this dish is often mistakenly believed to contain cream.
This delicious dish is rich in fat and should be enjoyed as a special occasion meal; tolerance to fat is very individual and can contribute to GI distress for some folks. Watch your portions; fill half your plate with a big green salad.
If You Can Tolerate
Fructans: If you have passed the wheat fructan challenge feel free to use traditional pasta.
Nutrition
Calories:
700
kcal
|
Carbohydrates:
57
g
|
Protein:
21
g
|
Fat:
44
g
|
Saturated Fat:
9
g
|
Cholesterol:
30
mg
|
Sodium:
625
mg
|
Fiber:
3
g
|
Sugar:
1
g
|
Iron:
1
mg
---
Low FODMAP Recipes Created Just For You!
We take low FODMAP recipes seriously at FODMAP Everyday®. That's why Dédé oversees our Test Kitchen and makes sure that each and every recipe works – and is low FODMAP following the most up-to-date science.
Rest assured that you will not find more trustworthy or delicious low FODMAP recipes anywhere – several hundred and counting.
FODMAP Everyday®Low FODMAP Recipes At A Glance:
Come Join Our Low FODMAP Recipe Community!
Use Our Exclusive Recipe Filter To Find The Low FODMAP Recipe You Are Looking For Today!