Pasta, Sauce, Sausage, Cheese & More Cheese!
This is comfort food. Pasta, meat, sausage, tomato sauce, cheese, cheese and more cheese. Make this Super Deluxe Low FODMAP Baked Ziti when you need to feed a crowd – whether they are FODMAPing or not, EVERYONE loves this dish. Who doesn't love gooey cheese?
Pork, Beef, Turkey or Chicken?
What are you in the mood for? You have a choice! You need sausage as well as ground meat for this dish and you get to pick and choose what you would like. Feeling like ground beef and pork sausage? Go for it!
How about using ground chicken and turkey-based sausage? Sounds great to me! You will see in the ingredients where choices can be made.
This Super Deluxe Low FODMAP Baked Ziti is rich! Using ground turkey and turkey sausage is one way to keep this recipe a little leaner.
How Is This Low FODMAP?
Portions. You've gotta pay attention to serving sizes; that is key. Everything else I have taken care of for you:
We have made sure to use low FODMAP pasta – and it is gluten-free, too!
The tomato products are free of the often hidden high FODMAP ingredients found in these items, like onions and garlic.
We get garlic flavor into the dish with Garlic-Infused Oil – made with olive oil, of course for true Italian flavor.
Chat with your butcher and/or read labels for the sausage. You CAN find low FODMAP sausage! Onion and or garlic (especially garlic) are often used when making sausage, so double check!
Speaking of sausage, you can choose from pork, turkey or chicken for the sausage and the ground meat.Your choice.
Instead of ricotta, which is only low FODMAP in very small portions, I like to use lactose-free cottage cheese, which is usually easy to find.
The dish is rich enough already. Use low fat mozzarella.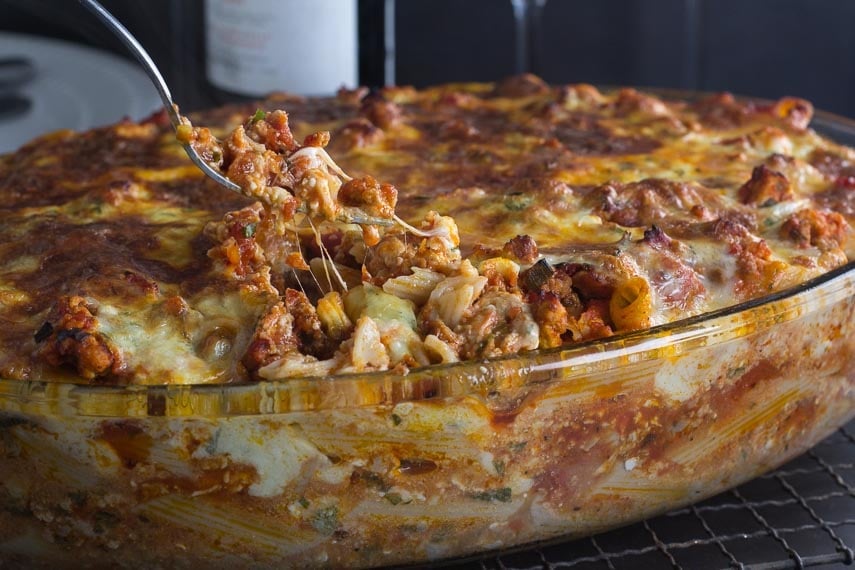 Pay Attention to the Directions
This dish is not hard to make, but there are a few tips to ensure success. First of all, as always, read the recipe through so acquaint yourself with the procedures.
There are several points in the recipe where you will be using only part of an ingredient – pay attention to those instructions.
If you are a pasta fan, check out our Pantry Pasta with Tuna, our super easy BLT Pasta (BACON!), Tuna Noodle Casserole, Baked Ziti with Sausage and Swiss Chard and our Baked Penne with Four Cheeses – and that's just for starters! Use our Recipe Filter to look up all of our lasagnas, too!
For a very different baked pasta, try our Low FODMAP Roasted Pumpkin Baked Pasta with Sage.
Super Deluxe Low FODMAP Baked Ziti
Our Super Deluxe Low FODMAP Baked Ziti will please everyone and feeds a crowd. Stick with the recommended portions to keep this low FODMAP.
Ingredients:
1

pound (455 g)

low FODMAP, gluten-free ziti or penne rigate

3

tablespoons

Garlic-Infused Oil,

made with olive oil, or purchased equivalent, divided

3/4

cup (48 g)

finely chopped scallions,

green parts only

1

pound (455 g)

ground beef, turkey or chicken

1

pound (455 g)

low FODMAP sausage - pork, chicken or turkey

2

cups (480 ml) low FODMAP

marinara sauce

1, 28-

ounce (794 g)

can whole, peeled tomatoes in juice

1

tablespoon

fennel seeds,

crushed

1

teaspoon

dried basil

1

teaspoon

dried oregano

1/2

teaspoon

red pepper flakes

Freshly ground black pepper

1 1/2

pounds (680 g)

mozzarella (I recommend low fat),

shredded and divided

2

cups (1 pound/455 g)

lactose-free cottage cheese

1/2

cup (50 g)

grated Parmesan cheese

2

large eggs

1/4

cup (8 g)

finely chopped flat-leaf parsley
Preparation:
Bring a large pot of salted water to a boil and cook pasta until it is just shy of al dente. Drain well, rinse with water, drain again and set aside.

Heat 2 tablespoons of the

Garlic-Infused Oil

in

a very large sauté pan

over low-medium heat and add scallions. Sauté for a few minutes until softened. Add the ground meat, breaking it up with a wooden spoon and sauté until it is cooked through. Scrape into

large mixing bowl

.

Return pan to heat and add 1 tablespoon of reserved oil, heating over low-medium heat, slip sausage out of casing and add to pan, break up sausage with a wooden spoon and continue to sauté until cooked through. Add meat and scallion mixture back to pan (save the dirty bowl for later). Add marinara sauce and whole tomatoes, smashing them with a wooden spoon to break them up. Stir everything together very well. Add fennel seed, basil, oregano and pepper flakes. Taste and season with salt and pepper. Cover and bring to a simmer for about 10 minutes, stirring occasionally. Cool.

Position rack in middle of oven. Preheat oven to 375°F/190°C. Coat a 13 by 9-inch (33 cm by 23 cm) deep casserole dish with nonstick spray.

Place pasta and about two-thirds of the meat sauce in the large, previously used mixing bowl. In a small bowl whisk together half of the mozzarella, all of the cottage cheese and Parmesan, the eggs and parsley until combined. Season with salt and pepper, then fold into the pasta/sauce mixture until thoroughly combined. Scrape half of the pasta mixture into the prepared pan, top with half of the reserved sauce and half of the reserved cheese mixture, then layer up the remaining pasta mixture, the last of the sauce and the last of the mozzarella.

Bake for about 20 to 30 minutes or until the filling is hot throughout and bubbling. Allow to sit for 5 minutes before serving - great with a green salad with a sharp vinaigrette.
Dédé's Quick Recipe Tips Video
Notes:
Tips
You can prepare the baked ziti up till Step 5 (skipping Step 4, which is preheating the oven) and you can cover the pan very well with plastic wrap and refrigerate overnight or you can freeze for up to a month. If frozen, defrost in refrigerator overnight. Always bring out of the fridge and bring to room temperature before baking - which might take quite a while, so do not underestimate the time you need.
Nutrition
Calories:
262
kcal
|
Carbohydrates:
19
g
|
Protein:
20
g
|
Fat:
12
g
|
Saturated Fat:
1
g
|
Cholesterol:
4
mg
|
Sodium:
185
mg
|
Potassium:
76
mg
|
Fiber:
1
g
|
Sugar:
3
g
|
Vitamin A:
140
IU
|
Vitamin C:
1.4
mg
|
Calcium:
61
mg
|
Iron:
0.3
mg
For more tomato-based recipes, we have a round-up for you with plenty of inspiration.