Lighter Low FODMAP Eggplant Parmigiana
Are you looking for a quick and easy, light eggplant Parmesan? With no breading and reduced calories? This Lighter Low FODMAP Eggplant Parmigiana is the recipe for you. I like this version as a side dish.
This post may include affiliate links. Please see our complete disclosure here.
If you want a hearty, stick-to-your-ribs eggplant affair then click on over to our Hearty Main-Dish Low FODMAP Eggplant Parmesan.
This lighter version is also quicker to make – only about 10 minutes of prep.
To Salt or Not To Salt?
This is the question. Do we salt the eggplant slices and allow them to sit, to exude excess moisture and improve flavor, or not? It depends and I will give you directions for both.
If your eggplant is fresh and firm, with no wrinkled skin and heavy for its size and the stem end is still somewhat vibrant looking and green and not brown and shriveled, then simply follow our directions in the main section of the recipe.
If your eggplant is a bit older and less fresh, it can be improved with salting and those directions are given in the Tips section.
For the images that you see here, I did NOT SALT the eggplant and the result was just fine – better than fine! I brought it to a potluck and it was the first dish to be finished.
How To Buy Eggplant
As mentioned before, look for firm, unblemished eggplant with shiny skins and no wrinkles. The eggplant should feel heavy for its size.
BTW the recipe calls for 2-pounds (910 g) of eggplant. This does not mean you buy a 2-pound (910 g) eggplant! It is the total amount that you need and I suggest looking for two, 1-pound (455 g) globe eggplants or something around that size.
Choosing Cheese
This recipe calls for two cheeses that are easily found: mozzarella and Parmesan. Shredding and grating mozzarella can be a pain. It is somewhat soft and it can smoosh as you try to grate it on your box grater.
That said, if you buy pre-shredded mozzarella, an anti-caking agent will have been added and that keeps the cheese from melting as smoothly cheese without. Will it still work? Yes. Can you use it in a pinch? Yes. But I recommend that you buy your cheese and grate it yourself for best results. Freeze your mozzarella for about 15 minutes and it will be easier to grate.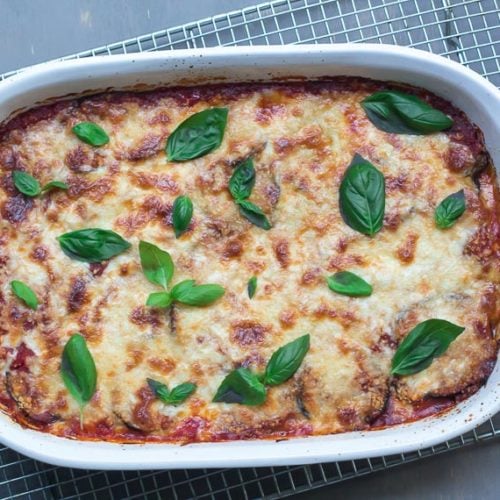 Lighter Low FODMAP Eggplant Parmigiana
Are you looking for a quick and easy, light eggplant Parmesan? With no breading and reduced calories? This Lighter Low FODMAP Eggplant Parmigiana is the recipe for you. I like this version as a side dish.
Total Time:
1
hour
10
minutes
Ingredients:
¼

cup (60 ml)

Low FODMAP Garlic-Infused Oil,

made with olive oil, or purchased equivalent, divided

2-

pounds (910 g)

of eggplant,

stem ends trimmed and discarded, cut into ¼-inch (6 mrounds crosswise

Freshly ground black pepper

8-

ounces (225 g)

part-skim mozzarella,

shredded

1

cup (100 g)

grated Parmesan cheese

3

cups (720 ml)

Low FODMAP Quick Tomato Sauce,

or your favorite low FODMAP marinara sauce

Fresh basil leaves,

torn
Preparation:
Position racks in upper and lower third of oven. Preheat oven to 400°F (200°C). Have two large rimmed baking sheet pans ready to use.

Brush each sheet pan with 1 tablespoon of Low FODMAP Garlic-Infused Oil. Arrange the eggplant rounds on the pans; if you have to slightly overlap a few pieces, that's okay. Brush the tops of the eggplant with remaining olive oil, then season with salt and pepper.

Roast for about 15 minutes, then flip eggplant pieces over, rotate pans front to back, and from upper to lower rack, and and roast for another 15 minutes or until tender.

Coat the bottom of a 9-by-13-inch (23 cm by 33 cm) baking dish with 1 cup (240 ml) of sauce. Arrange half the eggplant slices on top of the sauce, sprinkle with half the mozzarella and half the Parmesan. Top with 1 cup (240 ml) sauce. Make final layer of remaining eggplant, 1 cup (240 ml) sauce and cheeses.

Bake for about 25 to 30 minutes or until the sauce is bubbling and the cheese has browned here and there. Let cool for at least 5 minutes before serving. Sprinkle with fresh basil right before serving. I like this at room temp too! Reheats well. Even improves after an overnight in the fridge, covered with foil. Reheat as needed in 350°F (180°C) oven, covered with foil, or even in microwave.
Notes:
Tips
If your eggplant is older and tougher, you might consider peeling it.
Salting Eggplant: Many directions for salting eggplant direct you to salt the eggplant and allow it to drain in a colander. Very often the amount of eggplant needed does not fit in the colander on hand.
Here is a technique that sounds complicated, but if you read it through you will see that it is actually easy, efficient and effective.
Line a rimmed baking sheet pan with a triple-layer of paper towels. Slice eggplant as directed above, except slice into thicker ½-inch (12 mm) pieces. Sprinkle both sides of the eggplant slices lightly with kosher salt and lay out in a single layer on prepared pan. Top with a layer of more paper towels, another layer of salted eggplant, etc. and continue until you have all of your eggplant slices all stacked up in single layers. Finish with another triple layer of paper towels, place another rimmed sheet pan on top and weigh down the sheet pan with a heavy pot. Allow to sit for 1 hour to release excess moisture. Proceed with recipe.
Nutrition
Calories:
345
kcal
|
Carbohydrates:
16
g
|
Protein:
21
g
|
Fat:
22
g
|
Saturated Fat:
8
g
|
Cholesterol:
44
mg
|
Sodium:
628
mg
|
Potassium:
61
mg
|
Fiber:
5
g
|
Sugar:
4
g
|
Vitamin A:
392
IU
|
Calcium:
550
mg
|
Iron:
1
mg
---
Low FODMAP Recipes Created Just For You!
We take low FODMAP recipes seriously at FODMAP Everyday®. That's why Dédé oversees our Test Kitchen and makes sure that each and every recipe works – and is low FODMAP following the most up-to-date science.
Rest assured that you will not find more trustworthy or delicious low FODMAP recipes anywhere – several hundred and counting.
FODMAP Everyday®Low FODMAP Recipes At A Glance:
Come Join Our Low FODMAP Recipe Community!
Use Our Exclusive Recipe Filter To Find The Low FODMAP Recipe You Are Looking For Today!